Lando Norris tells Ted Kravitz: 'You should try driving, mate!'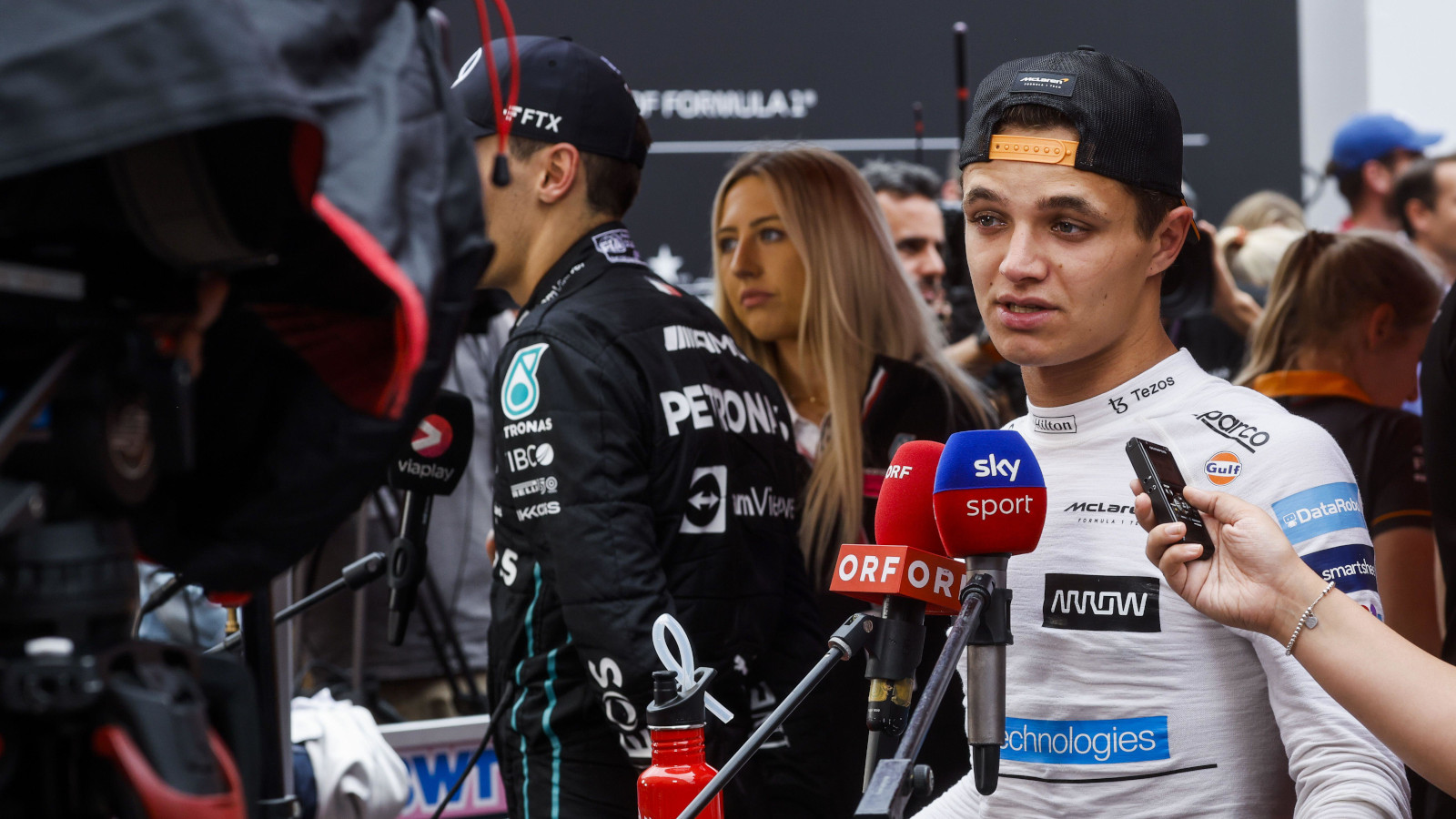 Lando Norris got a touch defensive as he bantered with Sky Sports F1's Ted Kravitz about losing places at the start of the Mexican Grand Prix.
Kravitz has been in the news as a result of Red Bull boycotting interviews in Mexico with all of Sky's network of European channels over remarks made about Lewis Hamilton being "robbed" of the 2021 World Championship.
It was, of course, Red Bull's Max Verstappen who ended up winning the first of his back-to-back Drivers' titles last year.
Unlike the Dutchman, Norris was still talking to Kravitz in the media pen at the Autodromo Hermanos Rodriguez – but appeared to take slight umbrage when quizzed about why he had lost two places on the long run to Turn 1.
The McLaren driver had started eighth but was passed by the two Alpine cars of Fernando Alonso and Esteban Ocon – his team's direct rivals for fourth place in the Constructors' Championship – going into the opening sequence of corners.
The post-race interview between Kravitz and Norris began as follows:
Kravitz: "What happened at the start? You dropped down to P10."
Norris: "It's only two positions, it's a long run down to Turn 1."
Kravitz, laughing: "It's not optimal!"
Norris: "You should try driving, mate."
The 22-year-old Briton added: "No, I just lost one off the line and one around the corner, it's as simple as that. Nothing too bad happened. Other than that, we did a good job."
not a mega race, but we made the most of it and brought back double points. gg @danielricciardo pic.twitter.com/tbG9QYN362

— Lando Norris (@LandoNorris) October 30, 2022
The driver with whom Kravitz enjoys a light-hearted relationship – calling him 'Nozzer' to Lando's mild chagrin – finished ninth, two places behind his team-mate Daniel Ricciardo, whom he thought had got "lucky" with a relatively late and highly productive switch to the soft tyres that saw him make strong progress through the field.
"Maybe we covered Yuki [Tsunoda] a bit too early on the hard tyres and it wasn't the correct thing to do," added Norris. "But apart from that, the strategy was reasonable.
"Daniel did a good job. He was in a lucky position that he could just stay out and do whatever he wanted kind of thing, which in other races I've been able to do, like at Monza and so on.
"Today just benefited him but obviously it worked out well. We had the plan from the beginning if someone was in that position and Daniel was that guy, so he made up for it and made the most of it."
It was a race in which McLaren closed the gap to Alpine to seven points as Ocon in eighth separated Ricciardo and Norris, but Alonso suffered his latest in a spate of retirements due to unreliability of the A522.
"Our two cars finished and not all the others did," Norris told Formula1.com.
"The more points the better. I don't think we had quicker cars today than Alpine but again, as a team we did a better job."
Read more: McLaren set a blistering new record at the Mexico City Grand Prix