Norris reflects on 'valuable' Austria battle with Hamilton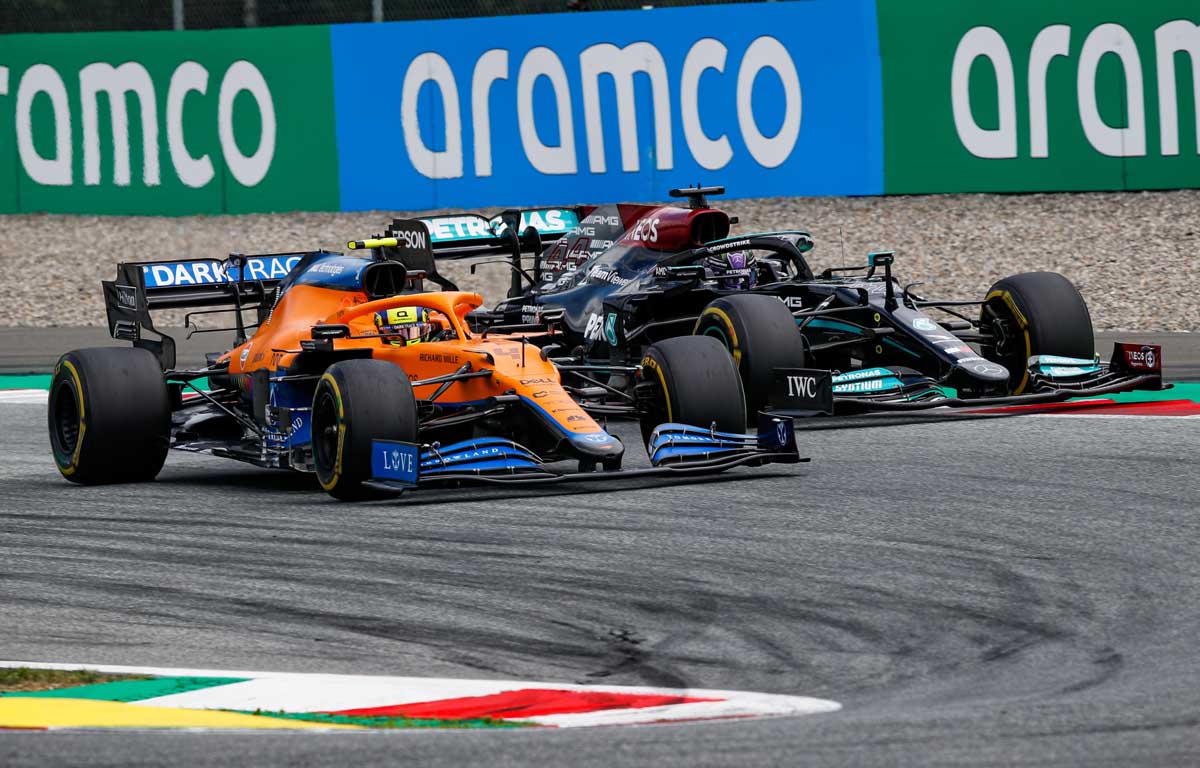 Lando Norris said his battle with Lewis Hamilton in Austria has made him realise what he is capable of doing against F1's frontrunners.
The McLaren driver was able to hold the faster Mercedes behind him for around 20 laps at the Red Bull Ring, as the younger Brit fought for another podium finish this season.
While Hamilton was eventually able to get past, he called his compatriot "such a great driver" over team radio, and Norris feels the experience of fighting a seven-time World Champion has given him confidence heading into future encounters.
"I think it was valuable, and I think it's something that will definitely help me out in the future when I'm in those kinds of situations again," Norris told Motorsport.
"And it's just reassuring to know that if I am there in the future, if I am in that position again, I'm able to compete there and be able to beat him in different scenarios.
"It doesn't make me believe all of a sudden I can win races and I can achieve greatness. You know, it doesn't change like that. But it's just when I'm in that position again, I know what I'm capable of doing against someone like Lewis."
The battle for P3 in the Drivers' Championship is looking spicy👀

Lando Norris- 113
Valtteri Bottas- 108
Sergio Perez- 104

Would be some feat if Lando could hold on! #F1 pic.twitter.com/HhWOu9IxHC

— PlanetF1 (@Planet_F1) August 5, 2021
Get the Lando Norris look with the official Formula 1 store
While Norris is used to fighting at the upper end of the midfield, he has taken a step up this season and currently sits an impressive P3 in the Drivers' Championship – but he knows that fighting for the podium positions against faster cars regularly is a different proposition to what he had been facing before.
"The fight is with Mercedes, and it's Lewis, which maybe puts that little bit a more pressure on you," Norris explained.
"I've been racing people since day one and whenever you have someone behind you, no matter who it is, and they're quicker than you, you always feel pressure, you always feel like you don't make mistakes, and so on.
"But, of course, in Austria I was fighting over third or second position at the time, so that also acts as an added pressure to it.
"I don't think the fact that it was Lewis changes everything, and it's like: 'Oh my God, what do I have to do now?', but it makes a very small difference, because you know he's one of the best drivers in the world and ever in Formula 1.
"So it just forces you to be even more perfect, to concentrate even more and things like that. Which I was able to do for 20 laps until I thought, I'm just ruining my own race now and I've got to let him go.
"So yeah, it's more reassuring, and gives me good confidence in the future when I'm in that position again of I'm racing Lewis or Max or whoever, that I'm comfortable that I can perform well.
"I'm not gonna say I don't make mistakes under pressure, because I'm sure I will. But I can perform very well and not easily make that mistake or give something up that easy."