Carlos Sainz farce in Las Vegas proves F1 needs a rulebook rewrite…and fast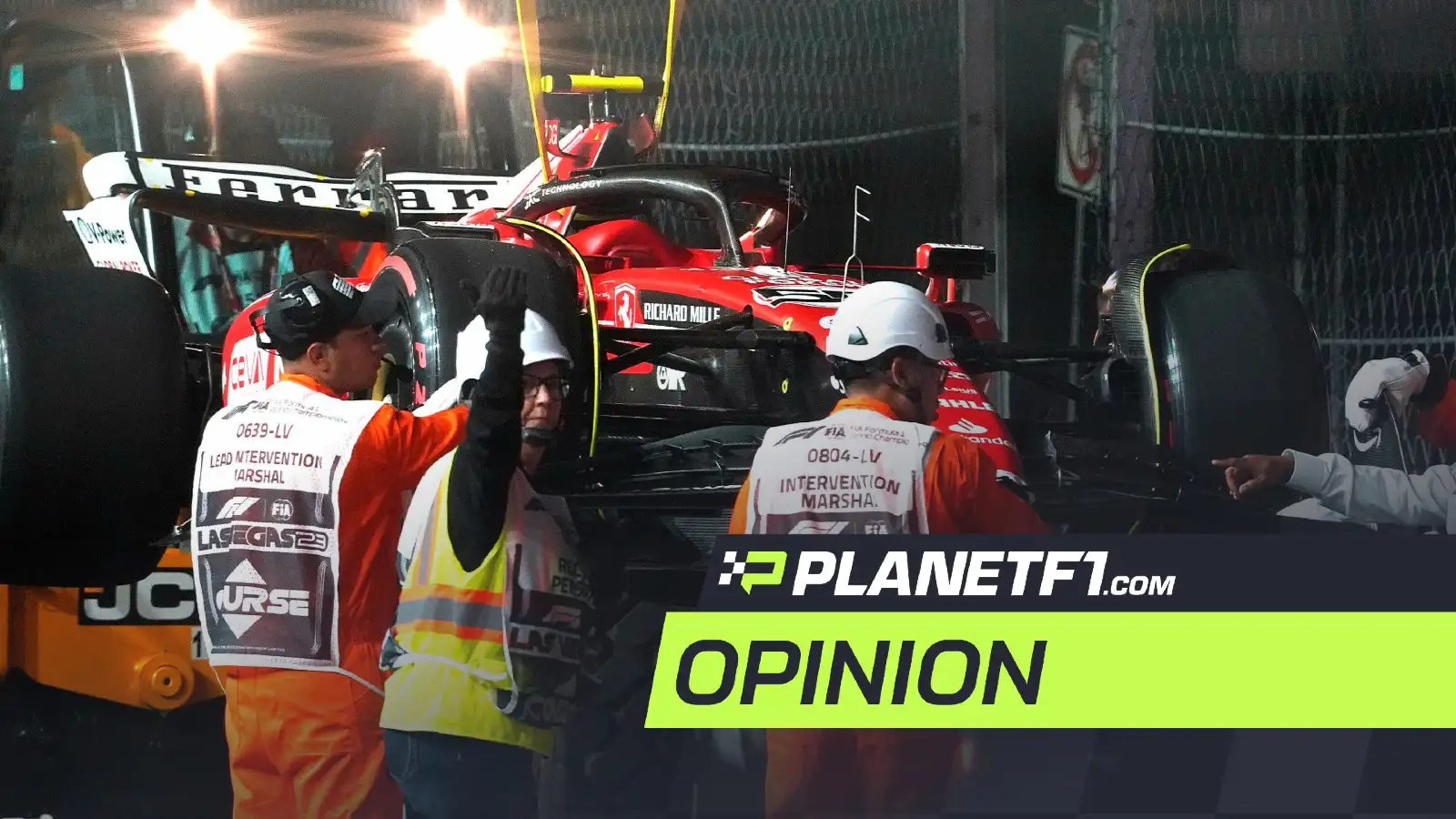 Carlos Sainz was put in the unenviable position of being penalised for a failing of the FIA in Las Vegas – a situation that needs to be rectified fast.
Heading out onto the Las Vegas track for the first time on Thursday, it took just nine minutes for the cars to prove the track wasn't ready for use as Carlos Sainz encountered a loose manhole cover that tore the underside of his Ferrari apart.
Aside from it being an incredibly lucky escape for Sainz as he avoided injury, the fact the Spaniard was then penalised for requiring new parts as a result of this failing proved a rewrite is needed in the F1 rulebook.
Las Vegas GP opened up glaring weakness in F1 rulebook
Try as they might, the stewards simply couldn't find a way out of giving Sainz the mandatory 10-place grid penalty as he changed the chassis and internal combustion engine as well as hybrid ancillaries.
It was the change of energy store that triggered the penalty, as he took a fourth component – only three energy stores are permitted for the season. The stewards, in handing out their penalty, made it clear that they would have allowed the change of component without penalty had it been possible to do so.
"Having received a request from the Competitor requesting a derogation of the Sporting Regulations in order to allow a replacement of the Energy Store from outside the pool, without penalty," read the stewards' verdict.
"And having heard from the Team Representative, the Director FIA Single Seater Department, having viewed video evidence and examined the Team's declaration sheet, the Stewards, determine that notwithstanding the fact that the damage was caused by highly unusual external circumstances, Article 2.1 of the Formula 1 Sporting Regulations obliges all officials, including the Stewards, to apply the regulations as they are written.
"Accordingly, the mandatory penalty specified under Article 28.3 of the Sporting Regulations must be applied.
"The Stewards note that if they had the authority to grant a derogation in what they consider in this case to be mitigating, unusual and unfortunate circumstances, they would have done so, however the regulations do not allow such action."
On such technicalities, weekends can be ruined, and thus Sainz's was – his second-place grid slot becoming 12th and down in the pack before a disastrous start to the race that may have been very different had he lined up in the grid slot Max Verstappen would go on to occupy.
Unusually, there was another technicality that allowed Sainz to actually take part in the delayed FP2. At pretty much any other Grand Prix, Sainz (nor Esteban Ocon) would not have been able to take part in FP2 due to the change of chassis caused by the damage from the circuit issue.
"Any Competitor whose car has a change of survival cell after initial scrutineering must complete a new declaration for approval by the Technical Delegate," reads Article 31.4 of the Sporting Regulations.
"However, any such car may not be used until the following day." As the clock went past midnight and, thus, into the following day, Sainz and Ocon were able to take part – a strange technicality that Las Vegas proved an inconsequential part of the rulebook.
Of course, Sainz's penalty was met with sympathy from most of his competitors. Max Verstappen, who directly benefitted from Sainz's penalty, said considerations needed to be taken into account for such unusual situations where a driver and team are so utterly blameless.
"The rules have to change for that," he said. "It's the same if you get taken out and you have a big accident.
"You can lose parts of the engine, energy store, all these kinds of things. So, first of all, that needs to change. These things can be taken into consideration, that if you can take a free, let's say, penalty or not and it will not be counted."
PlanetF1.com recommends
Las Vegas Grand Prix: Hit or miss? The verdict is in on F1's huge showpiece race
F1 penalty points: Lance Stroll hit with rare large punishment in Las Vegas
With Sainz himself expressing disappointment in undisclosed 'rival teams' pushing for his penalty to be upheld, Verstappen also said the input of the teams should be taken out of the equation.
"I think the teams should not be allowed to have a say in these kind of things," he said.
"Because for sure they're going to vote against that. Personally, I do think it's very harsh on Carlos, but in this political environment that we are in, of course every team thinks about themselves and they, of course, are going to say no, he has to take the penalty."
Verstappen's stance has a little giveaway about his thinking, though. His referral to "getting taken out" almost certainly is with the memory of 2021 when he was taken out by Lewis Hamilton at Silverstone 2021 – an incident the stewards ruled the Mercedes man predominantly to blame – and at Hungary 2021, when the Red Bulls were involved in a multi-car pile-up triggered by an error from Mercedes' Valtteri Bottas.
Both lost power units from their annual pool as a result of these collisions, in which neither were to blame.
With Sainz's encounter with the manhole cover in Las Vegas highlighting the inflexibility of the rulebook for turning a blind eye, how could a rule change be implemented to ensure fairness in such scenarios?
Collisions, as part of racing – blameless or otherwise – probably don't merit a 'blind eye clause' being warranted, as it would simply be too difficult to enforce fairly. After all, being fitted with a fresh power unit without penalty does allow for a fresher unit at subsequent events – meaning that teams can seek to nefariously exploit the situation. So, sorry Max, but I don't think you should get your way there.
But, in a situation as clear cut as Sainz's? Absolutely the situation needs rectifying. If a team loses components of any description, directly caused by the unraceable nature of the circuit which has been green-flagged by the FIA, then the team should be permitted to replace those components for new ones without penalty – they should also be given back the cost of those components, which is a major consideration in a tightly-bound budget cap era.
The exact wording of the regulation, of course, should be nailed by the powers-that-be in order to clamp down on it being caused by anything other than a failure on the part of the circuit or the governing body, but that should be easily done.
Sure, this may be a rare occurrence, but manhole cover issues have been common enough in the last 10-20 years to warrant measures being taken when negligent circuit preparation has resulted in damage to a team's entry.
Maybe the impact, however minute, to the wallets of F1/the FIA would finally see those manhole covers and drains properly welded down…
Read Next: Martin Brundle on what F1 'really needs to add' after Las Vegas Grand Prix