Latest Ferrari blunder 'painful to watch', asking too much of Charles Leclerc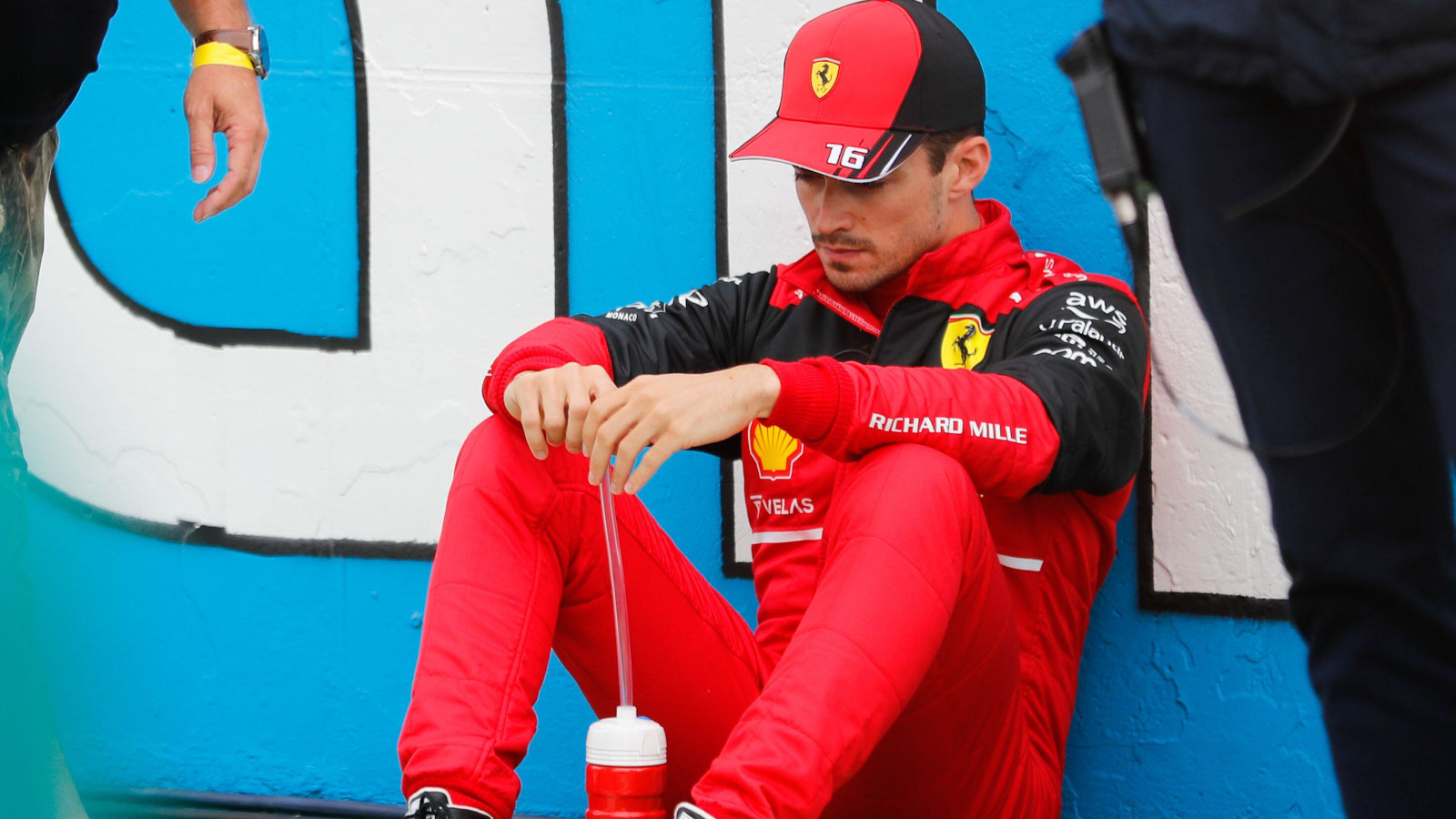 Martin Brundle feels Ferrari were asking too much of Charles Leclerc, expecting him to drive the car and decide his strategy at the Belgian Grand Prix.
Refreshed after the summer break and determined to fight back in the championship after a horror show end to the first part of the season, Ferrari had no answer to Red Bull's superior pace at the Spa-Francorchamps circuit.
But they also didn't do themselves any favours with a fresh batch of mistakes.
The Scuderia had pundits laughing in Saturday's qualifying when they sent Leclerc out on the wrong set of tyres. He raised the question, with "my mistake" the answer.
The knock on from that meant Leclerc had just one set of brand new soft tyres at the start of the race, the driver using those as he lined up P15 on the grid due to his engine penalties.
His chances of a great recovery drive hit a glitch when he had to make an early pit stop after a tear-off from Max Verstappen's visor became lodged in his brake cooling.
Dropping all the way to the back of the field, the driver again set about working his way through the field only to find himself in a lengthy debate with Ferrari's strategists over which tyres to take in a pit stop, or if he even wanted to stop at all.
And all the while Max Verstappen raced his way into the lead and towards the chequered flag, the Red Bull driver untouchable and on track for a maximum 26 points.
Ferrari tried to pull one back late in the grand prix, Leclerc stopping for soft tyres – a used set as he had already put three laps on them in Q3 – and a shot at the fastest lap point.
He got overtaken by Fernando Alonso, falling from fifth to sixth and while he recovered to cross the line P5, he lost that when he received a time penalty for speeding in the pit lane. He also didn't get the fastest lap point.
Ferrari: We need to stop soon. What tyre do you want?

Leclerc: Why are you asking me? I thought we were staying out. Whichever.

Ferrari: We're bored and just like to mess with you.

Ferrari: You're doing fine. Stay out.

Leclerc: Please stop talking to me.#F1 #BelgianGP

— Woodsie (@WoodsiesGarage) August 28, 2022
For Brundle, the Tifosi, and Leclerc, it was a painful Sunday.
"The team (presumably) decided to go for the fastest lap point which put him behind Alonso and needing to overtake, and he missed beating Verstappen's fastest lap by six-tenths of a second, and attracted a pit lane speed infringement consigning him to sixth place," Brundle wrote in his post-Belgian GP Sky Sports' column.
"It was painful to watch.
"Ferrari claim they need to change nothing on the pit wall calls but if you keep doing the same thing don't be surprised when you get the same result.
"Fully respecting that we only hear selected radio calls on the TV, but the Ferrari team appears to want Leclerc to make the final decisions on tyres when he doesn't have the full set of data because he's rather busy driving.
"He can't possibly make the final call on the hard compound tyre without knowing who's already using them, if anybody, and how they are performing.
"Leclerc is now third in the championship and 98 points behind, with eight races to go. All things being equal, I think we all know which way this championship is heading."
With eight races remaining, Leclerc, who slipped to third in the Drivers' Championship, trails Verstappen by 98 points.