Alpine 'working way more as a team' than last year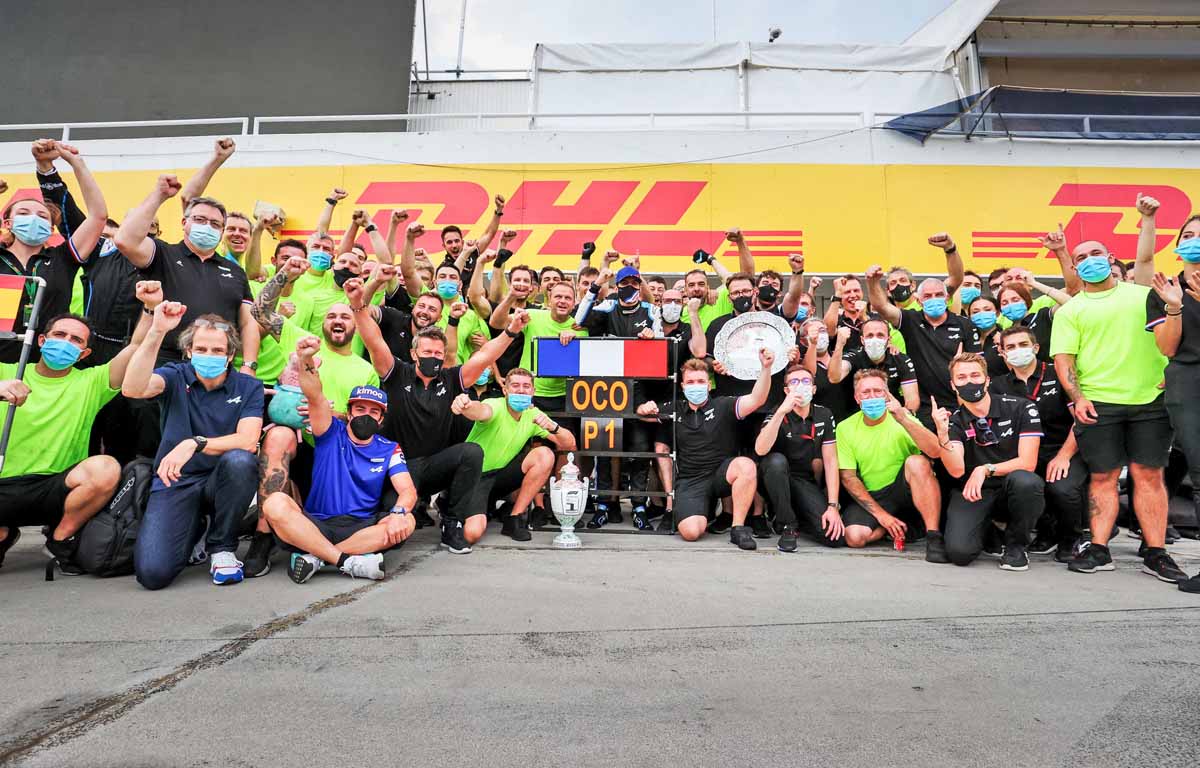 Laurent Rossi says Alpine are "working way more as a team than it looked like last year" – something that has resulted in victory.
Alpine return from the summer break in buoyant mood having signed off for the holidays with the celebrations sparked by Esteban Ocon's shock win in Hungary.
It was the perfect way to end a half-season in which the team had a very different look to 2020, with a new name (previously Renault), a new driver in Fernando Alonso, a new livery in the colours of the French flag and a new hierarchy headed by Rossi.
And, according to the CEO, a greater harmony within the team which has made the quest for success a more collective effort – especially as it should be remembered Alonso played a big part in Ocon's Hungarian Grand Prix triumph when he held up Lewis Hamilton's charge.
Top 5 Moments: Ocon's Hungary triumph
Henry Valentine and Charlotte Lines from PlanetF1's Torquing Point podcast discuss Esteban Ocon's first-ever Formula 1 win at the Hungarian Grand Prix in the colours of the rebranded Alpine team.
"The team is working way more as a team than it looked like last year," Rossi, who is supported by executive director Marcin Budkowski and racing director Davide Brivio, told Formula 1.
"I can see a lot of co-operation between the two sides of the garage. Every single race, every single session, I can hear engineers trading tips on why Fernando or Esteban went faster in this corner or that one.
"It's made easier by the fact these two are more often than not setting out on a similar setting, so we can share most of that setting from one car to another. That's nice, as the dynamic is good.
"On track, we are building our weekends much better. Both drivers have outqualified the car quite often, as in it has qualified much better than its natural pace, and that is testimony of the good work here.
"We are leveraging every single driver of performance that is left outside of the car itself.
"Drivers are put in optimum conditions, they are confident and the team is listening to the feedback. All of this is a good basis for the future and makes me quite optimistic for the day we have a faster car."
Despite the boost provided by Ocon's victory and that enhanced teamwork, it should not be overlooked that Alpine are still 86 points away from third position in the Constructors' Championship – which shows how far they have fallen generally after a 2020 campaign in which they were right on McLaren's coattails.
"It's a strange year," added Rossi. "Not so much effort has been put on the current car and more towards the next, so it's difficult to catch up on the points we lost early in the season.
"In other circumstances, we might have accelerated a bit to get back on track. Here, it's a bit what is lost is lost. This car has reached its limit."