Laurent Rossi clarifies why he calls Esteban Ocon 'at very least a very good second driver'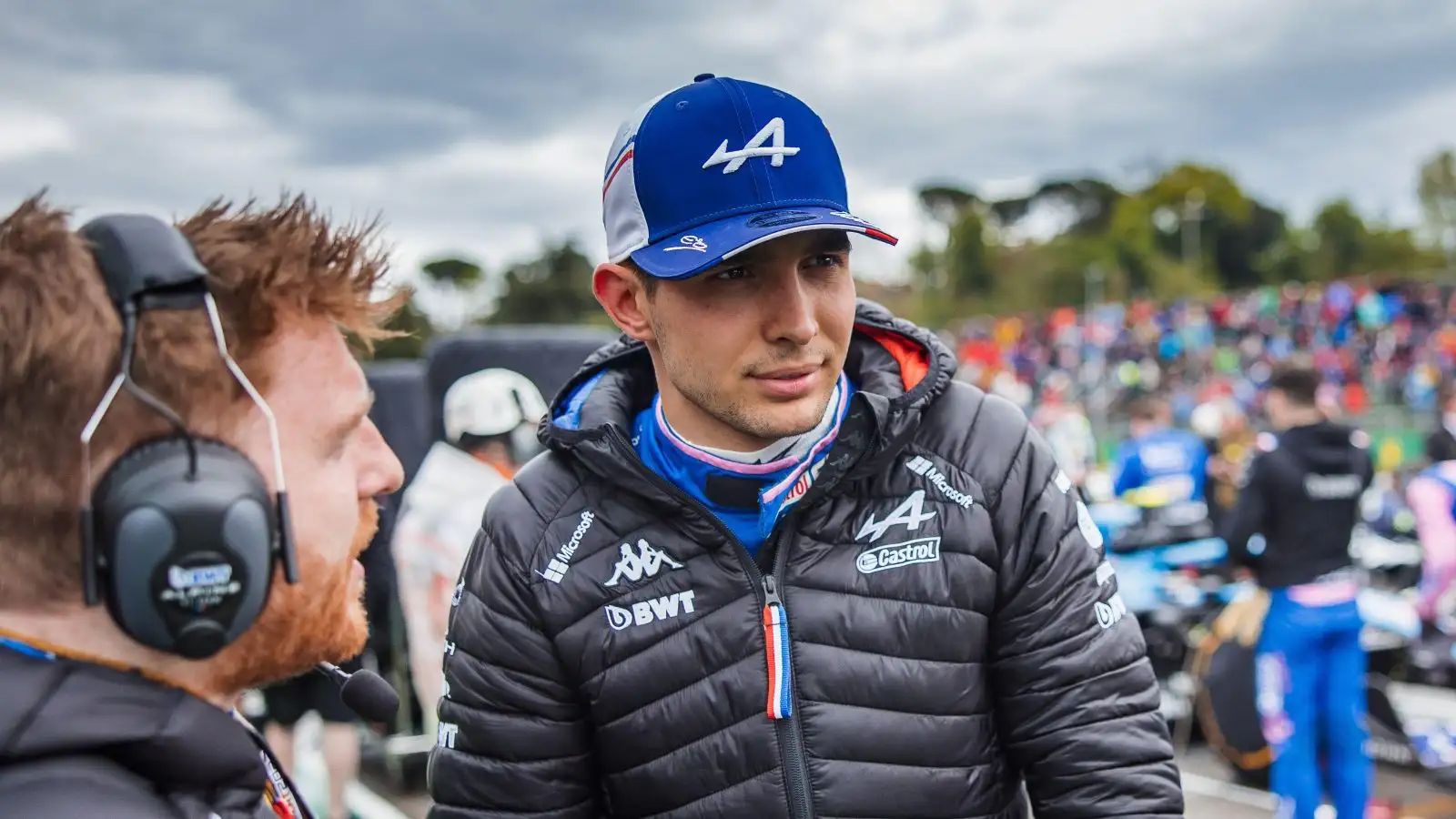 Alpine CEO Laurent Rossi continues to say that Esteban Ocon is "at very least a very good second driver", but the meaning is not as harsh as it perhaps sounds.
Ocon has now firmly established himself in the Alpine line-up, with F1 2023 being his fourth successive season with the Enstone squad, Ocon having signed a new three-year deal in 2021 which commits him to the team until the end of 2024.
This continuity is something that Rossi said had not been afforded to Ocon in the past, with the team deciding that he needed a "runway" in order to truly settle in the series, after stints previously with Manor and Force India/Racing Point.
Rossi though back in 2021, when referring to Ocon, said that he "might not be guaranteed World Champion material…so at the very least I have myself an excellent second driver."
But moving back to present day, Rossi would explain during the Beyond the Grid podcast that when he says Ocon is "a very good second driver" at the "very least", that is not him referring to Ocon as a number two-level driver within a team.
"There's no mystery about the fact that I've very quickly tried to make Esteban feel comfortable in the team," said Rossi.
"Because Esteban, what was remarkable about this boy is that he has never had an easy linear path. Every single year almost he was told 'that's it, that's over, that's the end of the road with us and you need to find another gig next year'. Which is super difficult, especially in a career like that, you need a bit of a runway, right?
"You need to feel comfortable about the fact that you're going to drive for a while and you actually can make this job your job for real, not just a hobby, and it's never ever been easy for him like really.
"And so irrespective of that, I also knew that this boy has been successful in all categories, has been racing against Max [Verstappen], Charles [Leclerc], everyone that is top driver today, and he has beat them over time in the past.
"So I'm like, 'yeah, some potential, let's put him in a more comfortable zone', not fully comfortable, because he needs to be on his toes all the time, that's important, but let us see what he has in store if we give him the environment, like a bit of like peace of mind.
"And so that's why we decided to bet on him for three years, and give him a bit of a runway also, because back then, to be honest, nobody wanted to come to Alpine, let's be clear, so it was as good a driver as we could get.
"And I've always said Esteban is at very least a very good second driver. Everyone interpreted that in different ways, but when I say that, it's like, there's no one and two at Ferrari, but I'm pretty sure a lot of people think there's a two! There's no one and two at Mercedes, and that's hard to figure out who's the two there to be honest.
"And I think Esteban would be one of those two, whichever person you would pick in both of those teams, so that's what I meant by that."
Ocon has certainly given himself some huge career highlights already with Alpine, having become a grand prix winner for the first time in 2021 when he took the chequered flag at the Hungarian Grand Prix.
And in 2022 he would outscore his team-mate at that time Fernando Alonso over the season, even if Alpine's reliability issues that year did hamper Alonso quite severely.
And with that commitment from Alpine, Rossi said he has noticed a positive change in Ocon, a driver who he expects to bring the team forwards with him to validate that multi-year commitment.
Asked if he sensed a change in Ocon when he was given that "runway", Rossi replied: "Yes, I did.
"He started driving more efficiently and putting things together for the long term, not trying to impress everyone at every race, which is a very different thing because he was taking inconsiderate risks and he was basically driving, perhaps without knowing, with that fear that he had to potentially lose his seat on that race.
"So basically, it was different, and I told him now the thing is, you need to grow, like, grow up, like in many ways, and grow the team with yourself. That means you need to be more of a strategic driver and a leader, which is extremely different from just being a super-fast cool boy, that's a different story.
"I need you to exhibit the qualities that might make you one day, a world champion, which is something different than just racing fast.
"All of the drivers on the grid are racing super fast, no doubt, they could beat one another on one lap, no doubt, like even the last on the grid could be the first on one lap, I'm pretty sure. And they would admit it.
"But on a long term, building a team, rallying the people around you, extracting the maximum performance out of your car, but not just your car, out of the factory, out of like the 1200 people supporting you, that's a different ballgame.
"And that's what I told him to do. I gave him those three years in exchange of take the team high higher up with you."
PlanetF1.com recommends
From F1 to NASCAR: The 10 F1 drivers who made the move to the US
Where are they now? The F1 2008 grid for Lewis Hamilton's dramatic first title
The other eight F1 cars that have given Lewis Hamilton trouble
Another highlight of Ocon's 2022 campaign came at Suzuka, where his valiant defence kept Mercedes' Lewis Hamilton at bay, Ocon successfully holding on to finish P4.
Rossi said in that race Ocon showed that he is still a "feisty" driver, but now in a more constructive way for the team.
"He made a lot of progress there," said Rossi. "He used to be potentially a little bit more of a feisty driver.
"He is still feisty, and I hope that they keep that feistiness. I mean, people always ask me about the fact that drivers can fight with one another, it's normal, they will lose the sense of competition otherwise, it's only normal they do that. But now he does it with the conscience that he is serving a team and not himself."