Leclerc: Thank God nobody was hurt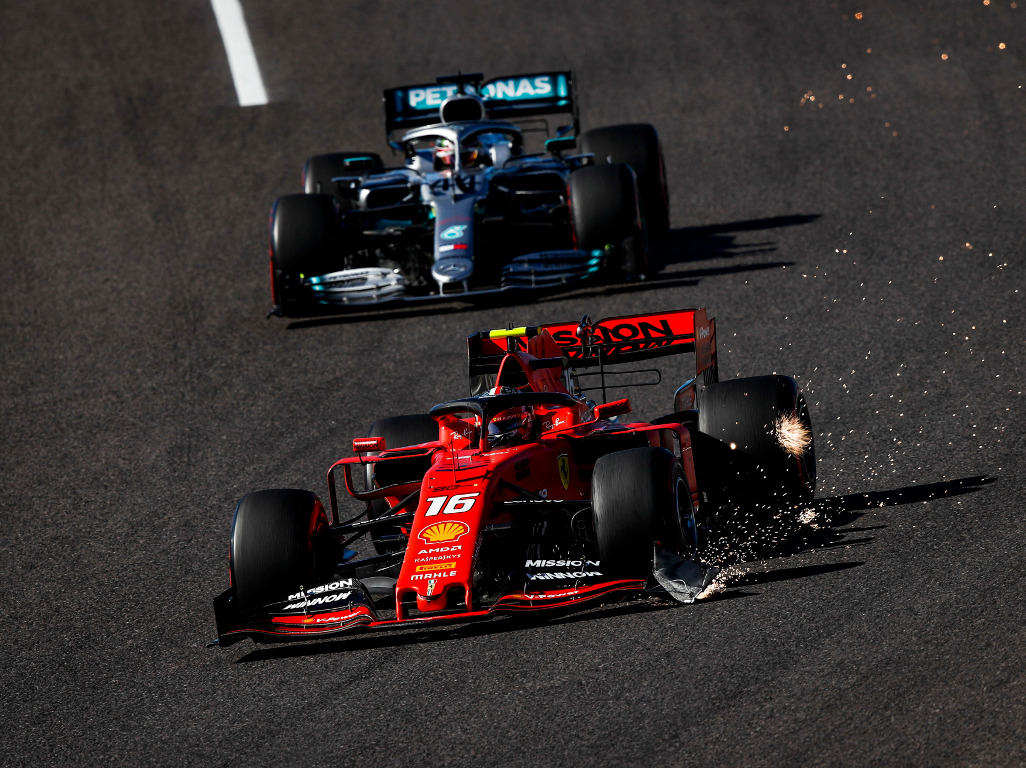 Charles Leclerc is grateful nobody was hurt as his Ferrari's end plate flew off his broken front wing, crashing into Lewis Hamilton's mirror.
Leclerc's SF90 suffered front wing damage when he hit Max Verstappen at Turn 2 on the opening lap of the Japanese Grand Prix.
Despite having a damaged car, Leclerc continued lapping for several laps with Hamilton the driver right behind him.
The Brit voiced his concerns to Mercedes, telling them that Leclerc's car was "dangerous" as bits could "could fall off at any point".
The end plate eventually did, flying through the air and shattering Hamilton's side mirror.
"Damn, shit came off," said the Mercedes driver. "Lost a wing, a wing mirror."
Crazy how big the piece of debris from Leclerc's car which hit Lewis' (compare to spring which hit Massa in 08). Another vindication of Halo, but should leaving a dangerous car on track and ignoring FIA calls to bring it in only be worth a 10s penalty? pic.twitter.com/G71zpYe6h3

— Nate Saunders (@natesaundersF1) October 14, 2019
Leclerc was later penalised, handed a 10-second penalty for driving an unsafe car.
He was also called to answer for his actions by one Instagram user.
"So are you gonna comment on nearly taking Lewis' head off with your wing or not," asked applejuice696.
But while Leclerc explained that he could not see the damage, he admits he is grateful that no one was hurt.
"The only part I could see loose from inside the car was the mirror and that's why I was holding it down the straights to avoid losing it and hit somebody.
"All the other parts, we can't see them.
"I was aware I had damage on the front wing as I could feel it but I wasn't aware I was still losing parts.
"Thank God nobody was hurt."
Follow us on Twitter @Planet_F1 and like our Facebook page.