Hamilton hit '230km/h with only three wheels'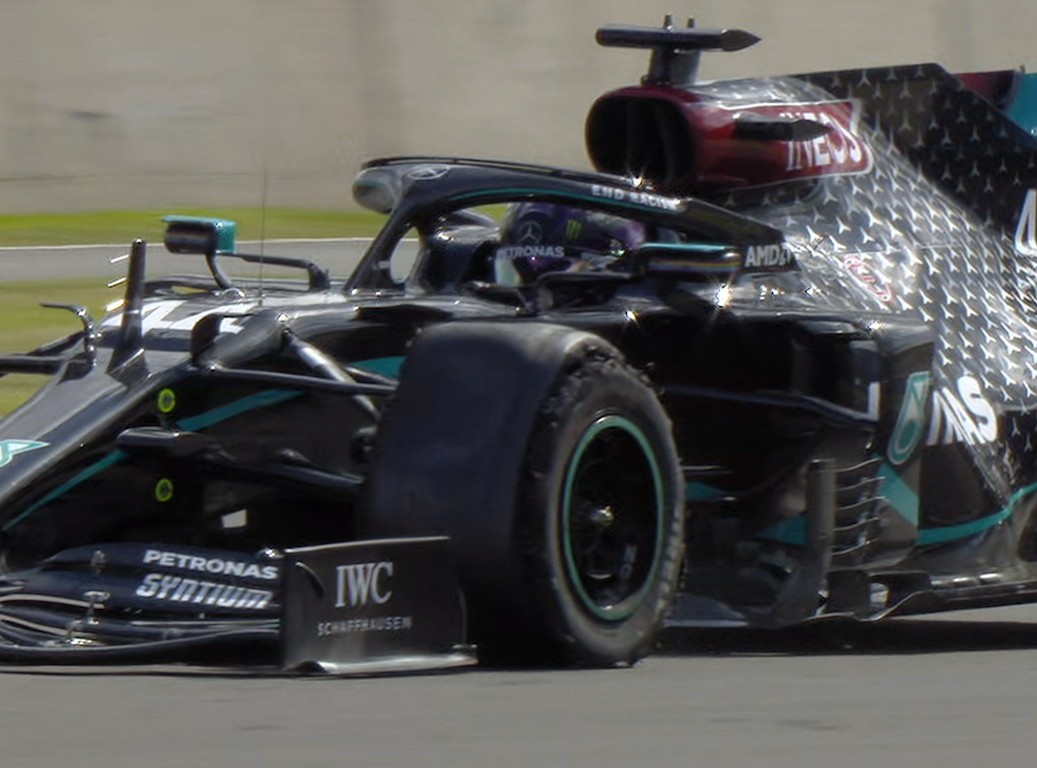 Lewis Hamilton hit 230 km/h down the Hangar Straight as he raced with a failed front left tyre to win the British Grand Prix.
Hamilton was on course for a comfortable victory at last Sunday's British Grand Prix, racing from pole position towards a seventh win at the Northamptonshire track.
However, what was a simple race turned into a nightmare when the Brit's front left Pirelli tyre failed on the final lap.
With Max Verstappen some 30 seconds behind and closing at a rate of knots of his fresh tyres, Hamilton walked a fine line between pushing and nursing his car to the chequered flag.
He did so with 6 seconds in hand.
Formula 1 have subsequently revealed that the Brit still clocked 230km/h down Silverstone's long Hangar Straight as he fought to stay ahead of the Red Bull.
To put it into perspective, the cars usually hit 300km/h down the Straight.
Hamilton legit drove on 3 wheels. The front left tyre real stopped at one point 😅. Wow pic.twitter.com/RzmybNGjR9

— THA Santa (@realThasanta) August 3, 2020
F1 sporting boss Ross Brawn described it as "absolutely mind-blowing".
Writing in his post-British GP column, he said: "No front left tyre on the car and he still took Copse and Stowe corners at more than 130km/h.
"He reached 230km/h on the Straight with only three wheels, and a front left tyre flailing around – absolutely mind-blowing.
"He judged it to perfection to win the race by a few seconds and a brilliant example of the amazing talents and bravery of Lewis."
Hamilton wasn't the only Mercedes driver in trouble late in the race as Valtteri Bottas' tyre went on the penultimate lap.
That forced the Finn to pit for fresh rubber and he finished outside the points.
FIA race director Michael Masi has revealed he was quickly onto the radio to Mercedes and also McLaren as Carlos Sainz had a similar failure, telling both teams to tell their drivers to slow down.
"I actually hopped on the radio to the two teams and three cars and asked them to slow right down immediately," Masi said, "effectively to minimise the impact both on themselves, but more importantly on everyone else around them.
"That was an immediate call that went from race control to each of the teams individually."
Hamilton's victory was his third of this season, handing the Brit a 30-point advantage over Bottas in the race for the 2020 World title.
Follow us on Twitter @Planet_F1 and like our Facebook page.