Lewis Hamilton 'head and shoulders' above Senna, Schumacher for clean F1 record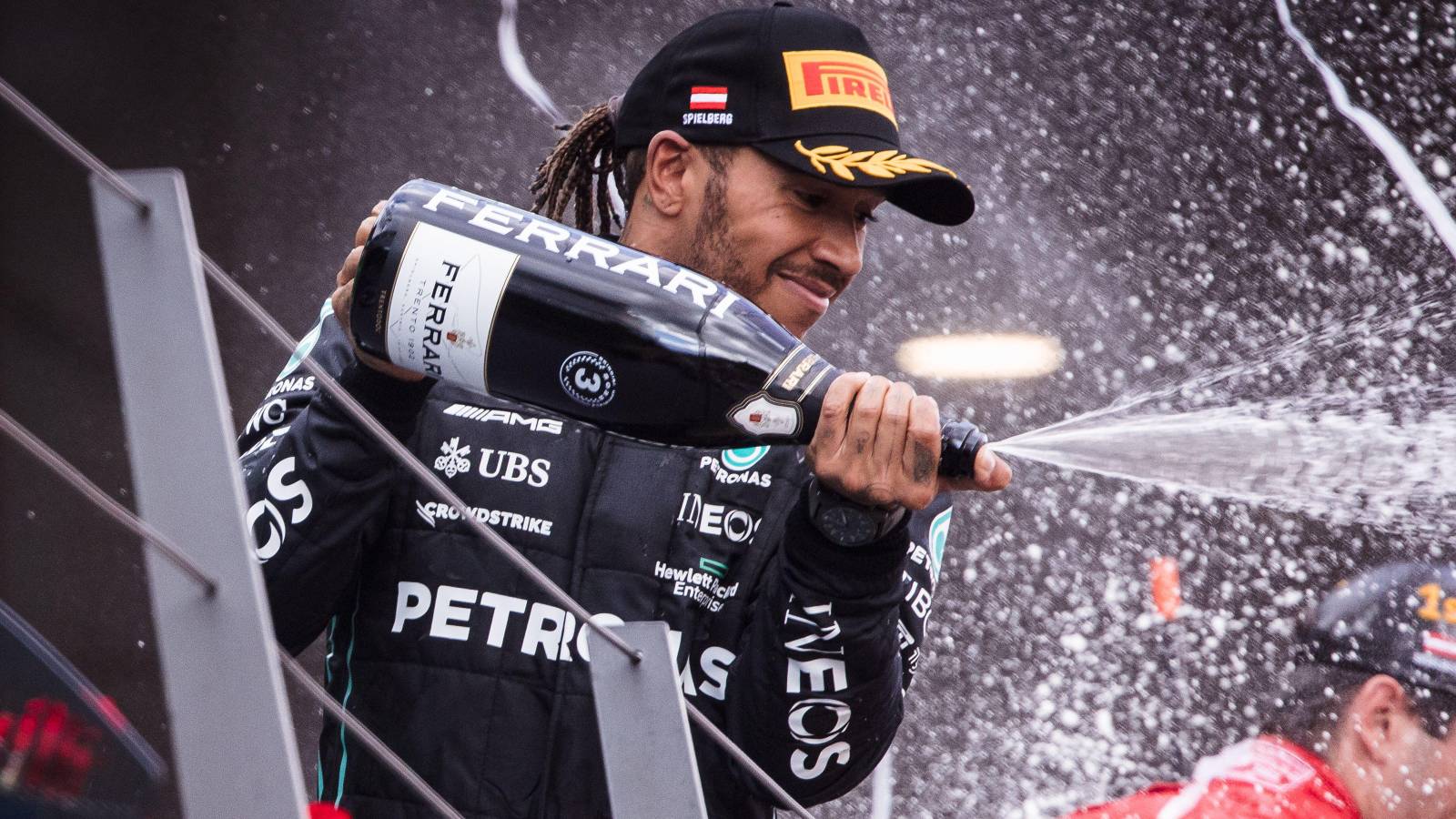 A respected Formula 1 observer believes Lewis Hamilton is 'head and shoulders' above Ayrton Senna and Michael Schumacher when it comes to cleanliness in on-track battles.
With seven World Championships, Hamilton features in any conversation surrounding the greatest F1 driver of all time along with Schumacher and Senna.
Hamilton has frequently expressed his admiration for Senna over the years, but former Williams and Ferrari team manager Peter Windsor believes the Mercedes driver is far closer in terms of driving style to fellow seven-time World Champion Schumacher than the Brazilian.
Asked to compare Hamilton's technique with those of Senna and Schumacher, Windsor – a close confidante of the esteemed driver coach Rob Wilson, who has worked with such drivers as Kimi Raikkonen, David Coulthard and Valtteri Bottas – told his Twitch stream: "I would say Lewis is nearer to Michael. In terms of the way he uses the throttle and the brakes and the steering, I think he's much nearer to Michael.
"In fact, I think he's ahead of Michael in a couple of significant areas and I think he's a little bit softer than Michael in all his inputs, particularly with braking.
"I think Lewis's feel for the brake pedal is probably better than any driver in the history of the sport in terms of how he applies it and the rate at which he comes out of it.
"That speed of movement – or the slow motion of movement, the suppleness of movement – is just astonishing with Lewis. I think that's probably his greatest attribute. And that of course then gives you such a stable platform around which you can do everything else with the throttle and the steering.
"I think Ayrton was fairly linear actually in the way he drove, which was very Lewis-like, but his corner entries weren't as early as Alain Prost's to my eye.
"If you took 1988 as a good year to compare the two, Alain would always have a slightly earlier turn in than Ayrton, so his corners were a little bit shorter.
"And Ayrton always had that business of the throttle blipping where he just wanted to feel that moment to get the power on, whereas Lewis and Michael never had to do that in order to find that moment.
"So you may think, what made Ayrton so great? Well, what made Ayrton so great was his incredible precision.
"If the average great grand prix driver can shave a wall to within two centimetres, Ayrton could do it within half a centimetres 100 times over – apart from the apex of Mirabeau in the middle of the [1988] Monaco Grand Prix, which we have to put down to a lack of concentration.
"For sure Lewis, for sure Michael, for sure Nigel Mansell, for sure Alain Prost [and] Niki Lauda all had phenomenal judgment, but I think Ayrton possibly took that to a higher level."
PlanetF1.com recommends
Mercedes enter launch season chat with W14 launch date confirmed
Five drivers under the most pressure ahead of the F1 2023 season
Ranked: The best and worst F1 tracks on the F1 2023 calendar
Despite their success in F1, the careers of both Schumacher and Senna were marred by a series of distasteful incidents with other drivers.
Senna was known as a hard and uncompromising racer and intentionally took out former team-mate Prost at the start of the 1990 Japanese Grand Prix, whereas Schumacher collided with Williams drivers Damon Hill and Jacques Villeneuve at the title-deciding rounds in 1994 and 1997 respectively.
In the closing seconds of qualifying at Monaco 2006, meanwhile, the German parked his car on track to deny Championship rival Fernando Alonso pole position.
Despite his controversial clash with Max Verstappen on the opening lap of the 2021 British GP at Silverstone, Windsor believes Hamilton's on-track conduct gives him a key advantage over Schumacher and Senna.
He said: "I think if you're talking about trackcraft only, I think Lewis is head and shoulders above both of them because he really doesn't do anything dirty at all. Everything Lewis does is hard, impressive, occasionally ends in tears – Nico Rosberg in Barcelona [in 2016] – but, generally speaking, he doesn't do anything dirty at all.
"I know a lot of you are going to say, well, what about Silverstone with Max Verstappen?
"But these are two guys that have just spent half of the Silverstone lap alongside one another, within an inch of one another. They come out of Luffield and Max bogs down a little bit. What's Lewis going to do, just sit behind him? No, he's going to go to the right.
"And yes, it was an ambitious move by Lewis but then, equally, Max – who had just been racing with him for half a lap wheel to wheel – for sure would have known, 'Lewis is going to be going down my inside now because I've bogged down slightly coming out of Luffield'.
"And that's why I always say that was 50:50 because it comes down to the Niki Lauda, Alain Prost philosophy of not being hit by another driver being just as important as going for the gap.
"Generally speaking, Lewis is a model of clean driving whereas Ayrton was anything but and Michael was anything but.
"You could say Michael probably fed off Ayrton a bit, but Ayrton was brake testing in Formula 3 with Martin Brundle. He did that to Nigel at Spa in '87. And, of course, talk to Alain Prost about Suzuka and twice he was taken out by Ayrton.
"So Ayrton did a lot of that stuff but Michael was different because Michael did a few of those but he also did what Ayrton would never do probably, which was just crash the car deliberately to stop Fernando Alonso getting a pole.
"I don't think Ayrton would ever have done something like that, I don't think it would ever have occurred to him to do it. [There are] not many drivers to whom it would occur actually, but Michael did it.
"He later said, 'well, you know, you saw a lot of that stuff going on in football and I was just doing what I've seen in other sports'.
"In terms of driving style, I put Lewis closer to Michael than to Ayrton. But in terms of track craft, I put Lewis ahead of them both, for sure."