Hamilton: 'I've always had a target on my back'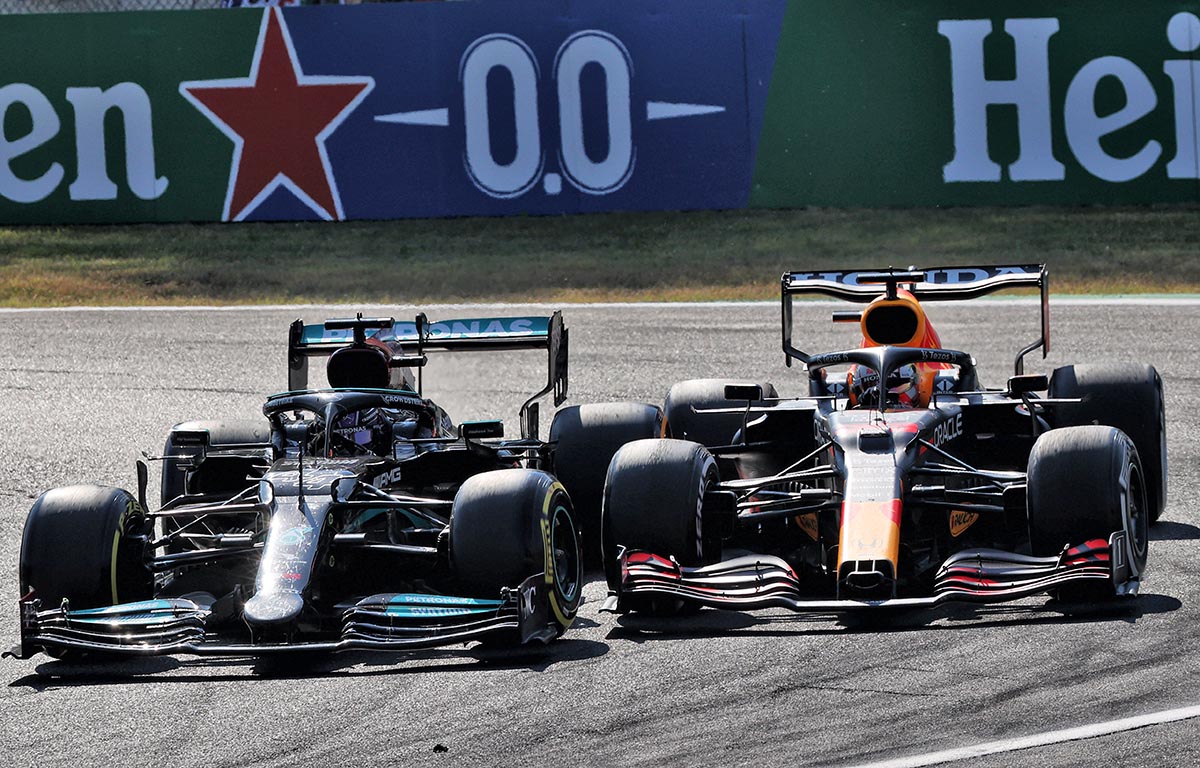 Lewis Hamilton says he has not been caught unawares by Max Verstappen's strongarm tactics in their World Championship battle.
On several occasions this year, Verstappen has refused to concede ground when going wheel to wheel with Hamilton – culminating with both of them ending up in the gravel at Monza.
Verstappen was penalised by the stewards for that incident, after which Mercedes team principal Toto Wolff said Hamilton had "decided not to bail out anymore".
Currently two points ahead in the standings, the Briton has not experienced such a challenge to his supremacy in Formula 1 since 2016 when pipped to the title by his team-mate Nico Rosberg – with whom he also made contact several times on track during their time together at Mercedes.
Hamilton says it is not a new experience for him to feel the force Verstappen is bringing, for it has happened throughout his F1 career and even before.
Check out all the latest Lewis Hamilton merchandise on the official Formula 1 store
Reflecting on the last 99… 🤯 still can't believe it. THANK YOU 💜 pic.twitter.com/tPAPxZeicZ

— Lewis Hamilton (@LewisHamilton) September 28, 2021
"Max isn't the first person [like that]," said Hamilton, quoted by ESPN. "I've always had a target on my back. I've always been at the front since I was young. I had No 1 on my car for many years even before I got to Formula 1.
"Even [Fernando] Alonso would never give up. So I've raced against a lot of drivers that do that.
"Some are smarter than others and I know there are other corners [later in the lap] and it's a marathon, not a sprint. Some drivers are right to the point of it being not right and then are able to control it, and some don't.
"I guess the most important thing is to make sure we stay safe, because at the end of the day with all this excitement and this championship, the one thing we want to see at the end of the year is people going home to their families and having a good winter."
Hamilton expanded on his point of taking a patient approach to racing rather than going all-in at a single opportunity that may not be the wisest move.
"I've had to back out of certain scenarios with Max because otherwise we would crash and I'm just like 'I'll beat him in another way'," he said.
"I think 'if I can just survive this corner, I'll challenge and fight him another way, stay close, use strategy and all these different things'.
"But that comes with experience and I really hope that pays dividends at the end of the year, but of course you just have to find the right balance. That's really what I'm just trying to do."
PlanetF1 Verdict
Hamilton claims he has always been a target
Lewis Hamilton claims that he has always had a target on his back for being at the front of the grid.