Lewis Hamilton apologises after lock-up meant it 'all went out the frickin window'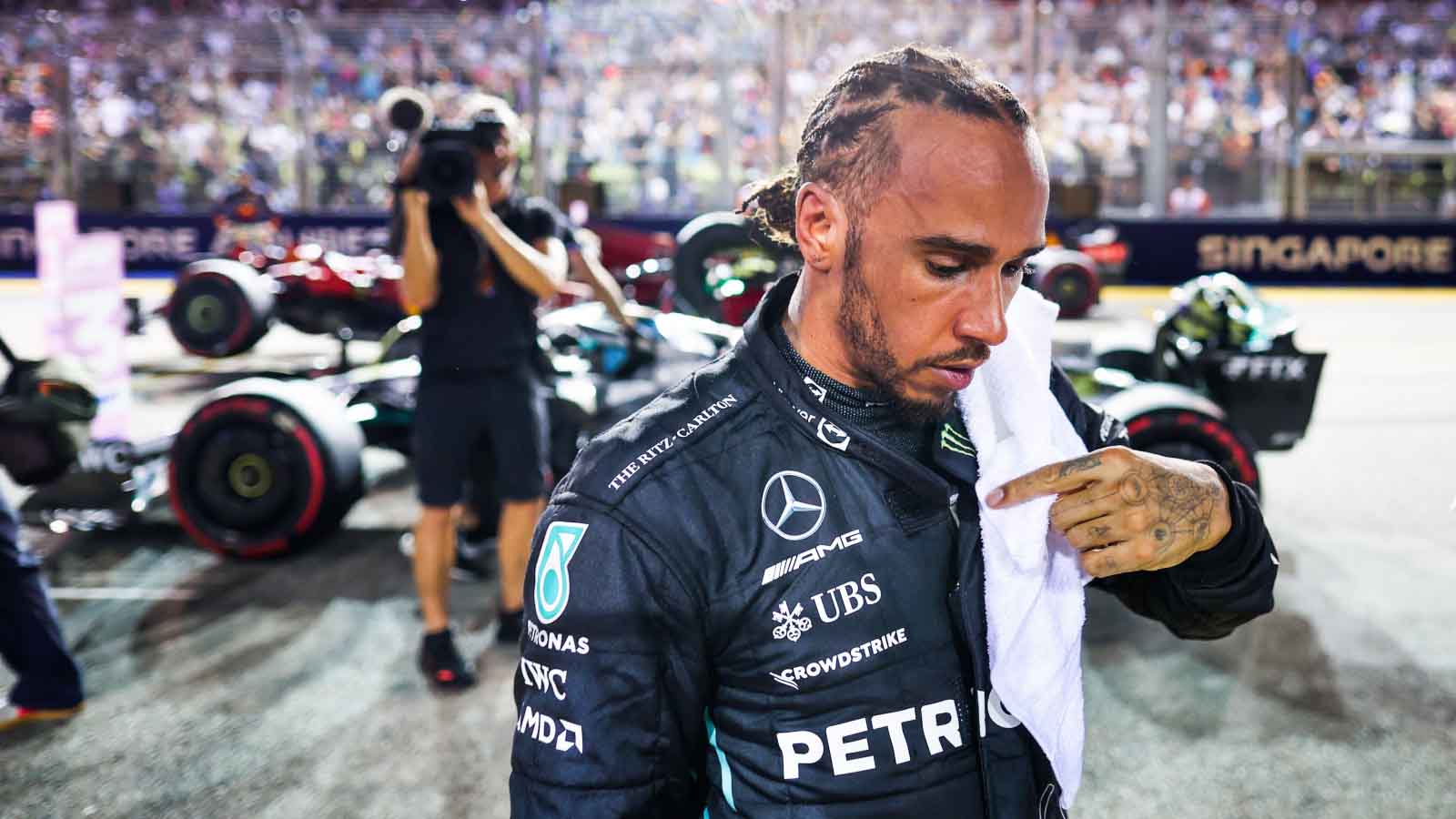 Lewis Hamilton said his race "went out the frickin' window" following a mistake which saw him drop to P9 at the Singapore Grand Prix.
It was an eventful day for Hamilton, who started P3 but was immediately passed by Carlos Sainz and spent the majority of his race stuck behind the Ferrari driver.
That was until lap 33 when the seven-time former World Champion went for an overtake at Turn 7 only to lock up and crash nose first into the Tecpro barrier.
He was able to reverse and rejoin the track but did so behind Lando Norris, who had been defending P5 from Max Verstappen. Hamilton emerged back onto the track just ahead of Verstappen.
Hamilton then had to pit to replace his damaged front wing, which dropped him further down the grid to P9 behind Sebastian Vettel.
The Briton was then engaged in a battle for position with two other World Champions as he fought Vettel and Verstappen, the latter of whom had also locked up and sunk down the order.
The three drivers were running VET-HAM-VER until Hamilton again locked up on the wet part of the track at Turn 8. He saved himself from hitting the barrier that time but lost his place to the Red Bull man.
After finishing P9, Hamilton apologised to his team following the mistake which ended his hopes of a podium finish.
"I don't think so," Hamilton replied when asked by Sky Sports F1 if he thought a podium would have been on had he managed to pass Sainz. "Potentially we could have undercut him, but it was a battle of who gets on the slicks first and it would have been slice and dice.
The tricky track conditions even caught out Lewis Hamilton! 💥#SingaporeGP #F1 pic.twitter.com/7ZbvJjUkxJ

— Formula 1 (@F1) October 2, 2022
"I was hoping for that, and that's what I was working towards, but then [it] went all out the frickin' window when I locked up. So my apologies to the team, but we live and we learn – I'll recover."
Despite the result, Hamilton had a positive weekend having gone fastest in a free practice session for the first time this season, qualified P3 and finished in the points.
The Mercedes man admitted as much but said when things like his mistake happen "your heart sinks a little bit".
He added: "I think we started off with a pretty decent weekend and [it] just was really, really unfortunate. I think at the end, [I] was trying to overtake and that lock-up into Turn 7.
"When those things happen your heart sinks a little bit but you get back up again and you try. I tried to get past Seb but it was wet on the inside."
Hamilton remains P6 in the Drivers' Championship, 32 points behind Sainz and 70 points ahead of Norris.