Lewis Hamilton dedicates his Brazilian citizenship to F1 icon Ayrton Senna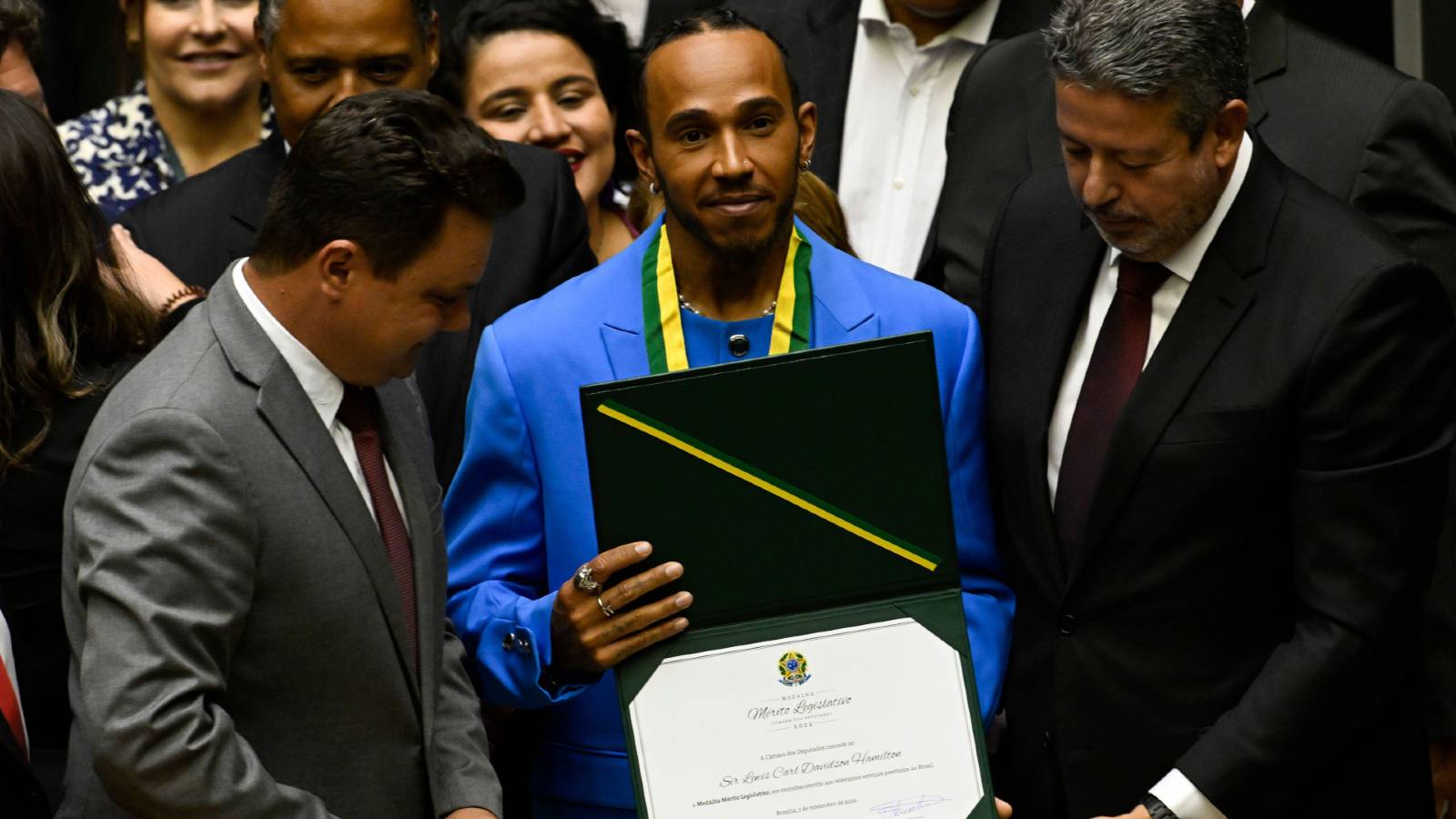 Lewis Hamilton has devoted his newly-confirmed Brazilian citizenship to Ayrton Senna and the family of the late three-time World Champion.
A push by congressman Andre Figueiredo for Hamilton to be made an honorary Brazilian was made official during a ceremony at the start of the country's 2022 grand prix week.
The 37-year-old Mercedes driver has had a long affinity with the nation where he secured the first of his seven Drivers' titles at Interlagos in 2008.
A three-time winner in Sao Paulo, Hamilton grew up idolising Senna and watched him become a Formula 1 legend before his life was tragically cut short in a crash at Imola in 1994.
"I really want to dedicate this honour to Ayrton Senna," said Hamilton at the ceremony in the capital city Brasilia's Chamber of Deputies.
"To Ayrton's family, to his friends and to his fans. For me, when I was five years old, I saw Ayrton race for the first time, and that was the moment I knew I wanted to be a World Champion, just like him.
"It was then that I knew and learned about Brazil. It was then that I started to play FIFA as Brazil!
"But really, through his eyes, I was able to see how passionate Brazilians were and how deep it goes, the love and passion you have for your country, and how beautiful it is. I'm so excited to spend some more time here."
Hamilton told the Brazilian people he felt "like now I'm one of you, finally".
"I'd like to say a big thank you to everyone here, for all those who have moved mountains to make this day possible," he added. "It's honestly the greatest honour for me to be here receiving and accepting this citizenship."
Mercedes expressed their pride in the driver who, along with team-mate George Russell, will try to give them a first win of the 2022 season at the Brazilian Grand Prix.
On social media, team principal Toto Wolff said: "It is a special moment for Lewis as he becomes an honorary citizen of Brasil.
"To be recognised and celebrated by a country that calls Ayrton Senna one of their own is a true measure of Lewis' incredible achievements, both on the asphalt of Interlagos and as an advocate for diversity in our sport.
"From each member of the team…Lewis, we are incredibly proud of you. 'Obrigado' for what we have achieved together so far – and we are excited by what is still to come."
Read more – Lewis Hamilton: We obviously have a championship we need to get back