Lewis Hamilton shares photos from his 38th birthday party celebrations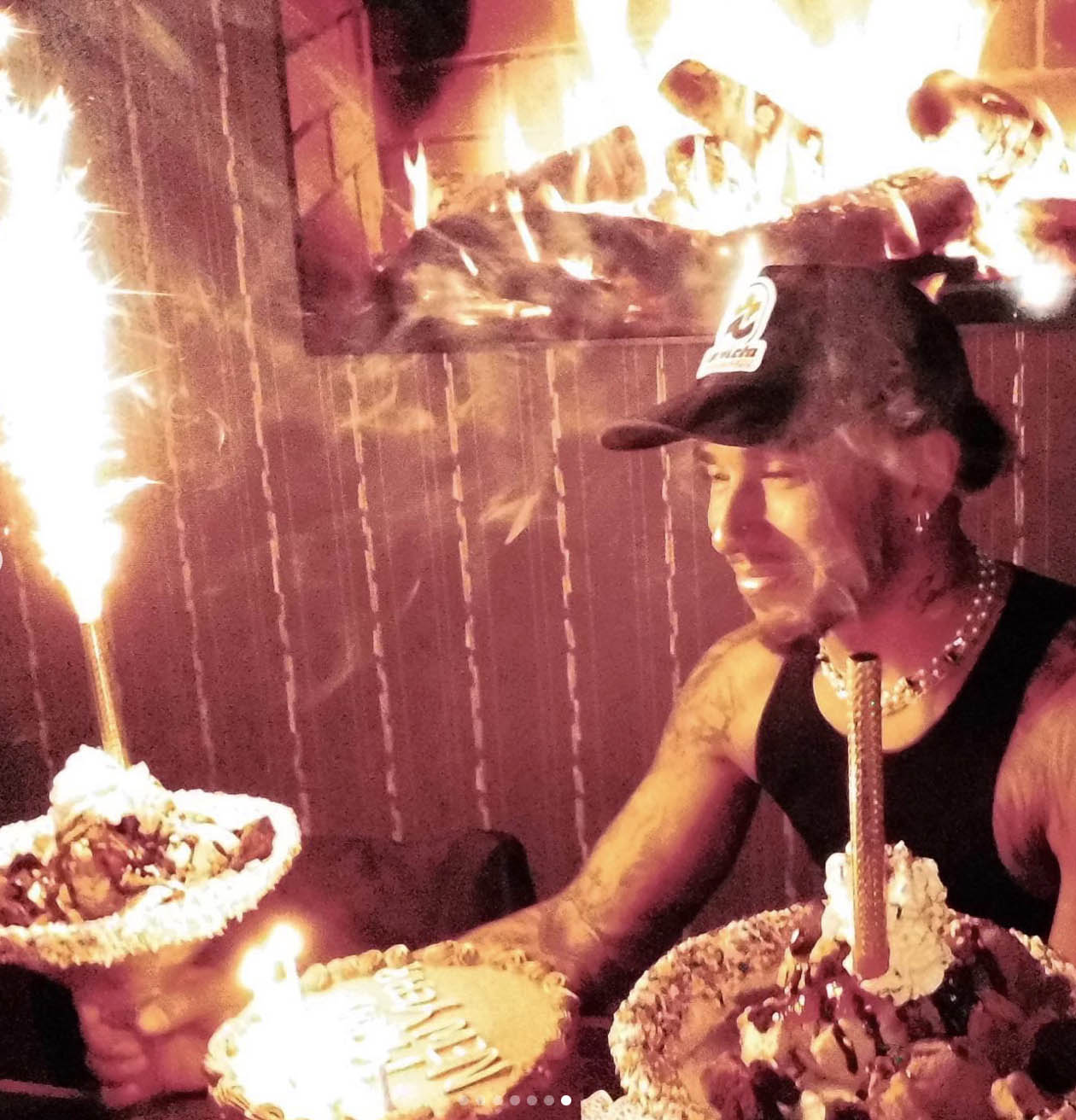 Lewis Hamilton celebrated the start of his 38th year in style, making the most of Formula 1's off-season with a "blurry" birthday party alongside close friends.
There are few better at unwinding post-season than Hamilton, who needed some down-time after an excruciating 2022 season that left the motorsport icon winless for this first time in his 15-year career.
The Hertfordshire-born driver's passion for travel and extreme sports has taken him to Antartica this winter, as well as enjoying a trip to New York before hitting the slopes for a family skiing holiday.
Hamilton also celebrated beloved bulldog Roscoe's 10th birthday and made a dream come true for his brother Nicolas, who donned a Mercedes race suit and jumped into the German team's simulator – becoming the first disabled person to do so.
The seven-time F1 champ turned 38 on January 7 while he was exploring Antartica, before returning to civilisation to party with some friends. Hamilton posted a series of pictures to his Instagram showcasing what looked to be a wild night out.
He captioned the post: "The best ones are always a blur. Thanks for all the birthday love."
Wearing a black cap, flashy necklace and black tank-top, Hamilton blew out the candles on a chocolate cake topped with the words "Merry New Year" written in icing, surrounded by extravagant desserts.
The racing veteran posed for some more blurred pictures with his pals, downing shots as they partied into the night.
The next morning, Hamilton shared videos to Instagram Stories of Roscoe chilling beside him, resting ahead of his next adventure.
The birthday boy described Antartica as "the most beautiful place I've been" as he joined retired snowboarding icon Shaun White and actress Nina Dobrev on the trip. He still needs to work on his cropping skills, though…
The trio relaxed aboard a £200million mega-yacht while Hamilton kept fit by going running, encountering penguins and seals. In a video posted to social media, he said: "Great way to start the year, look at that view. Super grateful. Most beautiful place I've ever been, well, equal with Africa maybe."
The 2023 season set to kick-off on March 5, with fans left to speculate about Hamilton's future once again. At 38-years-old, many are wondering when his powers will start to dwindle.
The F1 great's contract with Mercedes expires at the end of the year, and his future depends entirely on their success in the Championship.
"I think retiring as a world champion is a dream that every athlete has – and so do I," Hamilton told Sport Bild.
"Sometimes you wake up and have this feeling: I don't want to do this anymore. And sometimes you wake up and think: I can still do other things my whole life, there is definitely more I want to achieve. It won't be a terribly long time now, but I'll definitely be staying.
"I know how hard it is to be at the top and to stay there. We want to get back to the top! What gives us great hope is the end of (last) season. The last few races showed a clear positive trend and prove that with perseverance we can achieve anything."
Despite facing a gruelling schedule of racing from March until November, Formula 1 drivers can never get enough of racing and often turn to video games in off-season.
Max Verstappen indulges in his passion for simulator racing in his spare time, while the likes of Lando Norris and Charles Leclerc enjoy online gaming.
Hamilton, being the oldest driver on the grid bar 41-year-old Fernando Alonso, usually prefers a more old-school approach.
Ahead of the Canadian Grand Prix last year Hamilton revealed he'd been playing the Ayrton Senna Super Monaco GP II game on a 1980's Sega Genesis console and Mario Kart on a Nintendo 64.
This winter Hamilton has moved into the modern age, revealing that he was repeatedly wiped-out by a fan on racing game Gran Turismo.
PlanetF1.com recommends
Ranked: The best and worst F1 tracks on the F1 2023 calendar
Five key questions facing Frédéric Vasseur as new Ferrari team boss
F1 points system explained: How can drivers score points in F1 2023?