Hamilton happy to break Formula 1's 'invisible rules'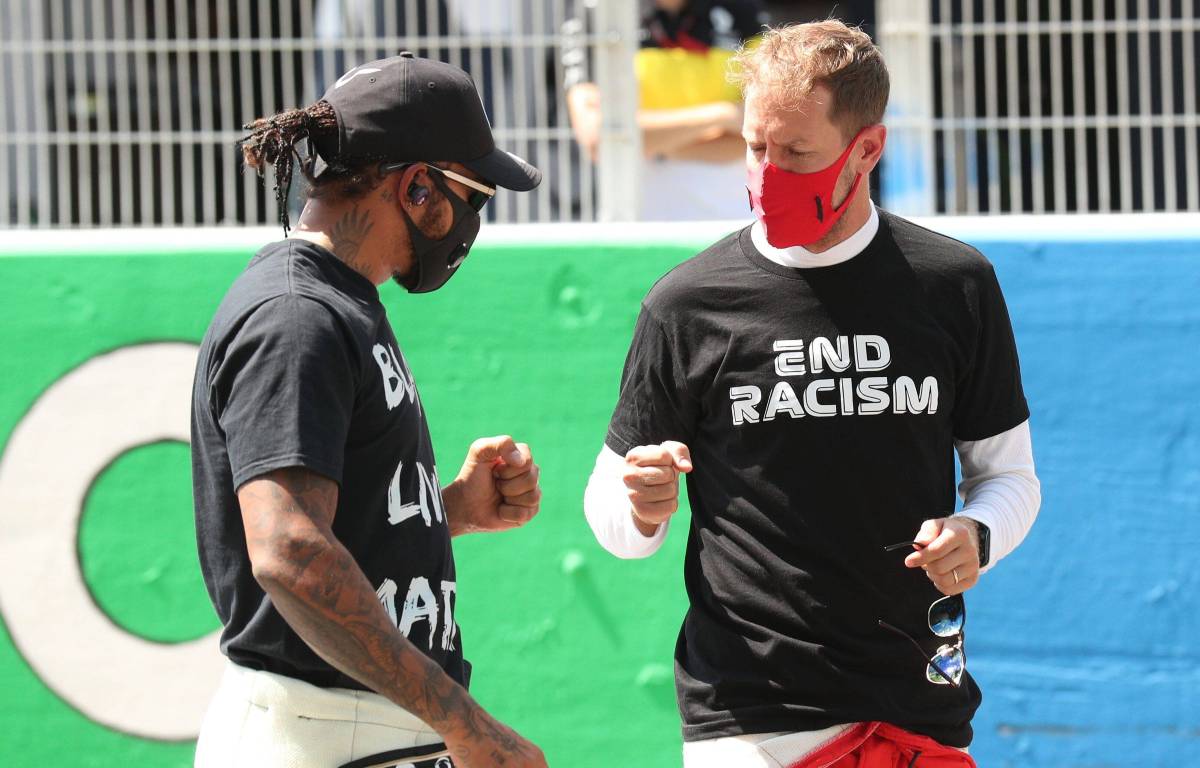 Lewis Hamilton says he is happy, along with Sebastian Vettel, to express himself about diversity matters and break the "invisible rules" in Formula 1.
The seven-time World Champion has made it a personal mission to push for greater diversity and equality both within his sport and the world as a whole.
Earlier this year, Hamilton launched Mission 44 to empower youngsters from under-represented groups in the UK, seeking to ensure greater equality in both employment and the education system.
That came soon after his Hamilton Commission published its findings and recommendations to help improve diversity in the motorsport industry, which the 36-year-old Briton said he was "personally committed to ensuring they are put into action".
Vettel shares Hamilton's values and also highlights other causes close to his heart, including those related to the environment and sustainability.
As it was not something done so liberally back in the day, Hamilton feels he has had to be something of a pioneer in terms of free speech in Formula 1 – but hopes the younger generation of drivers will follow his lead.
ON THIS MONTHS COVER OF @WSJMag as their sports innovator 🙏🏾🙏🏾 🙏🏾 Humbled by the opportunity to talk about my work as an @F1 driver, but also our goals to build pipelines for Black kids into motorsport and STEM via @mission44. Thank you. pic.twitter.com/EwE0gt6Y7I

— Lewis Hamilton (@LewisHamilton) October 27, 2021
"From my experience as a driver, there's definitely the experience of 'my team won't want me to say that' or 'I can't be outspoken because the team won't like that' or 'the sponsors won't like that'," Hamilton told Sky F1.
"I hope that breaking some of these invisible rules that are there has shown the others they can do those things.
"I don't mind being the one to break them and it's great to see Seb really coming out on his own. As two of the older drivers, I hope that does encourage some of the younger drivers.
"I'm speaking with Mick [Schumacher], who's such a lovely lad and he's saying things like 'I don't know everything, is there any way you can educate me?' And the same with Lando [Norris]. So I'm really proud of this next generation coming along, but we can still encourage them to be more invested and more understanding.
"When you are young, all you are thinking about is winning, you don't have time for a lot of these other things. Well, you think you don't but you actually do. And that's what we've got to get across."
On track, Hamilton will aim to eat into his 12-point deficit to World Championship leader Max Verstappen at round 18 of 22, the Mexican Grand Prix, as the title race enters its critical phase.
Is it game over for Lewis Hamilton?
Is the gap too big for Lew Hamilton to close to win his eighth title?