Hamilton's charge shows 'potential' for reverse grids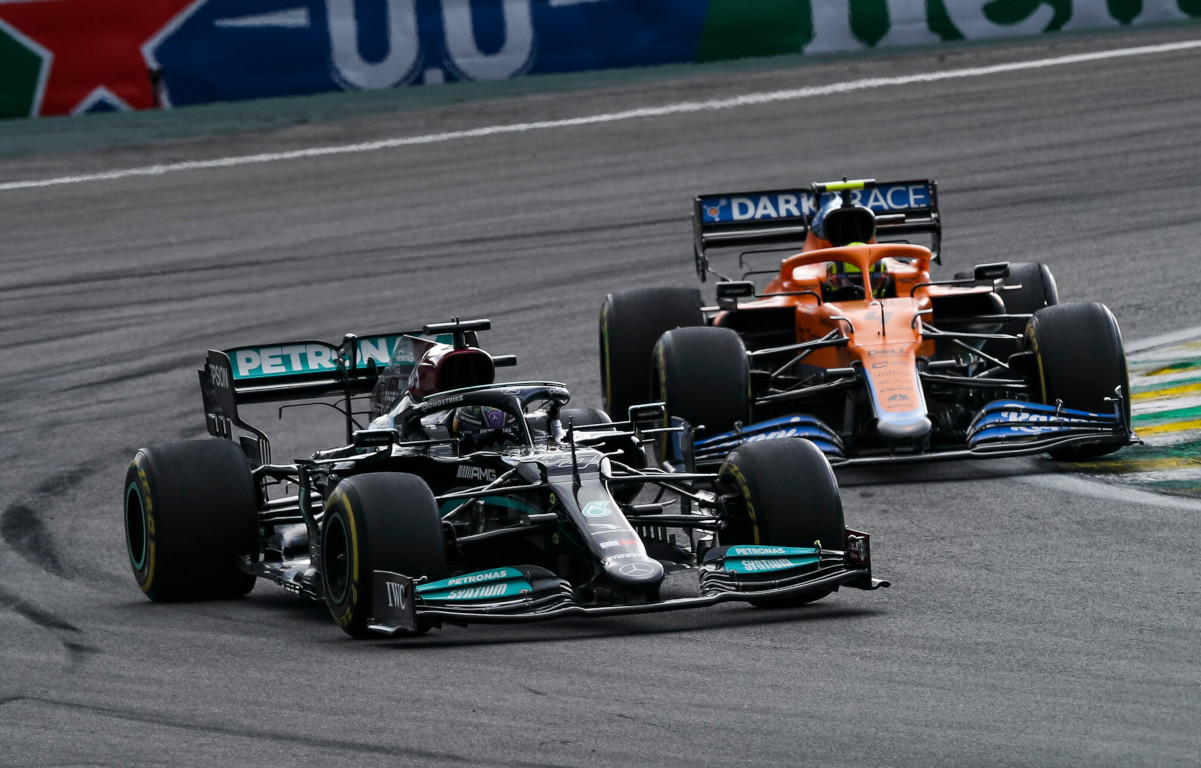 Passing more than half the field in the sprint qualifying race in Brazil, Charles Leclerc says Lewis Hamilton's charge shows that reverse grid could make for exciting races.
Having been disqualified from Friday's qualifying for the Sao Paulo Grand Prix's sprint qualifying, Hamilton lined up 20th on the grid.
The Mercedes driver immediately went on a charge, racing his way to fifth place with Leclerc just one of 15 drivers he overtook in the space of 24 laps.
Hamilton's exciting drive raised questions about whether Formula 1 should look into reverse grid races.
Asked by The Race if Hamilton's race was an 'accidental experiment', Leclerc said: "Exactly, exactly. I think it was entertaining.
"Obviously I haven't watched the race but seeing that he was so close to me after 20 laps already it feels like there's potential for that.
"Seeing a fast car starting from the back and coming back that much, I think it could be exciting if many fast cars start from the back!
"We'll have to see. I don't know what the plans are but I'm pretty sure the FIA will look into it and try to find the best solution and the most exciting one, especially for Saturday."
P20 👉👉👉 P5@LewisHamilton put on an overtaking show on Saturday!#BrazilGP 🇧🇷 #F1Sprint pic.twitter.com/erH6WjvMIi

— Formula 1 (@F1) November 13, 2021
As for Hamilton, who will start Sunday's grand prix from 10th on the grid as he has a five-place penalty for a fifth ICE for the season, he reckons it was lessons learned in karting that helped him on Saturday.
"It reminded me of my first year in go-karts," he said as per GPFans.
"I had a really old go-kart, I'd always start last and I had to make my way through. Those lessons were special.
"I definitely never expected to get to the position I did but I just never gave up and pushed. When you're in a battle you never give up.
"You just never give up in life, what you go through, what you're faced with, you've got to keep your head up, keep pushing because you can do so many things if you put your mind to it.
"It would have been so easy to let the darkness overtake my mind but I had to move forwards, to cope, to reset. It was done, what could I do about it.
"I didn't know what I could do, whether I'd move forwards or not but I thought 'I'm not going out without a fight' so I'm happy with the result."
Meanwhile double F1 World Champion Fernando Alonso says he also hopes Formula 1 would be open to trailing reverse grid races.
"If you put all the cars in order, they will finish as they started," said the Alpine driver.
"We saw if you put a reverse order in or you spice things up like Hamilton, there will be a lot of action.
"So let's see what they think for next year."
But he by no means thinks Hamilton's charge is a clear indication that reverse grid races would work in Formula 1.
"What we saw proves a little bit that we need to make the cars a little bit closer together," he added.
"Because it cannot be that one car starts last in Monza [Valtteri Bottas] and finishes on the podium, and in a normal length of a race [in Brazil] Lewis would've finished on the podium as well.
"No sport should be like that."