Lewis Hamilton's contract: What now, what next and what about Ferrari?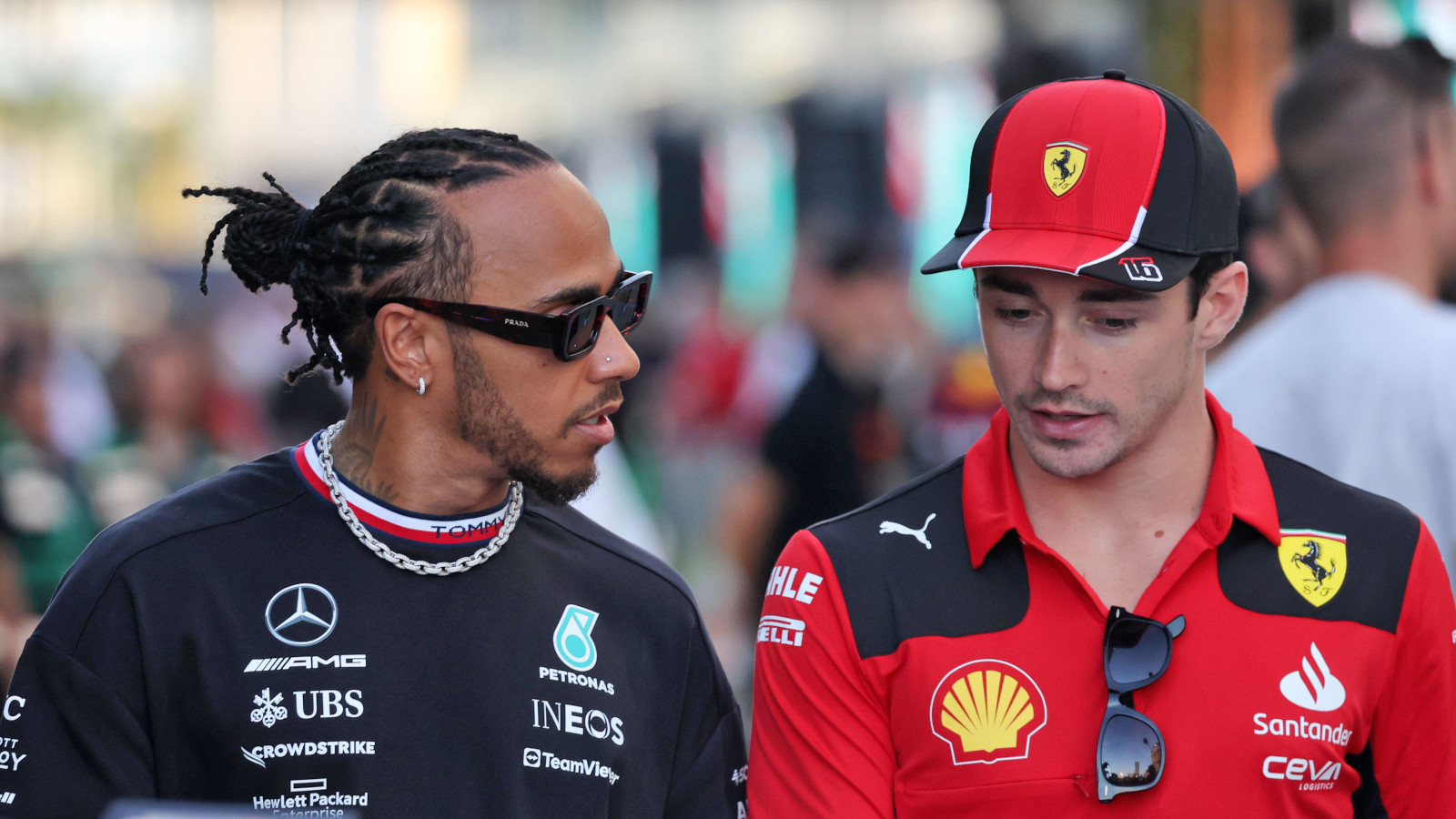 Once again dogged by speculation about a move to Ferrari or retirement, this year the rumours regarding Lewis Hamilton's future feel as if they have more of a ring of truth than they ever did before.
At 38 years of age, Hamilton is closer to the end of his F1 career than he is to the beginning with drivers seldom racing into their 40s.
But unlike the majority of his rivals, in fact none bar one, Hamilton has more of an incentive to continue or perhaps ever will – an eighth World Championship title.
Holder of most pole positions, most points, and most wins, Hamilton is – at least according to some – the rightful holder of the record for the most F1 Drivers' Championship titles were it not for Michael Masi's dubious decision making at the 2021 Abu Dhabi Grand Prix.
But having lost out on that, and determined to regain what he feels is rightfully his, Hamilton is not yet ready to hang up his helmet.
But what, the heavens and Eddie Jordan ask, are his options – given the rampant Red Bull team is definitely not on the list.
When does Lewis Hamilton's current deal expire and what is his reported salary?
Hamilton, back then only the winner of the 2008 F1 World Championship, made the shock decision to drop McLaren in favour of Mercedes for the 2013 season.
It had many a pundit questioning his decision, calling it "risky" with even the 2008 World Champion admitting in hindsight he didn't know how it would pan out.
But as it turned out, that risk paid dividends with Hamilton adding six World Championship titles – 2014, 2015, 2017, 2018, 2019, 2020 – to his tally. The latter equalling Michael Schumacher's record of seven World titles.
But going for number eight in 2021 the Briton was, and this very much depends on your side of the fence, robbed/beaten by Max Verstappen to be denied number eight.
This led to speculation that Hamilton, despite having a contract in place, would not be back on the grid for the 2022 season but after weeks and months of silence the Mercedes driver confirmed he would be back for 2022.
Signing a new two-year contract worth $35 million per season for 2022 and 2023, Hamilton secured his stay on the grid.
But losing to the Ferrari team-mates by 10s at the Bahrain season-opener, and it would've been worse had Red Bull completed the race, Hamilton and Mercedes knew they were in trouble with the new ground effect aerodynamic cars.
As Red Bull resolved their reliability issues to hit the front and Ferrari's challenge faltered, a story for another day, Mercedes worked on negating their W13's bouncing and began to claw back ground.
With Hamilton proclaiming "I am a fighter", a 1-2 in Saudi Arabia had them quietly confident that Hamilton and Russell, on the payroll for 2023, would be in the fight in this year's championship.
They weren't. They aren't. And they may not be. Hamilton is keeping faith.
PlanetF1.com recommends
Helmut Marko: Max Verstappen's pay packet 'really annoys' Lewis Hamilton
How Mercedes upgrade could make Lewis Hamilton consider Ferrari 'mega offer'
What has Lewis Hamilton said about his F1 future?
Although Mercedes noted during pre-season testing that their W14 was not at the level they wanted, Hamilton maintained he's not giving up.
It had various pundits, including Damon Hill and Jenson Button, speculating about his future with Hill calling it a "game of guess what number I'm thinking of".
Hamilton hit back, saying: "People creating rumours without facts is never helpful, you'd have thought they'd both know me by now."
But still no contract has been forthcoming, despite Hamilton calling Mercedes' "home" and adding that there is "no hold up with our contract, I've always been very, very relaxed and don't feel like I need to get it done right this second.
"I have a great relationship with Toto and Mercedes and we fully support each other. I'm really excited about the future together and the work we're doing on and off the track."
Meanwhile Toto Wolff has declared he "really struggles to think of a Plan B" as Hamilton is his "A" plan for the future.
Even Hamilton's declaration that Mercedes "did not listen" to him in the off-season when regards to what the new car really needed had Wolff declaring his driver is right and that Mercedes should always listen to a seven-time World Champion.
Wolff all but went 'mea culpa' with Hamilton reportedly saying behind closed doors 'prove it'.
How are Lewis Hamilton talks progressing with Mercedes?
But herein lies the problems, F1 is now at race 5, six if you count the cancelled Imola Grand Prix, and there is still no sign of a Hamilton contract.
After 2022's 11th-hour deal, Wolff said last year he wanted to lock his seven-time World Champion into a new contract sooner rather the later. In January this year he said before "winter" was over and now that the Dicentra, the 'forget me not', is blooming for spring none of us are forgetting Wolff and Hamilton are a good three months beyond the deadline.
Both of them insist it's not a problem.
"This is my home," Hamilton told ESPN at the Miami GP. "I'm happy where I am. I haven't signed a contract yet, but we are working on one."
Declaring that his relationship with Wolff is "very special", he continued: "I think we have been able to really confide in each other and be open and honest. Within business and within industries it is very difficult to be open with people, because it always seems like there is someone ready to stab you in the back.
"And I think that's the trust thing that we have that it's never been the case. He has welcomed me into his family and welcomed my family into our team.
"When I look at other drivers who have jumped from a team after one season, I think you've not given anyone a chance to really show what they can do. And you can't build a relationship in one year with such a huge organisation."
Wolff for his part equates his relationship with Hamilton to his marriage with his wife Susie, "it's like [what] I have with Susie. If I have an issue you pick up the phone immediately and speak. Everything is being discussed and you clear the air, or you agree to disagree. And with him since then we have been super strong."
Both went onto speak of mutual trust, love and admiration with Wolff adamant the numbers – and by that he mean the millions of millions Hamilton would want as a salary – don't matter.
"At the end of the day, talking about money with your friend is difficult," said the Austrian. "Penny [Thow, Hamilton's manager] helps. Penny has been keeping us in check and we have found a good modus operandi with her about how we talk. We avoid talking to each other about money but we both talk to Penny."
But it seems it's not the dollars that matter, it's the delta and right now that's not playing to Mercedes' favour. Various former champs believe Hamilton is waiting to see how Mercedes' now-Monaco upgrade plays out before committing to the team.
After all, when you have $100m in the bank, what's another $100m. But an eighth World title? Well, that's worth racing for.
PlanetF1.com verdict: Will Lewis Hamilton stay or will he go?
Today everything Hamilton is saying says he wants to fight, not only for race wins, but World titles and also for his legacy as a Formula 1 Mercedes driver.
From "ready" to "willing" to "we will get a win at some stage, we will get that championship back", as he said after round 5 of this season, Hamilton is determined to not only leave Formula 1, but perhaps more importantly, to leave Mercedes fighting.
Despite one rumour after the next, and one pundit after the other, linking him to Ferrari, the 38-year-old has maintained for several seasons that although drivers dream of racing in red, and he was one of those, that dream is over.
It died, Hamilton confessed, when Ferrari re-signed Sebastian Vettel for 2018 and beyond.
"It's definitely a dream for every driver, including me," Hamilton told Sky Italy in August 2017. "Whether or not l will ever be there… I guess definitely not in the next four years or whatever it is – three years."
That was, for anyone paying attention, the last time Hamilton genuinely considered Ferrari as the Scuderia was subsequently embroiled in an engine cheating scandal, and their recovery from that penalty, while Mercedes took him from title to title to… well 2017 to 2020.
Why swap silver for red?
Today with Red Bull running rampant on its rivals it's 50-50 as to whether Mercedes or Ferrari will be the one to fight back. For all we know it could be Aston Martin.
It would be silly for Hamilton, 38, to risk it all on a season or three in red when Mercedes have shown it's the car that's the problem while at Ferrari, some days it could be everything but the car.
"I'm not at the end of my career, I'm not in the downhill slope of my career. I'm in my prime!"