Still without a new Mercedes contract in hand, Lewis Hamilton admits one of the issues is whether he wants to stick around for another three years.
Hamilton joined Mercedes in 2013, taking 70 wins with the Brackley team to move his tally up 91.
Added to that he's also won five World titles with the team and is on the cusp of number six, which would put him equal with Michael Schumacher on seven Drivers' Championship titles.
It was thought that re-signing with the team would be a mere formality, however, months after the 2020 season got off to a delayed start, Hamilton has yet to put pen to paper.
His first two deals with Mercedes were three year contracts before he signed a two-year extension for 2019 and 2020.
He's currently considering what length of contract he wants next.
"I haven't made any decisions but I do want to stay," he said ahead of the Portuguese Grand Prix.
"When we do sit down, normally we plan in three-year periods, but of course, we're in a different time.
"Do I want to continue for three years?
"That's also a question; there are many, many questions still to be answered.
"We're also going into a new era of car in 2022. So it kind of excites me, what could happen in 2022, in terms of what the cars are like."
There have been rumours that Hamilton was waiting to see how things would turn out for Mercedes and parent company Daimler given the huge financial hit that many car companies have taken this season.
Mercedes, however, committed its future to Formula 1 back in August when it signed the new Concorde Agreement.
Hamilton added: "I think if you look short-term you could say there's going to be companies and business that are going out [of business] during this time.
"Mercedes I would say are on the climb back, I would say they're now in a much better place, everyone's had a big hit this year. But if you look at the future I think the future's bright.
"I think there's going to be some changes. Ola [Källenius, Daimler CEO] came out with a new plan that Mercedes have moving forwards in terms of sustainability, in terms of pushing their cars more towards electric, and the same with AMG, so I think the future's bright.
"These are all things that we will naturally think about but I think I've earned the right or the position so far to be able to stay for a decent amount of time, so time will tell.
"I can't really say too much more, hopefully you'll hear something in the next couple of months."
Asked if there was any one sticking issue to his negotiations, he replied: "Not particularly anything, just haven't really spoken much about it.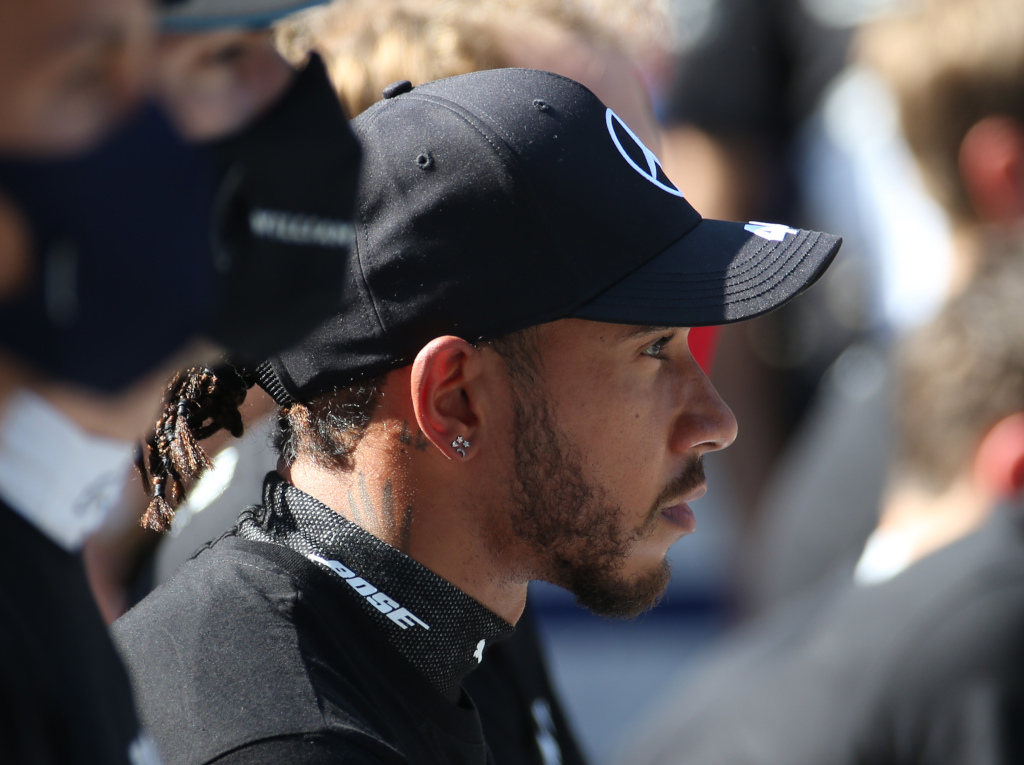 "[Is it] a formality, I don't know – probably. I guess at some stage we have to sit down and have the conversation but it's not a priority right now.
"Getting the job done for me this year personally is the priority. That's what I'm solely focused on right now.
"Negotiations are never an easy thing for most people, having to go into an office and sit with your boss, it's never an easy position to be in.
"I don't particularly feel uneasy about it, I've done it multiple times now. It's just when the time is right, we'll do and get on with it.
"At the end of the day I've always been committed to this team and completely transparent. I know if you don't have communication for a while, people can start to hear whispers or have a fear.
"I could for example worry that Toto is speaking to somebody else which is silly, I don't think that. I'm just saying that's what humans can do.
"So, it's always been important just to be really clear with each other about our intentions."
Lewis fuels rumours he's joining @RenaultF1Team by wearing this 🔥 yellow and black look… 💛🖤 pic.twitter.com/RQJYPSlwsR

— Mercedes-AMG F1 (@MercedesAMGF1) October 22, 2020
Hamilton reiterated that he is committed to Mercedes.
"I haven't spoken to anybody else, I don't plan to," he said, "and at some stage Toto and I will sit down and work out our path moving forwards.
"We have achieved quite a lot together and it's quite remarkable what we've done together over these years and we are still not done."
Follow us on Twitter @Planet_F1 and like our Facebook page.