Hamilton now has 'different viewpoint' on Brazil incident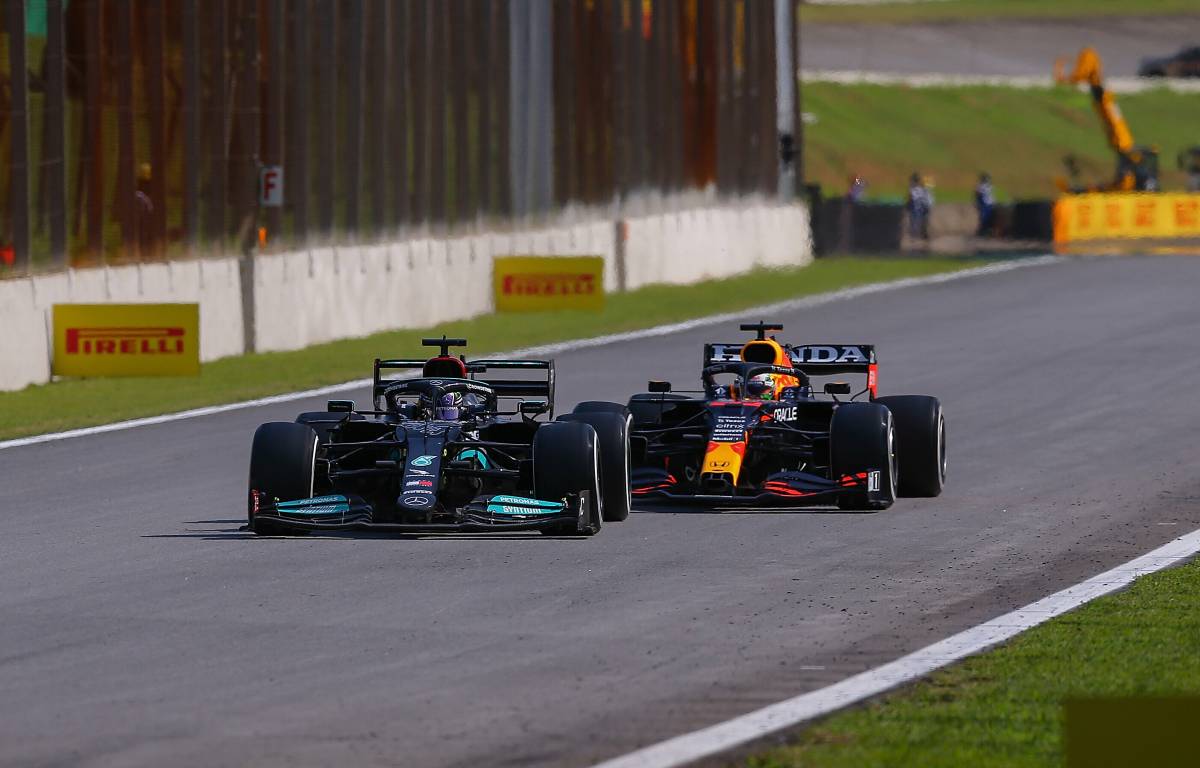 Lewis Hamilton says he has a "different viewpoint" about his near-miss with Max Verstappen in Brazil now he has seen the footage.
The forward-facing on-board camera angle was not available from Verstappen's car until a couple of days after the Sao Paulo Grand Prix, in which the title rivals almost came to blows on lap 48.
Mercedes have asked for a right of review now the camera angle has come to light, as they accuse Verstappen of not applying enough steering lock to make it to the apex of Turn 4 with Hamilton on his outside.
Both drivers ran wide at the exit of the corner but were able to rejoin and Hamilton managed to pass his title rival at the same corner later in the race.
Hamilton said after the race he felt it was "hard battling" and that he "wouldn't expect anything less", but he now has a different outlook on the incident – although he will not waste any energy worrying too much about it.
It exists! 🙌🙌 #F1 https://t.co/IDFJNoAky9

— PlanetF1 (@Planet_F1) November 16, 2021
"I think the reason at the time I would say [what I said] is that's the mentality you have to take," Hamilton told reporters on media day for the Qatar Grand Prix.
"If you sit in the car at that moment and complain it will only hold you back, so in the moment I just had to keep moving forwards and also it's difficult to judge on something you've not seen all the angles.
"I re-looked at it and I have a different viewpoint naturally now. But I'm just putting all my energy into setting up the car and making sure I'm in the right headspace this weekend, so I've not really given anything to it."
His Mercedes team's appeal was lodged before the Qatar Grand Prix weekend in the hope of the FIA applying a retrospective penalty to Verstappen – as any time penalty applied would drop the Red Bull driver behind Valtteri Bottas in the official classification for Brazil, meaning Hamilton's deficit to the Dutchman would fall to 11 points in the Drivers' Championship.
However, the seven-time World Champion is just focusing on himself and letting his team worry about lobbying the stewards.
"Honestly, it's not something I want to dive too much more into," he said.
"I've not looked at all…I've seen the onboard footage, for example, that came out but as I said last race, I was just trying to focus on the fact we did something that was quite remarkable, so unexpected, so I'm trying not to focus on any negatives.
"The team I know are in discussion at this point, so I'll leave them to it."
Will Mercedes' review request be successful?
The on-board footage is out, Mercedes have requested a review, but will the FIA overturn their decision?