Hamilton downplays calls for knighthood
Lewis Hamilton has once again downplayed calls for him to receive a knighthood, saying he is not an "unsung hero, I've not saved anybody".
Hamilton made racing history on Sunday as the Mercedes driver raced to his record 94th grand prix victory and in doing so equalled Michael Schumacher's record for the most World titles, seven.
Hamilton's success out on the track has in the past raised questions about why the likes of cyclist Bradley Wiggins or cricketer Andrew Strauss have received the honour and yet Hamilton hasn't.
The Brit says he's not fazed.
"Every year we talk about this and I naturally get the questions and I don't really have anything different to say, compared to before," he said.
"I think when I think about that honour, I think about people like my grandad who served in the war, I think about Sir Captain Tom who got knighted and waited a hundred years for that incredible honour.
"The people that are running hospitals, the nurses and doctors who are saving lives during the hardest time ever.
"I think about those unsung heroes and I don't look at myself as an unsung hero. I've not saved anybody.
"It is an incredible honour that a small group of people have had bestowed upon them.
"All I can say is that standing today, and hearing the national anthem I'm very, very proud.
"I am a very proud Brit and that, as I said before, this really is like the most special moment to be able to represent… to be up there representing a nation. Having the flag over your head, over number one, that is such an incredible honour. That's really all I have to say about it.
"It's not something that I think about, it's not something that I… I've got a lot of work to do. There's more work to do here in this sport.
"As I said, we've got… I think this year we've had this awakening and I think people hopefully are starting to be held accountable and holding themselves accountable and realising that's actually not a really bad thing.
"It just means we've got to work harder, we've got to not be so stubborn, open our minds up and educate ourselves a bit better so we can push for a more equal world.
"I'm not going to stop fighting for that. And then part-time maybe I'll keep racing for a little while!"
Get your hands on the official Mercedes 2020 collection via the Formula 1 store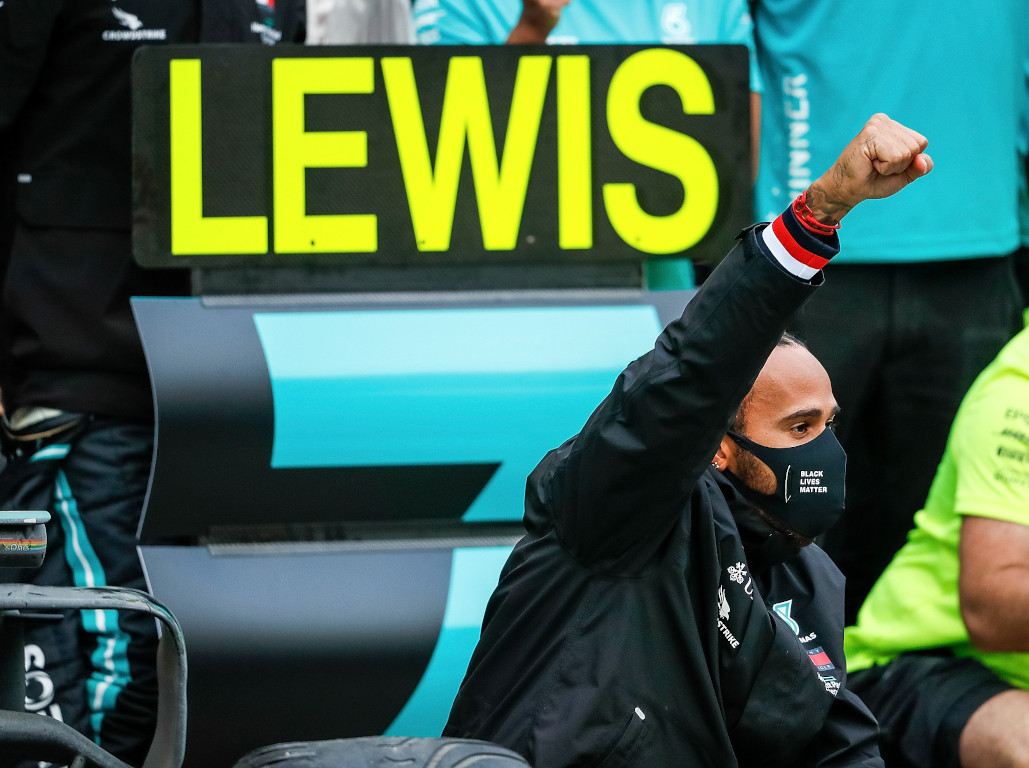 However, three-time F1 World Champion Jackie Stewart says the time has come for Hamilton to be honoured for his success.
Stewart was knighted in 2001, almost three decades after he retired from Formula 1.
"I've been privileged to get a knighthood myself and it took me a wee while apparently to get a knighthood in comparison because I was retired from motor racing by the time my knighthood came along," Stewart told Sky Sports News.
"But certainly Lewis deserves it. He's now a seriously top-line sportsman in the world and that's a wonderful thing to have, and the fact that he is British is the most important thing of all, with regards to the knighthood is concerned.
"I think he certainly deserves it."
Follow us on Twitter @Planet_F1 and like our Facebook page.