Lewis Hamilton jokes about watching Game of Thrones while in DRS train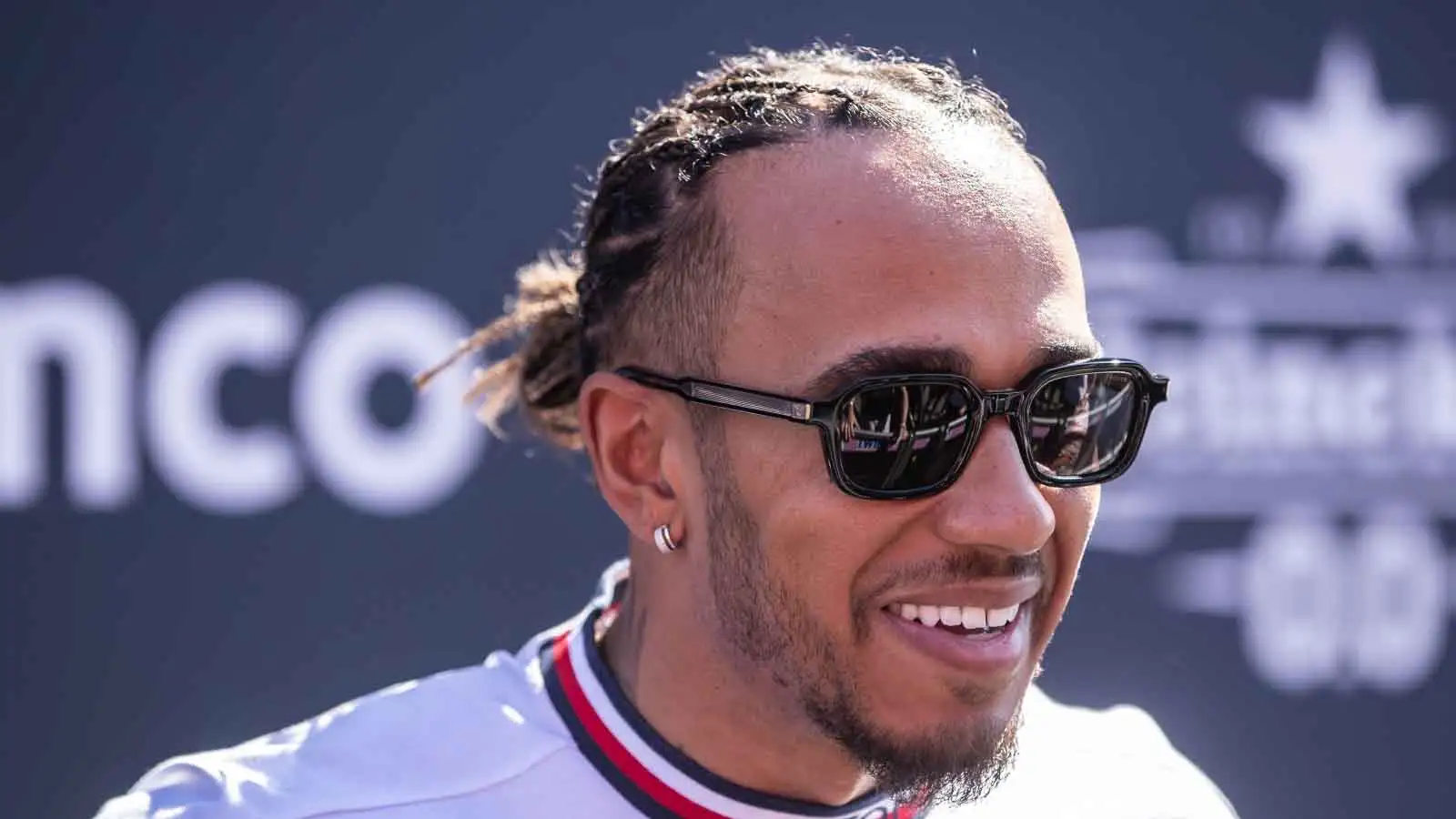 Fearing he will get stuck in a "DRS train" at Monza, Lewis Hamilton joked about taking his iPad with him to catch up on the new Game of Thrones series.
After a competitive showing at Zandvoort, great interest surrounded Mercedes heading into the Italian Grand Prix to see where the Silver Arrows would land in the pecking order.
Over one lap they were no match for Ferrari or Red Bull, but consistently this season race pace has been a strength for Mercedes.
However, it can be hard to use that race pace when stuck in the midfield pack, where many cars all have the benefit of DRS. Dropping to the back of the grid due to an engine penalty, Hamilton fears this is what could happen to him.
So he humorously said he plans to take his iPad with him in the car so he can catch up on the new Game of Thrones spin-off series 'House of the Dragon' while he drives down the straights.
"I was thinking of just taking my iPad with me in the race and when I'm in the DRS line just watch…there's a new Game of Thrones out," he joked to reporters.
"I've stopped watching it because I like to binge-watch. There are lots of adverts in the middle and then you're at the end and are like 'I want to watch the next thing'."
Hamilton's worries are based on what he experienced during FP3, saying he had found himself behind his former Mercedes team-mate Valtteri Bottas in the Alfa Romeo but could not get close enough to him to pass.
"I was behind Valtteri in practice and couldn't catch him nor pass him," Hamilton revealed.
"I hope I don't get stuck tomorrow, but I'm imagining tomorrow everyone will be stuck in a DRS train and it will just be sitting there and waiting for the strategy, tyre degradation and those sorts of things to come into play."
While Hamilton lost out due to engine penalties, his team-mate George Russell gained. Despite ending Q3 in P6, one place behind Hamilton, he will join pole-sitter Charles Leclerc on the front row.
That sets up Russell nicely for a podium position, although he did not feel Mercedes have any right to be starting so high up the order.
"We don't deserve to be starting P2 after today's performance," Russell claimed. "It was again a frustrating session because we can't seem to get the car in that sweet spot.
"FP1 the car felt great, in FP2, FP3 substantially worse. In Q1, the car felt great, [we were] a few tenths off Ferrari. Q2 was worse, Q3 was worse.
"But ultimately that's been a theme this season. Lining up P2 we'll have a faster race car, probably not fast enough to battle with Max [Verstappen], potentially [we can fight] Charles."
Mercedes' season has certainly been a story of up and down performance, especially over one lap, and Russell said he is disappointed that despite now being at round 16, Mercedes seem to have made minimal progress in understanding why this is the case.
"I'd love to tell you," Russell replied when asked if the problems could be traced to set-up tweaks being made by Mercedes.
"We've got the best engineers in the business working day and night to understand why our performance is fluctuating so much 15 races in and we still don't have a grasp as to why that is. So that's a bit disappointing.
"We are in no man's land on a Saturday in terms of performance because we are so far behind the front two and a little bit ahead of the midfield. At least we have a fast race car."
An interesting battle awaits tomorrow 💪 #ItalianGP 🇮🇹 pic.twitter.com/YoHjWYQELF

— Oracle Red Bull Racing (@redbullracing) September 10, 2022
Verstappen is set to start the Italian Grand Prix a couple of places behind Russell, being the driver whom Russell had predicted to come storming through the pack in Belgium, which he duly did, starting P14 and going on to win the race with a margin of almost 18 seconds.
Russell then was asked by Sky Sports F1 for his latest prediction for a Verstappen recovery drive, bearing in mind Leclerc claimed pole on merit at Monza, 0.145s ahead of Verstappen.
"We are not really too focused on him because it doesn't matter what he does, and what they [Red Bull] do, they will finish ahead of us ultimately," said Russell.
"He'll probably be in the lead after 15 laps maybe. I don't think it's quite as easy to overtake here as it was at Spa, but with the pace they've got they'll be slicing through."