Hamilton explains Verstappen 'brake test' claim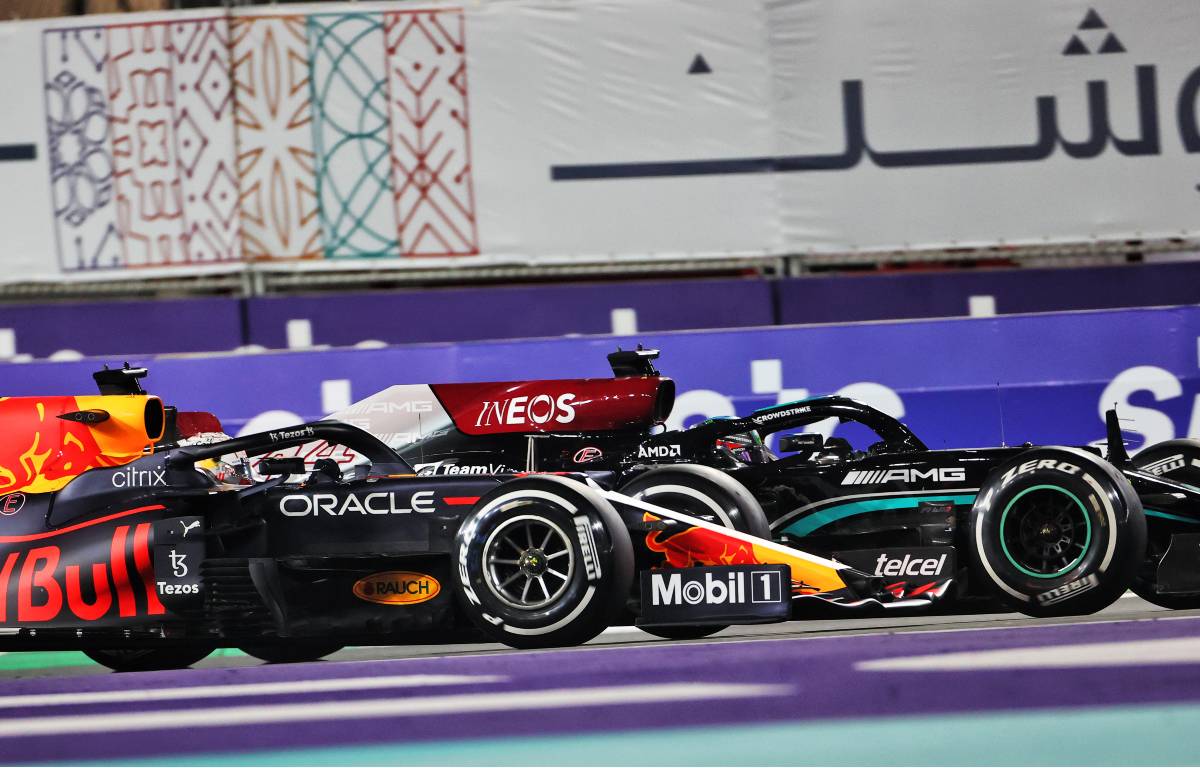 Lewis Hamilton has explained why he accused Max Verstappen of brake-testing him during a dramatic and controversial Saudi Arabian Grand Prix.
The two World Championship protagonists battled throughout the inaugural race on the Jeddah Corniche Circuit, which proved every bit as chaotic as predicted.
Hamilton eventually won for the 103rd time in Formula 1 to draw level on points with the Dutchman heading into next week's season finale in Abu Dhabi, although Verstappen had to negotiate a subsequent stewards' hearing before his second place would be confirmed.
On lap 37 came the most contentious moment when the Red Bull driver appeared to be trying to surrender the lead to Hamilton under instruction from his team in order to try and avoid a penalty resulting from a previous incident between the duo.
But as Verstappen slowed down, Hamilton ran into the back of him and sustained damage to the front wing of his Mercedes, immediately accusing his rival over the team radio of brake-testing him.
OH MY GOD 😳😳

They collide again!

WHAT IS HAPPENING 😩#F1 #SaudiArabianGP pic.twitter.com/e6ItVHPFfv

— PlanetF1 (@Planet_F1) December 5, 2021
Both drivers were called to see the stewards over the incident and Verstappen received a 10-second penalty that nevertheless meant he retained second place.
Immediately after the race, the seven-time World Champion described what had happened in the collision as "confusing" and stopped short of doubling down on his claim.
"Well, I didn't get the information so I didn't really understand what was going on. It was very, very confusing," he told German channel Sky Sport F1 in the media pen afterwards.
"All of a sudden he started backing up, and then kind of moving a little bit. So I was like 'is he trying to play some kind of crazy tactic? I don't know'.
"But all of a sudden the message started coming through just as he hit the brake so hard, and I nearly went up completely in the back of him and took us both out.
"It doesn't matter for him if we don't both finish. For me, we both need to finish. But it will be interesting to see what happens."
On the race as a whole, the fall-out from which is sure to rumble on for some time regardless of who wins the World Championship, Hamilton added in his parc ferme interview: "I've been racing a long time but that was incredibly tough. I tried to be as sensible and as tough as I could be out there.
"With all my race experience over the years, just keeping the car on track and staying clean, it was difficult.
"But we persevered as a team, we've had all sorts of things thrown at us, particularly in this second half of the season."
Mercedes also know they are within touching distance of an eighth consecutive Constructors' Championship, 28 points ahead of Red Bull after Valtteri Bottas snatched third place from Esteban Ocon on the run to the line.
"They have got some raw pace, they have been so quick," said Hamilton of Red Bull. "It was very hard to overtake them here. But we've done an amazing job with what we have."
Does Hamilton have the mental advantage?
Now that Lewis Hamilton is level on points, does he have the mental advantage ahead of the Abu Dhabi GP?