Mercedes found no damage from Hamilton-Alonso contact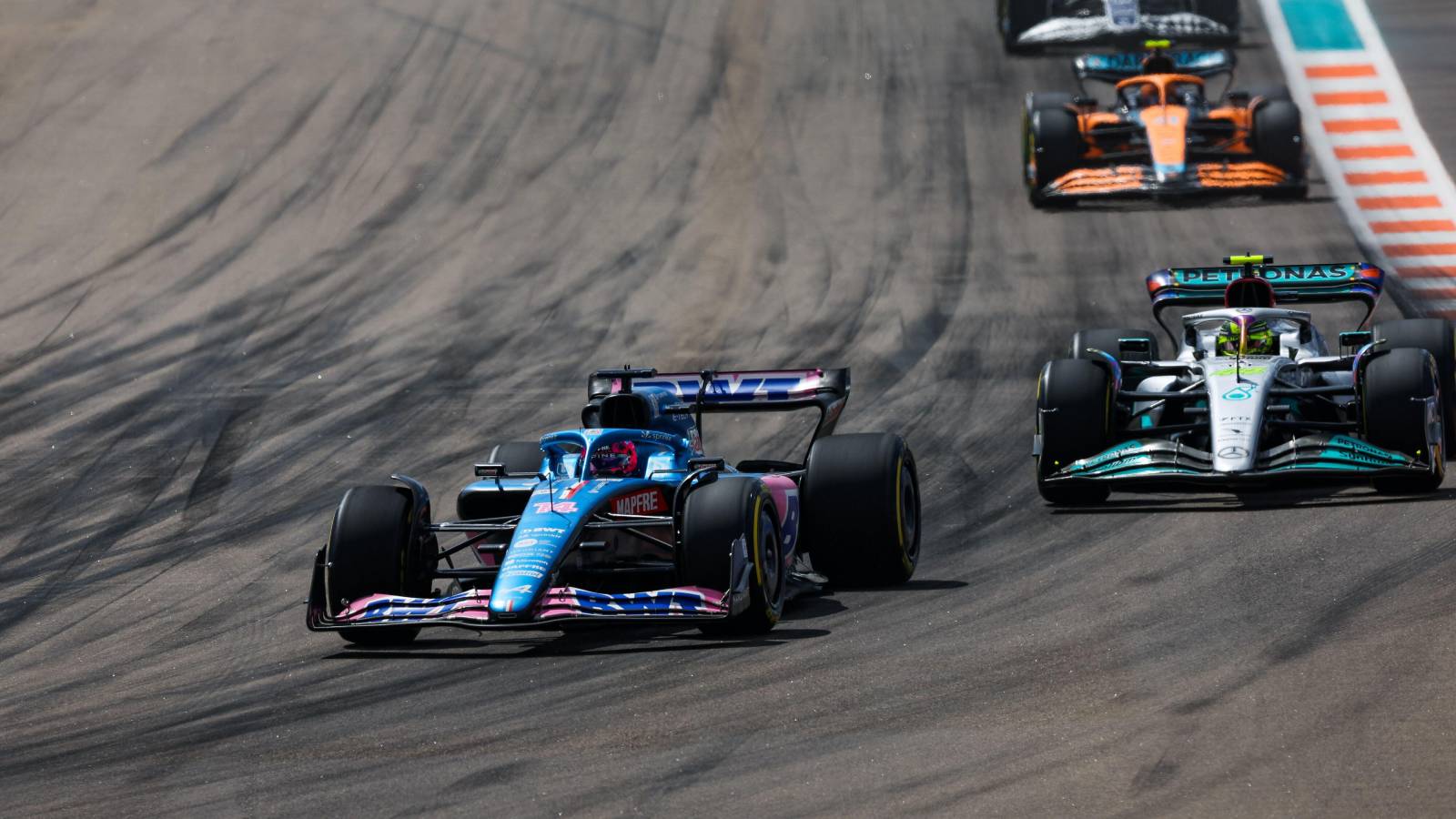 Mercedes have said the contact for Lewis Hamilton with Fernando Alonso at the Miami Grand Prix start did not result in any damage.
Hamilton took a whack from Alonso as the inaugural Miami Grand Prix got under way, causing him to suspect there was some damage to the left rear of his Mercedes.
Both drivers carried on after the wheel-to-wheel contact, with Mercedes crediting this characteristic for allowing Hamilton to escape with his W13 in full health.
The race start certainly wasn't a quiet one for Lewis Hamilton and Fernando Alonso 🤯#MiamiGP #F1 pic.twitter.com/aoyq7OlIo3

— Formula 1 (@F1) May 9, 2022
Speaking in Mercedes' Miami Grand Prix debrief, technical director Mike Elliott, when asked if Hamilton had sustained damage in that Alonso collision, said: "The answer to that question is no, we don't think so.
"The contact was wheel to wheel and as always, we have lots of engineers looking at the data that is pouring off the car, so the aerodynamicists are looking at pressure taps on the floors and wings, they are looking at the push-rod loads and our chief engineer will be looking at all the other suspension loads and making sure they are doing what they are supposed to be doing.
"So we can very quickly tell whether there is an issue with the car and there was no issue to find."
Hamilton went on to finish the Miami Grand Prix P6, the timing of the Safety Car unkind to him once more, although it was exactly what his team-mate George Russell was asking for.
By going long in his first stint on the hard tyres, having started P12, Russell was hoping for a Safety Car that would bring him back into play – his prayers were answered and the Briton ultimately went on to finish P5.
Asked if Russell was always set to go long, or whether it came from the circumstances, Elliott replied: "I think you can tell by the fact we fitted the hard tyres, we kept our options open.
"Our plan was always to be able to run an offset strategy relative to the cars around us, so by an offset strategy what I mean is if you've got a car which you think may have a pace advantage, you want to be running a different strategy to the cars around you.
"That way, if you get caught up in a DRS train, you will always get a portion of the race when you will get some clean air when the others 'pit' and you are able to then run long and that's what we had in mind with George.
"Added to that, there is also the potential benefit of Safety Cars. If the Safety Car comes out after the others have 'pitted', you end up with a clear advantage and that's how it obviously played out for George.
"I have to say George drove a fantastic race, starting on the hard tyres when his competitors around him were on the mediums.
"All right, we lost a couple of places at the start, but George kept his head, he did all the right things, he waited for the tyres to come towards him and as we started to get heat into the harder tyres and as the medium tyres started to degrade, we saw the pace advantage George had and he was able to cut through the field and do a really good job.
"To finish that race in fifth from where we started, that's a fantastic achievement."
It's decision time for Mercedes in Spain
Mercedes have had a tough start and, with upgrades due, the time has come to see if they can claw back any pace.