Lewis Hamilton tells Toto Wolff he has 'another five years' in F1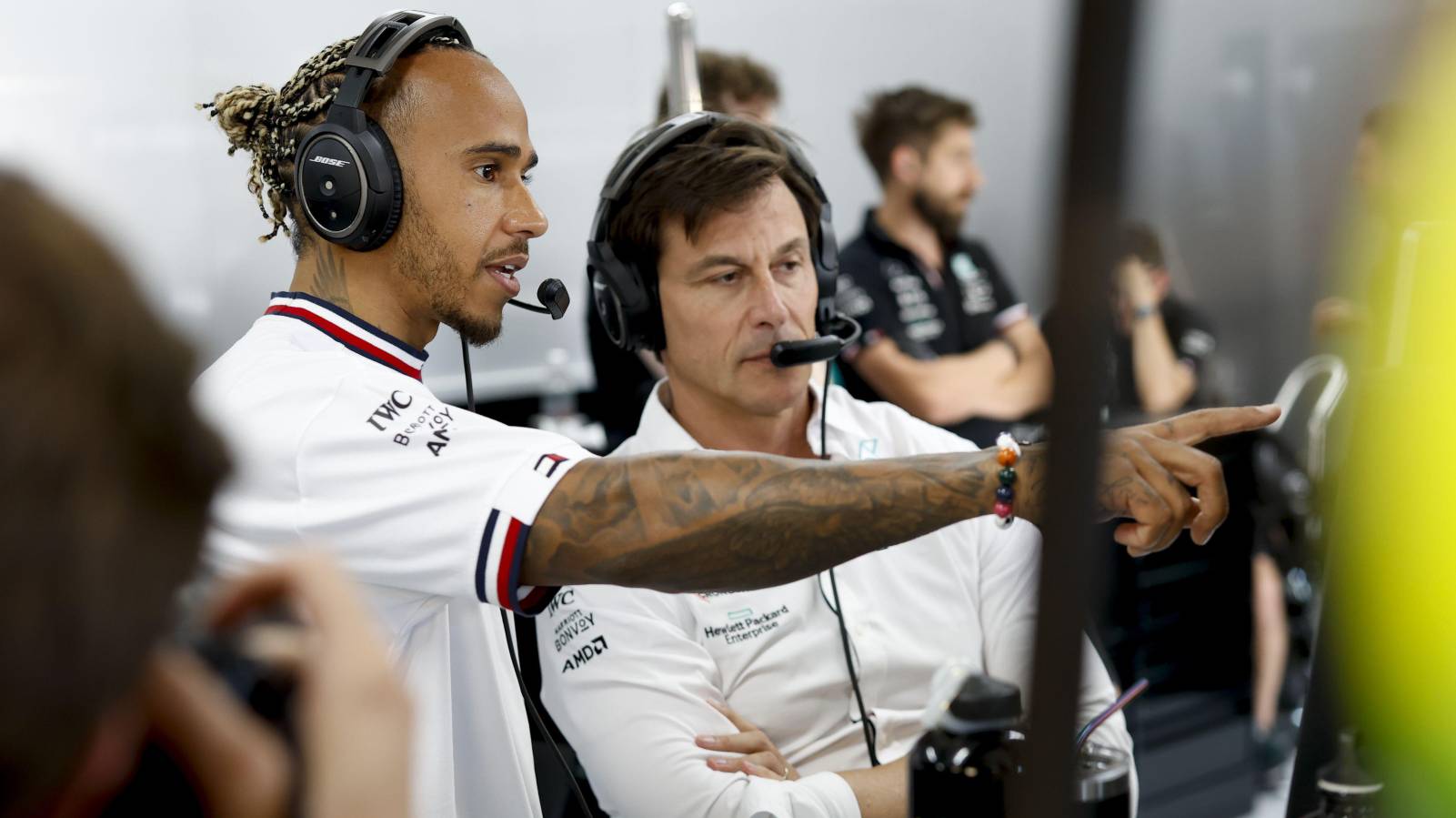 How much does Lewis Hamilton have left in the tank? He has told Toto Wolff he has "another five years" of Formula 1 in him.
Hamilton has muscled his way to the very summit of Formula 1, holding the records for most race wins, pole positions and podium finishes among others.
He is also a seven-time World Champion, which means an eighth would see him surpass Michael Schumacher for the record of most titles won.
Now aged 37 and having achieved so much, the topic of how much longer Hamilton will keep going in Formula 1 is often discussed, his current Mercedes contract running until the end of the 2023 campaign.
But according to Wolff, that will not be Hamilton's last contract in Formula 1 with Mercedes, and it may not even be a short-term deal either judging by what Hamilton has told Wolff.
Speaking to Channel 4, Wolff said Hamilton has informed him he feels he can still go in Formula 1 for another five years.
"We are totally transparent with each other," said Wolff. "We talk about the future also, and I think it's very easy. Lewis will be the first one to say 'I can't do this anymore because I feel I haven't got the reactions anymore, or I've just lost fun doing it and there is another generation growing up that's just very strong'.
"So I have no doubt that whatever we agree on a contract extension, which is going to happen, that we both are always going to discuss very openly 'what does the future hold?'
"The advantage is we speak a lot together, he lives here and I'm there [in Monaco]. And just last week we sat down and he says 'well, I have another five years in me. How do you see that?'
"I mean, he's the shining star in Formula 1 on and off track. I think we would lose the greatest personality Formula 1 ever had."
Ex-Formula 1 driver David Coulthard, who conducted the interview, suggested before Wolff's reveal that it was hard for him to imagine Hamilton still competing in Formula 1 at 40.
Wolff, though, used Fernando Alonso, who still appears to be operating at his peak despite now being 41, as an example that hitting 40 does not seem to be defining in the career of a Formula 1 driver.
"I don't know if 40 is that age where you say 'well, that's not adequate anymore for a racing driver'," Wolff stated.
"If you look at where Fernando is with 41 years, he's still very much there. Now is he the same Fernando he was at 25? I don't know, but he's very competitive still.
"I think Lewis, with the way he leads his life with the full, ultra-narrow focus on his Formula 1 racing – all the others are just hobbies – I think he can take it quite far."
To say it's been a weekend of highs and lows is an understatement. Thank you always to the team for their hard work and for keeping the momentum going. Thank you to all the fans too. We'll keep our heads down, keep fighting, and come back stronger in Japan. pic.twitter.com/ZQfHQM3eso

— Lewis Hamilton (@LewisHamilton) October 2, 2022
Hamilton missed out on that record-breaking eighth title in dramatic and controversial fashion at the 2021 Abu Dhabi Grand Prix, passed by Max Verstappen on the last lap of that final race and who clinched the title as a result.
Mercedes have not provided a car good enough in the W13 for Hamilton to pursue the title in 2022, so Wolff says it is up to Mercedes to improve again in the seasons to come.
In that case, he feels Hamilton can still take that eighth crown, while Wolff believes Hamilton's team-mate George Russell is also World Champion material.
"We just need to provide them with a car they are capable of doing races and championships," Wolff stated. "And if we can do that, George can become a World Champion and Lewis can add another title to his seven.
"It really comes down to us, what good job we can do as a team."
While Hamilton's Formula 1 future has been talked about a lot, the same is true for Wolff who, as well as serving as Mercedes team principal, also owns a third of the team.
He says the tricky spell Mercedes find themselves in now, having not won a race in 2022, means he will be sticking around for another few years at least.
"For me, I'm part of the team, I'm a co-owner," Wolff said. "And I'm always going to be part of the journey of this Formula 1 team.
"And whether it is in a team function as the principal, CEO or chairman that is only there to give people a hard time when things are not going well, I haven't decided yet.
"But clearly we are in a difficult moment. I have to be there these next couple of years."
Read more: A bad day at the office for Hamilton, PlanetF1's Singapore GP driver ratings are in