Hamilton: Frantic finish to British GP was 'F1 at its best'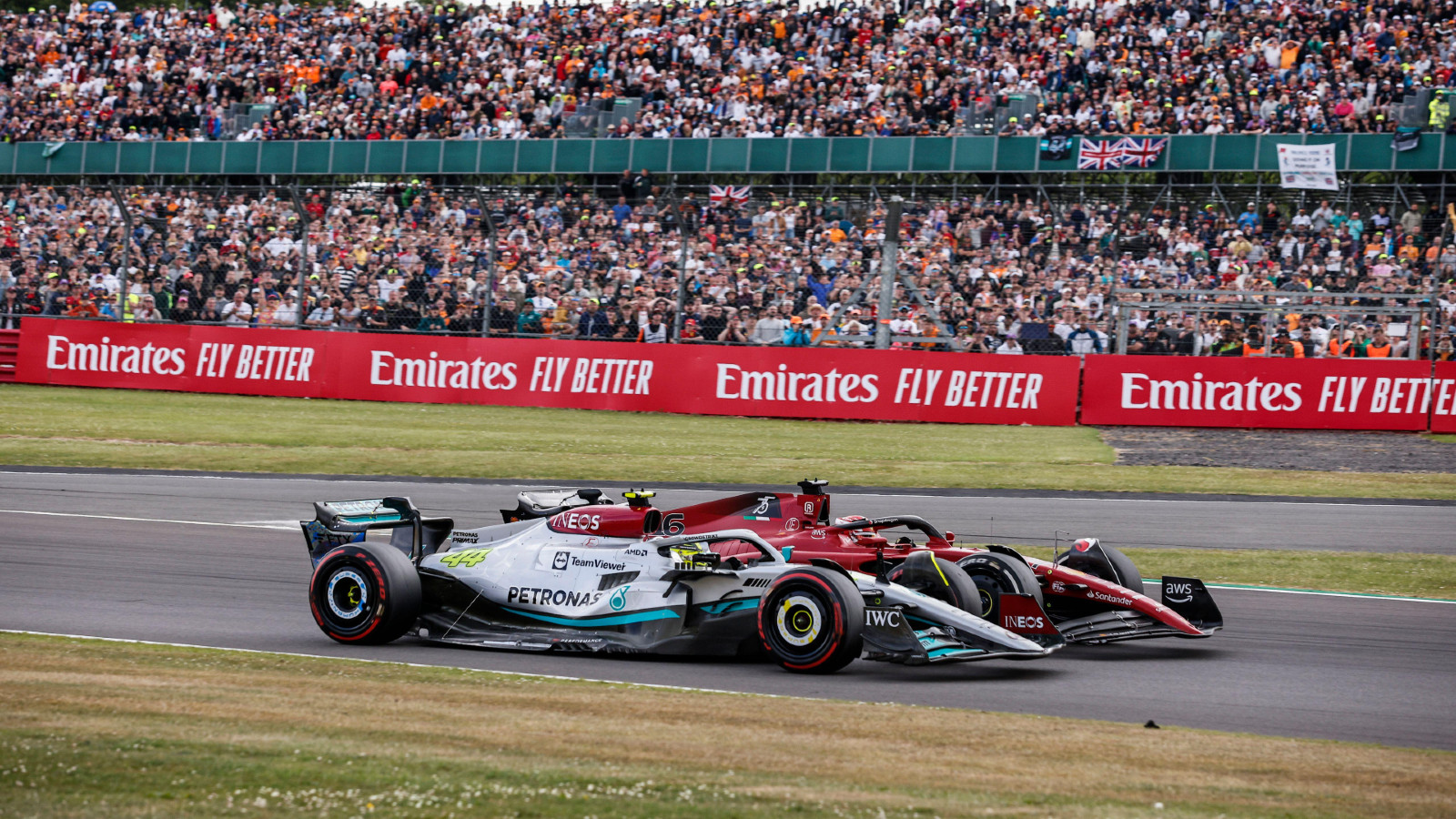 Mercedes' Lewis Hamilton was thrilled to have experienced several cars going wheel-to-wheel during the closing stages of the British Grand Prix.
The seven-time former World Champion was able to fight for victory in the British Grand Prix, leading his first laps of the season as the Ferrari drivers pitted. A slightly slow pit-stop meant Hamilton ended up behind Charles Leclerc and Carlos Sainz after the stops, with the prospect of a thrilling strategic battle unfolding as Hamilton was on much fresher tyres.
However, the race was essentially reset with 15 laps to go as the Safety Car came out due to Alpine's Esteban Ocon breaking down on the old pits straight. This allowed almost all of the drivers a free pit-stop to change to a fresh set of soft tyres, although Ferrari decided against losing track position with Leclerc and kept the Monegasque on track on aging hard rubber.
With Leclerc scrabbling for grip when the race resumed, it resulted in a ferocious but clean battle as Carlos Sainz overtook his team-mate to put Leclerc back into the clutches of Hamilton and Sergio Perez. With the trio constantly swapping places, it allowed Fernando Alonso and Lando Norris to get involved – resulting in a thrilling few laps as the drivers diced for position.
While Hamilton ultimately lost out to Perez and had to settle for third place on the podium, he was thrilled with how the battle had played out.
"I definitely did," he said when asked if he had enjoyed such a tense fight.
"That was very reminiscent of the karting days and I feel like that's Formula 1 at its best – the fact we were able to follow and dice like that lap by lap is a testament to the direction I think we are now in.
"I was just grateful I could be in the battle because I've not been in that fight for a while."
Hamilton has yet to win a race in 2022, which means it is now the furthest into a season he has gone without a victory. Having not looked to have much hope of a win at many races so far this year, he was asked whether it is a strange feeling to not be a contender at every grand prix and whether Silverstone had given him hope of continuing his record of winning at least one race in every F1 season he has raced in.
"It's not a strange feeling at all. These things happen," he said.
"I've had plenty of years in my career, probably whether or not…maybe not plenty, but I've definitely had years in my career when I haven't had wins for a period of time. But yeah, this has given…the progress we've made over the past couple of races has definitely given us hope there are more to come. There is potential in this car and we just have to keep doing our due diligence, keep our heads down and stay focused and not give up."
With Hamilton earning the roaring approval of the crowd as he powered past Perez and Leclerc onto the pits straight, the home hero said he was able to draw energy from the support being shown from the crowd.
"You can't imagine it," he explained. "It's so loud in the car with our earplugs in but I could feel it. I could feel it all weekend from Thursday, I could feel the incredible support here in the UK.
"I'm just incredibly grateful to everyone for showing up in full form and full energy. This is the biggest crowd we've had here, so I really hope everyone had a great day."