Hamilton reveals drinks malfunction in gruelling French GP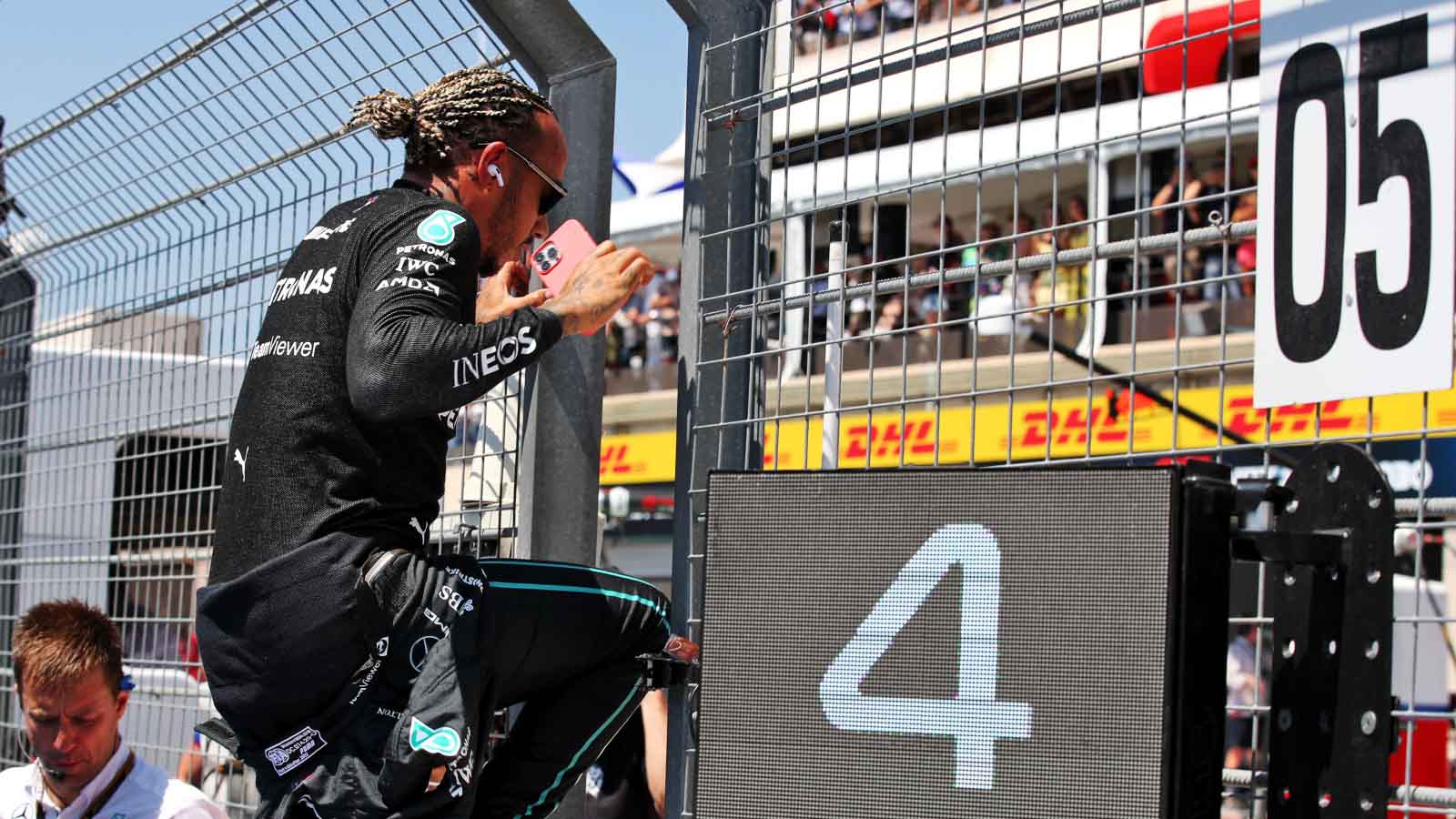 Lewis Hamilton said he completed the French Grand Prix without being able to hydrate himself in 34°C heat, in one of the most physically demanding races of the year.
The Mercedes driver was thrilled to have taken second place on his 300th grand prix weekend, having capitalised on Charles Leclerc's crash and overtaking Sergio Perez at the start to earn his best result of the season so far.
But with high air temperatures and the track surface reaching up to 60°C during the race, it was a gruelling afternoon for the seven-time World Champion.
He lauded the efforts of his team to make the most of their weekend, but he admitted he was looking forward to "downing" his water after losing three kilograms of weight during the race.
"What amazing weather we've had, and that was actually a tough race because my drinks bottle didn't work," Hamilton said after the chequered flag dropped.
"But what a great result considering we've been so far off these guys all weekend. Reliability is one thing that my team has been amazing at, so a huge congratulations to the team back at the two factories, [and] the team here who, without them, we couldn't get this podium, and George did an amazing job today as well."
— Mercedes-AMG PETRONAS F1 Team (@MercedesAMGF1) July 24, 2022
Hamilton's Mercedes team-mate George Russell made it a double podium finish for the team – their first of the year – after dicing with Perez in the final stages of the race.
He caught the Red Bull driver napping at the end of a late Virtual Safety Car period, diving through and taking third place, defending hard to the end, though the two made contact in an earlier move, in which the Mercedes driver felt he deserved the right to more racing room.
"I saw him struggling when Sainz got past and I had that one opportunity. For me, I was down the inside," Russell explained.
"The rules are pretty clear: It's front wheel to rear wheel when you're on the inside. That's what I had, he didn't really leave me enough space but nevertheless, glad I could carry on bringing home P3, and two podiums for Mercedes, it's great."
But Max Verstappen was the one to race serenely to victory with the fights going on behind him, and opened up a 63-point lead in the World Championship in the process.
He was unable to make his way past Leclerc at the start, with Red Bull pitting him early to try and force an undercut, which could have seen him take track position over his title rival.
But the Dutchman was able to ease away from the pack after the Safety Car period following Leclerc's retirement, and took his seventh win of the season in the process.
"I think we had really good pace from the start," Verstappen said. "I was putting pressure on Charles but following around here with this heat, you know, the tyres were overheating a lot so I could never really like go for a move – only once into Turn 11.
"But yeah, we just tried to stay calm. Tried to stay close because we pitted a bit earlier. And from there onwards, you never know how the race is going to go.
"But the car was quick today and of course, unlucky for Charles, I hope he's okay, and from there onwards, I just did my race, looked after the tyres."