Angry Hamilton 'frustrated' with muddled strategy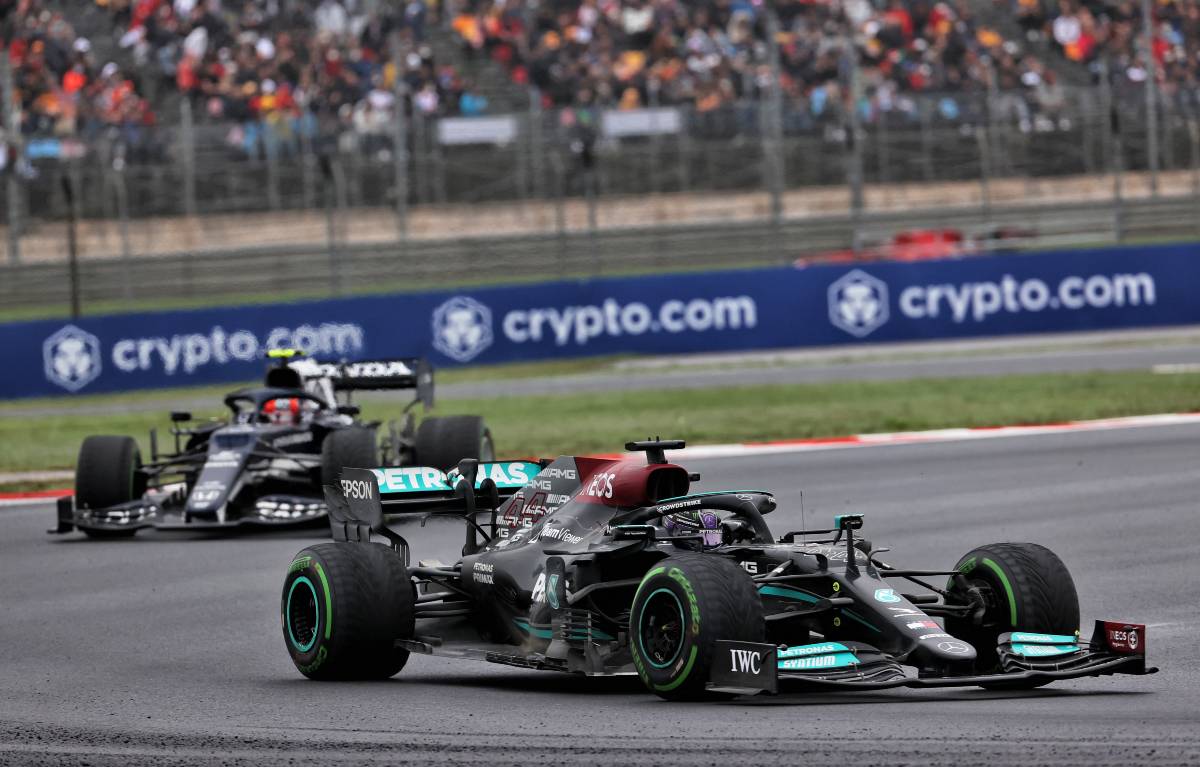 Lewis Hamilton was left frustrated by a Turkish Grand Prix strategy that ended up being neither one thing nor the other.
On a damp Istanbul Park circuit, the seven-time World Champion made strong progress from his P11 grid slot, where he started having been given a 10-place penalty for exceeding the maximum number of new power unit parts this season.
As the race headed into its closing stages, Hamilton looked to have every chance of a damage-limiting podium finish behind his Mercedes team-mate Valtteri Bottas and his World Championship rival Max Verstappen, who ultimately both started and finished first and second.
But with pit-stop strategy difficult to finalise as the track stayed just too slippery for slick tyres, Mercedes' indecision ended up costing Hamilton a potential two places and five points as he dropped to fifth – and he was audibly angry in the cockpit.
While most of the leading runners eventually stopped for fresh intermediate tyres on lap 37 or 38 of 58, Hamilton was initially told to "box, box" on lap 42 – but he questioned the decision and after some consideration, the team changed their minds and allowed him to stay out.
It was starting to look as though the Briton would run until the end of the race on the set of tyres he had started on, but on lap 51 came another call to pit. That time, Hamilton was more accepting, saying "sure, okay" in response.
However, despite initially being right behind fourth-placed Charles Leclerc on his return to the track, Hamilton began to drop back due to graining on his new tyres and fell within striking distance of Pierre Gasly and Lando Norris behind.
"Why'd you give up that space?" asked Hamilton over the team radio to his race engineer, Pete Bonnington. "We shouldn't have come in, man. Massive graining, man."
Told the time gap to Gasly behind, a clearly irate Hamilton yelled: "Leave it alone, man."
Check out all the latest Lewis Hamilton merchandise on the official Formula 1 store
Lewis Hamilton on team radio: "Leave me alone, man."#TurkishGP 🇹🇷 #F1 pic.twitter.com/3c1lwRgstf

— PlanetF1 (@Planet_F1) October 10, 2021
Eventually, as his tyres came back to him, Hamilton was able to hold off Gasly and Norris fairly comfortably, but he still found himself trailing Verstappen by six points in the Drivers' standings with six races remaining.
Hamilton suggested it was a strategy that had fallen between two stools – either he should have pitted earlier or not at all.
Asked in his interview with Sky F1 whether he had been aware he would lose places making the pit-stop when he did, Hamilton said: "I didn't know at that time, but I could probably have assumed I would lose. The guys were only 15 seconds behind, it's a 24-second pit-stop so I knew I would lose perhaps one, but anyways…"
On whether he thought his original tyres would last until the end, he added: "[Esteban] Ocon's did, I heard, so I assume they probably could. The tyres are bald so you don't know how far they will go, so there's definitely a little worry of the life of the tyres.
"But also, I wasn't really that fast at the end there. I was struggling, had low grip, not really sure why, but then all of a sudden I'd have not such bad pace. But I was losing performance to the guys behind.
"I think probably in hindsight I should have stayed out or come in much earlier because when you come in with eight laps to go you don't have time to go through the graining phase of that medium (intermediate) tyre on a drying track, so then I went through this whole sliding phase where I nearly lost more positions. A bit frustrating but it is what it is.
"It had felt good to be in third and I thought if I can just hold on to this it's a great result from 11th and it's worse…but it could be worse."
PlanetF1 verdict
Hamilton blasts Mercedes over Turkish Grand Prix strategy
Mercedes driver Lewis Hamilton was not a happy man after losing out on a podium at the Turkish Grand Prix.