Lewis Hamilton explains why he's losing the team-mate battle to George Russell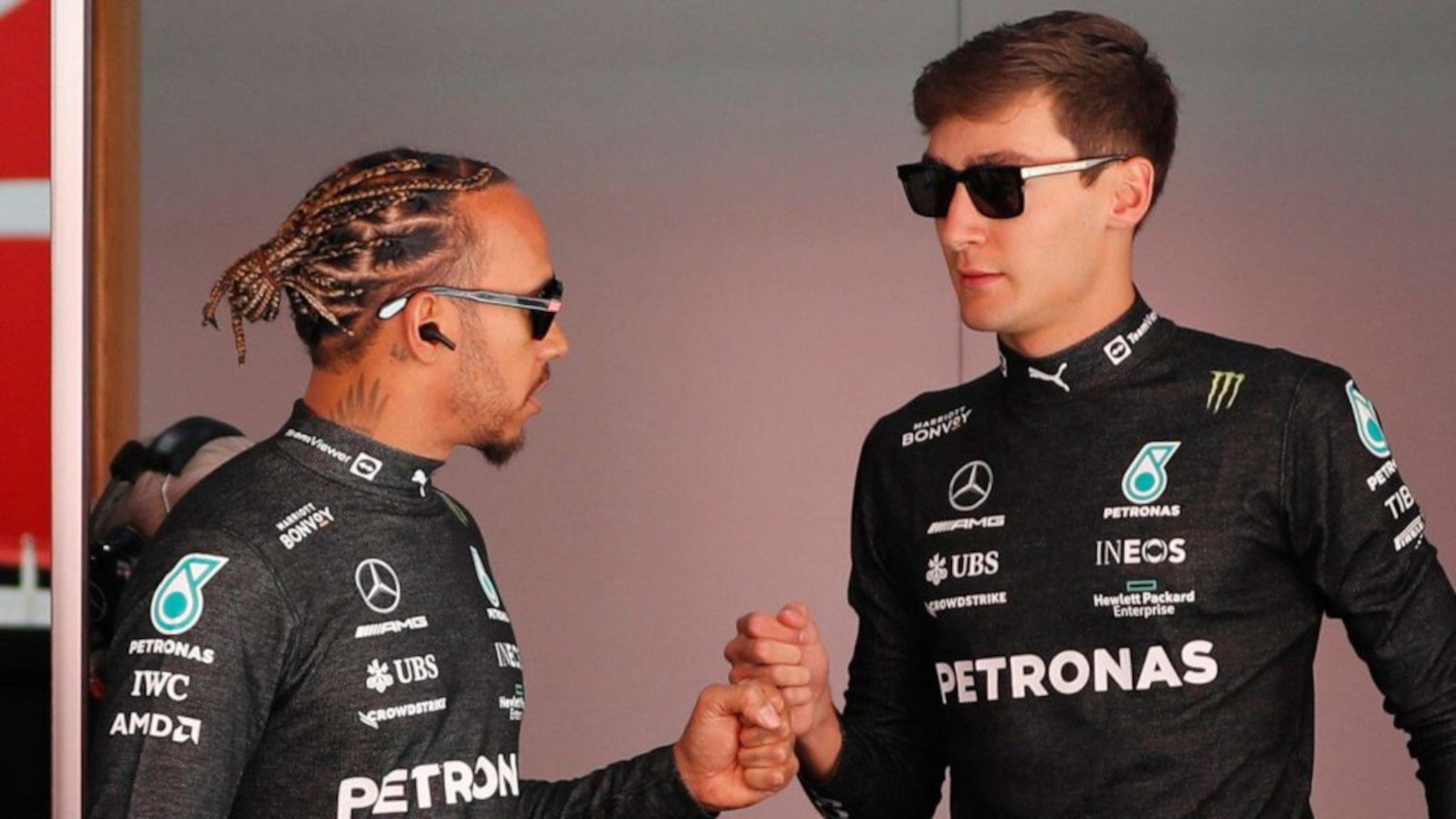 With George Russell on course to become only the third team-mate in Lewis Hamilton's F1 history to beat him, the 37-year-old has explained why.
Hamilton has had the measure of his team-mates for most of his Formula 1 career, in fact he has beaten the entire field a record-equalling seven times.
However, the intra-team battles have not always gone on his way.
He lost to Jenson Button in 2011, his compatriot outscoring him by 43 points, while the tales of 2016 and his ill-tempered battle against Nico Rosberg have been widely told. That year, Hamilton lost by five points.
This year, in his 16th season in Formula 1, he is again facing defeat to a team-mate with Russell 20 points ahead with three races remaining.
The Briton says that is partly because he has spent the year being Mercedes' guinea pig while his new team-mate has been left to do "his job to the best of his ability".
"George is doing a great job," Hamilton explained to BBC Sport. "I don't have any problems with it. There's no issues in the background with us.
"George, I would say, and his team, they don't experiment the same, obviously. But that's because I've been here for a long time, so I'm willing to take these risks.
"I have the big, deep conversations with people I've been with for 10 years. So, me and 'Shov' (Andrew Shovlin, Mercedes' engineering director) can have arguments, constructive arguments.
"George, it's his first year with the team so he's come in and he's just doing his job to the best of his ability. Very little movement of set-up.
"I'm doing all the leg-work, back and forth here and there, different wings, all these different things. And I like that anyway."
Next year though, if, of course, Mercedes get it right, Hamilton expects the situation will be a lot different.
"If we come into next year and have a car we are much happier with, we can be more focused on that whole…not having to go crazy with set-ups," he said. "Then we can have a better battle.
"If he finishes ahead at the end of the season, I don't really feel anything about it. We're not in the championship. We are fourth and sixth. If it was first and second, it's different."
"They've stuck with me through my mistakes, and s**t that's been in the press; they've stuck with me through the ups and downs…" #F1https://t.co/vzV1mg6KBh

— PlanetF1 (@Planet_F1) October 28, 2022
Mercedes have yet to win a grand prix this season, neither driver able to make the final step.
Both have secured runner-up results with Hamilton sitting on three to Russell's one.
The 103-time grand prix winner says he has "literally tried everything" to get Mercedes back into contention after their early-season porpoising problems.
"I've tried every setting you can possibly do," he said. "That's what I was doing at the beginning of the year.
"The whole idea of performing at your best and getting the best result each weekend. Of course, that would be nice, but I was really about problem solving – 'I'll sacrifice this session or all the sessions to be able to find more data and information for you'.
"So when we go back to the factory they have a better understanding of what's going on. But it ultimately hindered some of the weekends."
Read more: Have Mercedes made the call to stick with the zero-pod into 2023?