Lewis Hamilton: George Russell chose 'wrong' set-up but still went in his favour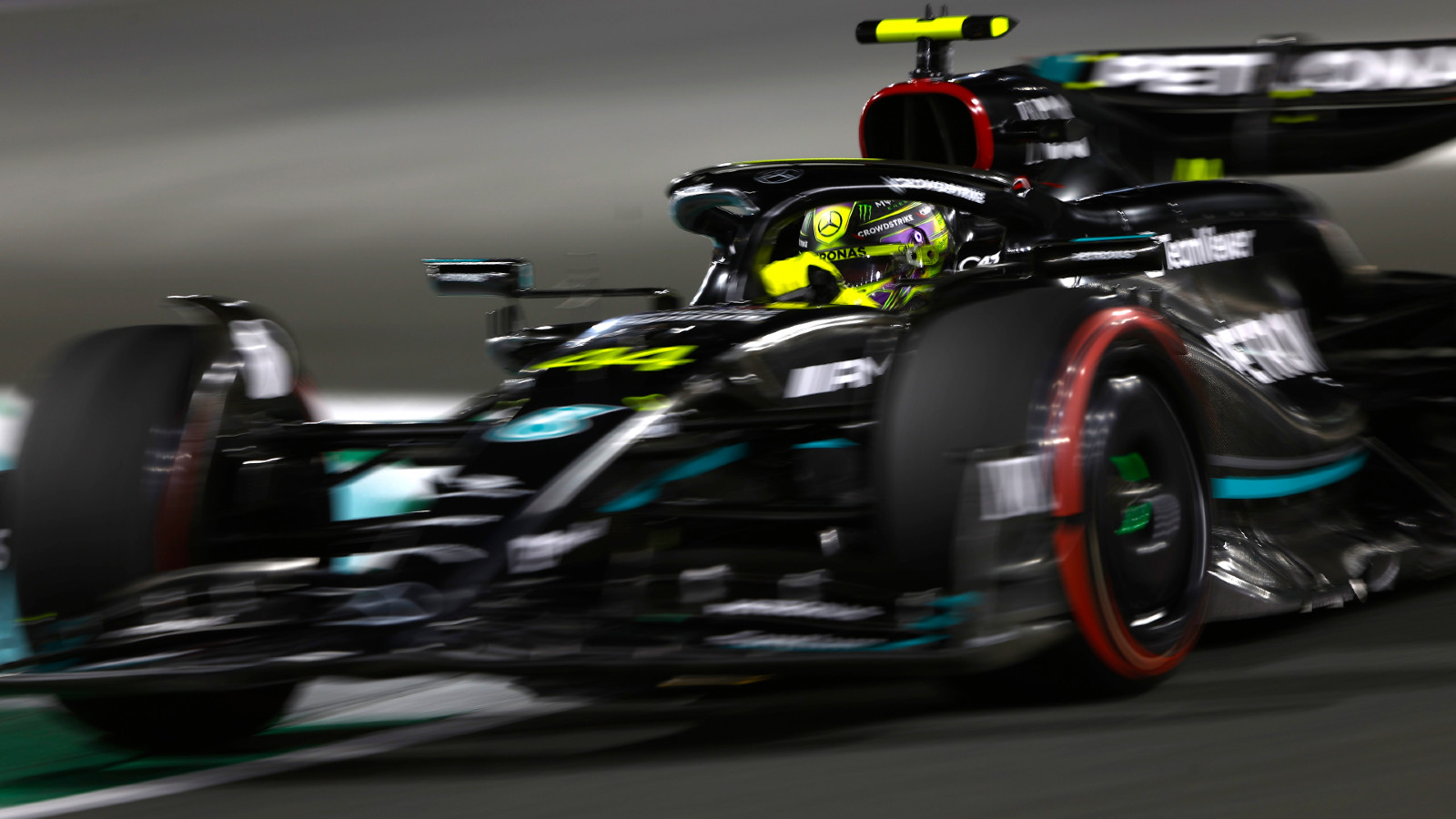 Lewis Hamilton has revealed how a 50/50 setup choice happened to work out in George Russell's favour and not for his side of the garage.
Hamilton came home in fifth place at the Saudi Arabian Grand Prix, just missing out on a fourth place by four-tenths of a second after Fernando Alonso was given a post-race 10-second time penalty.
Hamilton had lined up in seventh place for the race start, taking on the first stint on the hard compound Pirellis before swapping to the mediums at the Safety Car intervention – the direct opposite of what the other top runners did.
While Hamilton had looked on to possibly challenge Fernando Alonso for third place due to being on the medium tyres, a resistant George Russell in fourth didn't yield position to his teammate and, unable to pass Russell by himself, Hamilton came home in fifth.
Reflecting on the Grand Prix afterward, Hamilton was slightly more upbeat than he had been after a 'miserable' qualifying day on Saturday.
"We got some great points as a team," he told Sky F1.
"George got third, which is amazing. I went forwards, which is always the hope is that you at least go forwards – one foot in front of the other.
PlanetF1.com recommends
George Russell reveals 'confusion' over Alonso penalty amidst Lewis Hamilton battle
Fernando Alonso bemoans 'poor show from the FIA' after podium demotion
Toto Wolff: Red Bull 'can put a little sticker' on updated Mercedes if they want
"So I'm really grateful to have come from seventh to fifth. The strategy just didn't really work out for me, the setup was a bit off.
"I think if I had the setup George had, I would have been in a better position. But yeah, there's a lot to work on, but there are positives to take away."
Hamilton was asked about who had made the choices regarding the individual setups applied to the cars, and how much say he had on how his own car had been set up to tackle the 50 lap race.
"We work on that. There was like a 50/50 choice," Hamilton revealed.
"I chose one way, he chose another. More often than not, where he went was the wrong one, but it just happened to work.
"So I could only match his pace rather than be quicker this weekend. But I'll work hard to make sure that we're in a better place."