Lewis Hamilton explains grid brake change Martin Brundle described as 'very risky'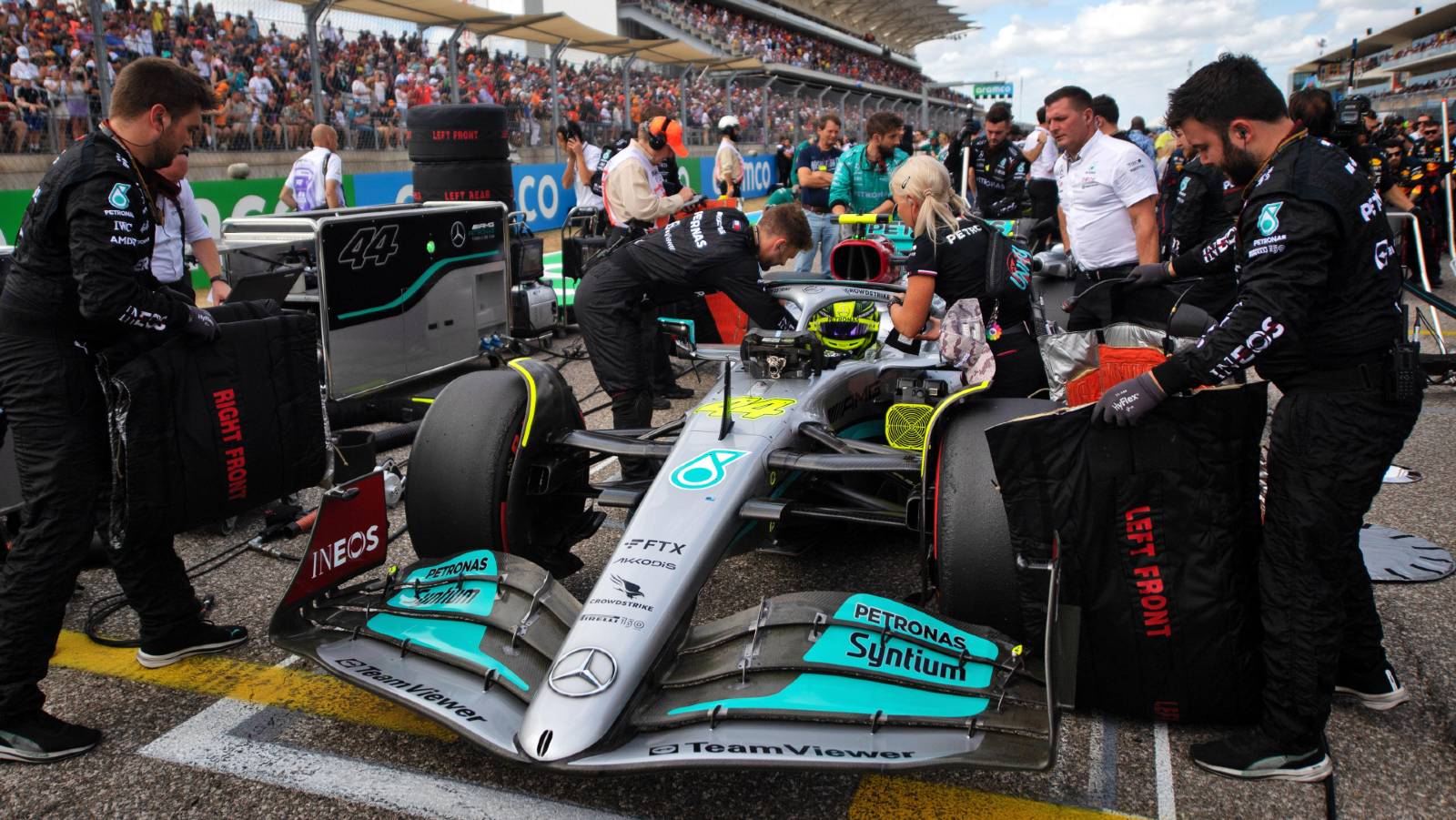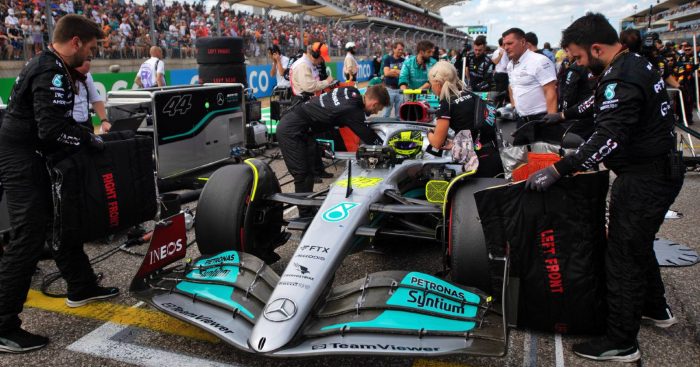 Lewis Hamilton has explained why Mercedes changed his car's front brakes on the United States Grand Prix grid – a move Martin Brundle described as "very risky".
In the build-up to the grand prix in Austin, Mercedes mechanics were seen beavering away on Hamilton's W13 in full view of a packed circuit where Brundle was conducting his usual pre-race grid walk for Sky F1.
It was a race against time, but they got the job done and Hamilton was able to start where he had qualified, in third – and he held a chance of a first victory of the season until passed in the closing stages by Max Verstappen, who had surrendered the lead in a botched pit-stop.
Having observed what was happening on the grid and relayed it to the TV viewers, Brundle later said in race commentary: "I was amazed, it was very risky. There were still bits coming off it even after I finished my grid walk."
Brundle's colleague Ted Kravitz added: "Mercedes have done something quite unusual and they have decided to change the whole brake material on both front right and front left.
"That's changing the brake pads and the brake discs themselves. This is a job that normally the mechanics would like to give themselves at least half an hour to do but they've got to do it in 15 minutes."
P2! Some tough racing out there, it
wasn't easy but we are taking away a good result. Thank you @MercedesAMGF1 for all the hard work this weekend. Let's keep this momentum going for Mexico, see you all next week ~ pic.twitter.com/lJPfpj2WjM

— Lewis Hamilton (@LewisHamilton) October 24, 2022
Hamilton later admitted the issue was not an unfamiliar one with a car that has yet to give the Silver Arrows a victory in 2022, and discussed what he had reported to the team on the lap to the grid.
"We've had problems with our brakes all year," said Hamilton during the post-race press conference at the Circuit of The Americas.
"Just with separation, basically. When you hit the brake, instead of both fronts doing the same amount of work, either the left one does more or the right one does more because one gains more temperature.
"And so we had a huge temperature split, which was basically the left one wasn't really working. So they had to change the brakes.
"It's something we've seen a lot through the year with these new bigger drums, and so something we are working on fixing that."
In finishing second to Verstappen, Hamilton was runner-up for the third time in this campaign and continues to sit sixth in the Drivers' Championship, 20 points behind his team-mate George Russell.
Read more: Lewis Hamilton 'felt so much hope' that first 2022 win was on