Hamilton saved by 'science, not luck' at Monza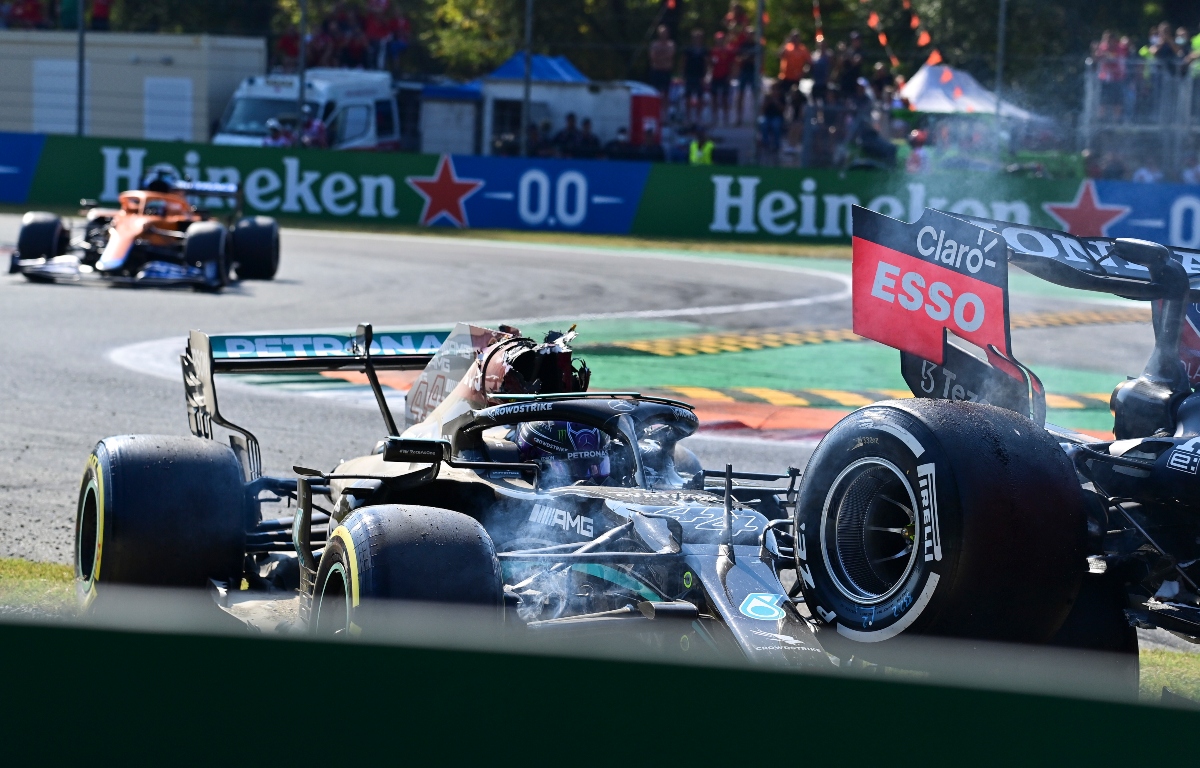 Cranfield University's motorsport director has stated Lewis Hamilton was not "lucky" to survive his crash at Monza but was saved by science.
When the Briton and title rival Max Verstappen came together during the Italian Grand Prix, the Dutchman's car mounted the Mercedes and went over the top of it.
One of the wheels hit Hamilton's head, but the Halo on his car protected him from any more serious harm that he could have suffered had it not been there.
After the race, he stated he felt very "fortunate".
"I feel very, very fortunate today – thank God for the Halo," Hamilton told reporters. "That ultimately saved me, you know, and saved my neck.
"I don't think I've ever been hit on the head by a car before and it's quite a shock for me. If you've seen the image, my head really is quite far forward.
"I'm so, so grateful I'm still here. I feel incredibly blessed. I feel like someone was watching over me today."
Check out all the latest Mercedes merchandise via the official Formula 1 store
It's days like today, I am reminded of how lucky I am. It takes a millisecond to go from racing to a very scary situation. Today someone must have been looking down, watching over me! #TeamLH: I'm so thankful for each and everyone of you, you are truly the best. Still we rise! pic.twitter.com/H2sGtXPKrr

— Lewis Hamilton (@LewisHamilton) September 12, 2021
Temple, though, says it has nothing to do with luck or fortune.
The device underwent a huge amount of testing and research at his university before being introduced to single-seater racing, and he puts that down to saving the lives of Hamilton and others.
"Hamilton was not lucky," Temple said, quoted by Motorsport.com.
"It is a fact that engineering and science underpin all of this work which ensures drivers are safe. Safety is the primary concern in motorsport.
"The halo was introduced in 2018 and proved its worth in that season when Charles Leclerc, who was then driving for Alfa Romeo, was protected from [Fernando] Alonso's flying McLaren.
"We also had the [Romain] Grosjean fireball incident in November 2020 and again the Halo came to the fore there, along with other safety measures such as the deformable nose cone protection, in-helmet safety system and the barrier itself.
"It's been shown the Halo is now one of the major safety devices that has served all drivers who are racing single-seaters from F1 all the way through to Formula 4.
"As this crash has proven, the Halo is exceptionally strong and is integral to other safety-critical elements within the car.
"Hamilton experiencing Verstappen's car coming on top is probably around the equivalent of close to a London double-decker bus landing on top of the car."