Lewis Hamilton reveals the one thing he changed in F1 and 'should have copyrighted'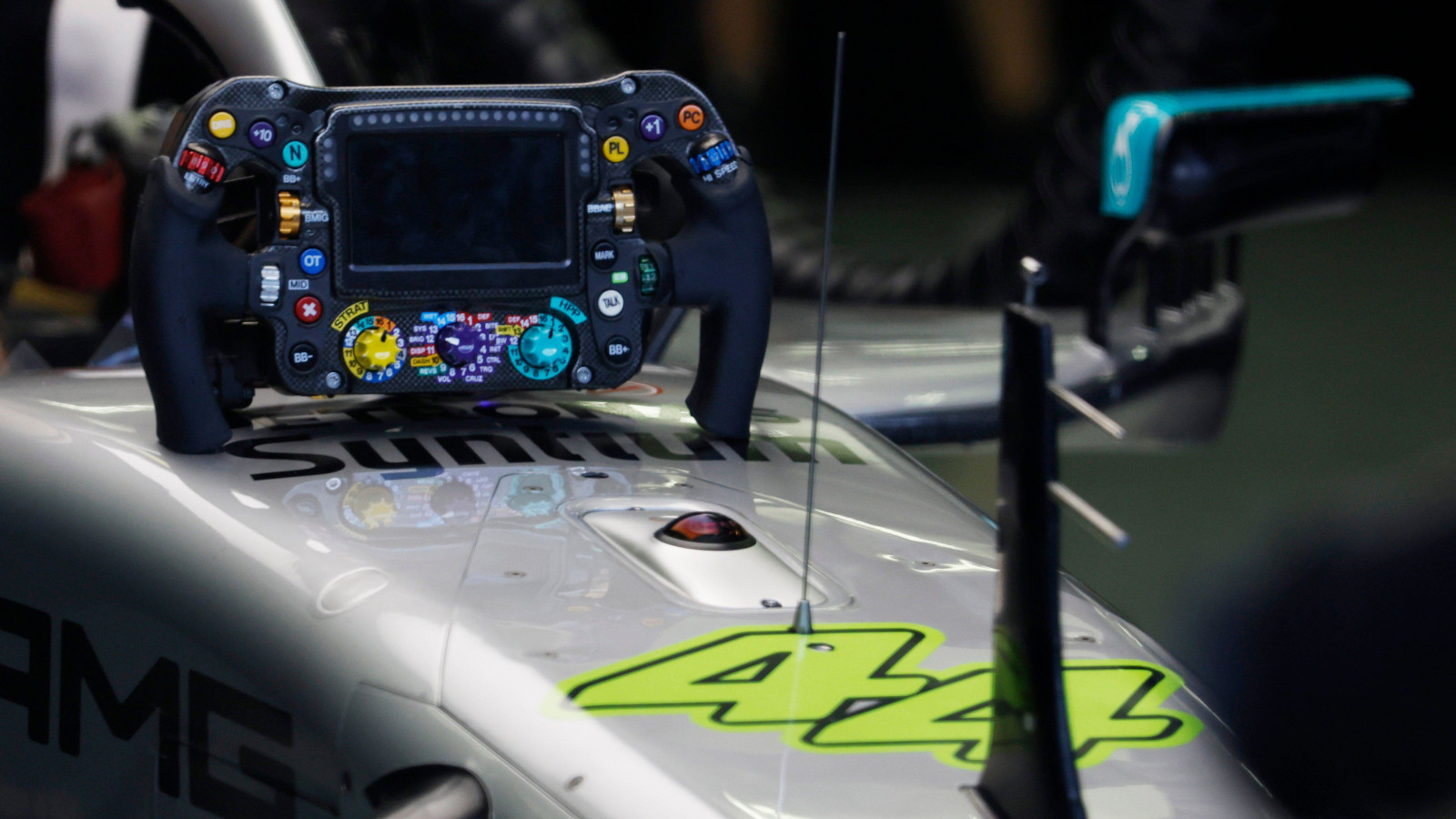 Lewis Hamilton has revealed he re-designed his steering wheel back at McLaren, changing it's shape from round to what the field uses today, flat on top with handles on the side.
Arriving in Formula 1 in 2007, Hamilton quickly set the stage alight.
Displaying his speed and driving skills on the track, his engineers have often spoken about his knowledge off it and his work ethic.
But apparently he's also a bit of a designer when it comes to steering wheels and seats.
"What a lot of people don't actually know is that I re-designed the steering wheel when I was at McLaren," he revealed to CNA Luxury during a meet and greet hosted by TeamViewer.
"And when I came to Mercedes, I did the same thing, and the other teams have all copied the wheel.
"All the old wheels used to be circular. Now, you'll see there's a top and the handle comes down and it doesn't join at the bottom.
"I should have copyrighted it. This is something I'm really proud of; I really love working on the ergonomics of the car.
"I also designed the seat for my cockpit; I filed it down and it's been pretty much the same seat for [almost] 10 years with the team. We also redesigned the pedals with the engineers.
"Those are the things I love to do, as it allows me to tap into a bit of creativity."
Explaining every button on Lewis Hamilton's Steering wheel in Less Than 140 seconds😅

I will do a fully detailed explanation on my YouTube Channel below:https://t.co/HqBymRmDvz pic.twitter.com/U0uNxGJkln

— Denzel Clarkson🇬🇾 (@AMGDenz) June 27, 2022
16 years into his Formula 1 career, Hamilton is having to push through arguably his toughest season to date.
Mercedes W13 has not proven to the championship contender the team had hoped, the car suffering with extreme porpoising in the first part of the season which hid many of the car's fundamental problems.
It has meant Hamilton has set records for the wrong reasons for a change, the 37-year-old 19 races into his longest-ever win-less streak.
Should he finish the season without a win that will be a first for the driver.
It has led to speculation that if it doesn't come right next season, Hamilton would walk away from the Mercedes and Formula 1.
He admits he is currently going through a "journey right now trying to discover what it is that I want to do after this.
"I've spoken to a lot of amazing athletes over time that have been in competition towards the end of their careers, and also ones who are retired. Many said that they stopped too early or too late.
"Most said you will know when the time is right [to retire]. But because we're so single-minded [as race car drivers] and so focused on being the best we can be, we usually lack the time to do other things.
"So when an athlete does retire, it's like the whole world comes to a stop. So I'm trying to put these things in place so that it's a very easy transition for me afterwards."
But don't expect that change to come any time soon, Hamilton have recently reveal he could stick around for another five years.
Read more: 'Has Lewis Hamilton's luck of a champion run out? Is he over the top?'