Hamilton describes his 'idiot' mistake in Portugal
Sir Lewis Hamilton told himself he was an "idiot" for giving Max Verstappen the chance to pass him at the Portuguese Grand Prix restart.
The race was neutralised after Kimi Raikkonen broke his front wing when clipping the back of his Alfa Romeo team-mate Antonio Giovinazzi's car on the pits straight starting lap two.
When the Safety Car left the track and leader Valtteri Bottas bolted, Verstappen got the run on Hamilton into Turn 1 and passed the Mercedes for second place.
Ultimately, it did not matter because the seven-time World Champion overtook the Red Bull and also Bottas to gain his 97th F1 race victory – but he was still kicking himself for what he considered an error up against the driver expected to challenge him for the Drivers' title.
"It was interesting because I was focusing on Valtteri naturally, and literally just for a split second I looked in my mirrors to see where Max was and in that split second that's when Valtteri went," Hamilton told reporters.
"So that wasn't great, and then I was in Valtteri's tow and Max was about to pull out and I pulled out and gave him Valtteri's tow, and I was like 'you idiot' to myself."
Check out all the latest Lewis Hamilton merchandise on the official Formula 1 store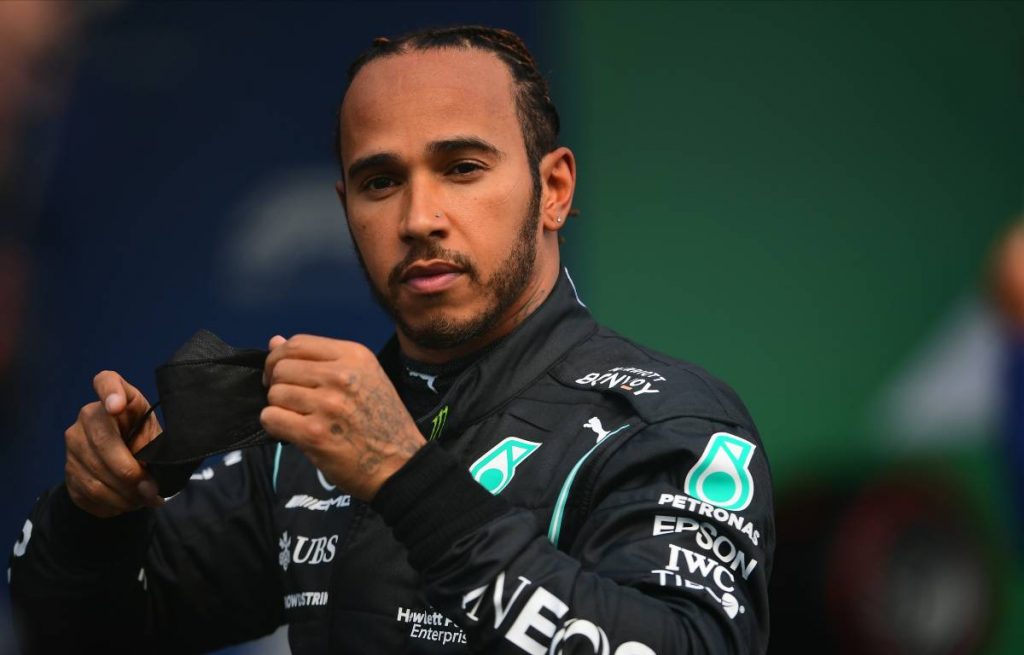 Although Verstappen, who finished second, said he had not enjoyed any of the weekend's driving at the Portimao circuit because the tarmac offered little grip, Hamilton praised the roller-coaster layout where he also won last year.
"What a great track," said the 36-year-old Briton. "It really enabled us to fight closely in that first stint and I think that's what the fans want, and what I want, from a racing point of view.
"This track is really great because you can have certain different lines in certain corners, a bit like Austin, so it was really awesome."
Hamilton ended up backing down from his initial complaints over the weekend that Pirelli had been too conservative with their tyre choices – the three hardest compounds, C1, 2 and 3.
"At this track there's not a huge amount of grip," he said. "You've got the hardest compounds but that means they can do the race distance and there's not a huge amount of wear.
"So you can push every single lap and I think that's great, because there are races we've been to in the past where we have to do a lot of lift-and-coasts, slow down to make the tyre go the distance.
"So I think it was the right tyre for the weekend."
Follow us on Twitter @Planet_F1 and like our Facebook page