FIA explain legality of Hamilton's Imola reverse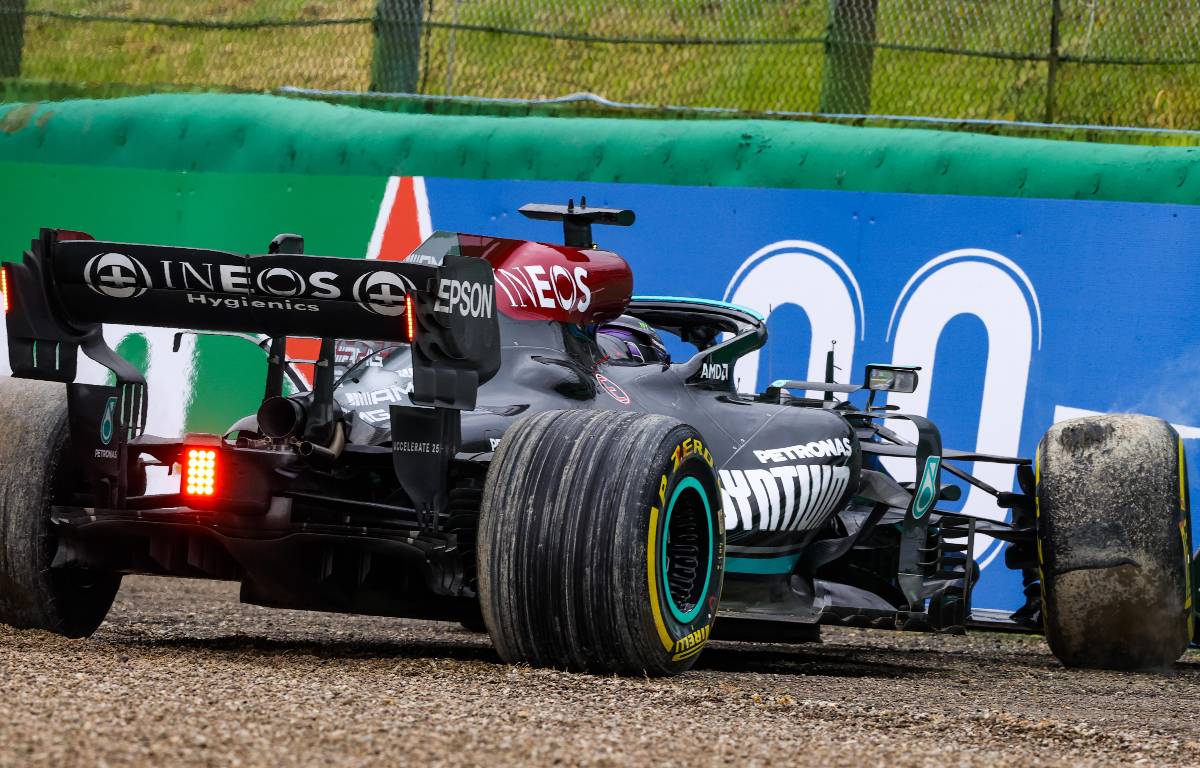 Lewis Hamilton's reverse manoeuvre back onto the circuit at Imola was completely within the rules, the FIA have confirmed.
The seven-time World Champion found himself up against the barrier with a damaged front wing when he ran wide at Tosa while lapping George Russell during the Emilia Romagna Grand Prix, shortly after he had switched to slick tyres on a drying circuit.
The only method of extricating his Mercedes from the gravel was to engage reverse gear, which Hamilton did all the way back onto the track after a failed attempt at executing a spin-turn to propel the car forwards.
Questions were raised as to why the 36-year-old Briton had not been penalised, with his compatriot Nigel Mansell black-flagged at the 1989 Portuguese Grand Prix after he had reversed in the pit lane when overshooting the box.
LAP 31/63

HAMILTONS GOES OFF!

Hamilton slides off into the gravel, and hits the front wing#ImolaGP 🇮🇹 #F1 pic.twitter.com/7BBN3JN3IS

— Formula 1 (@F1) April 18, 2021
In F1's Sporting Regulations, Article 27.3 states: "Should a car leave the track, the driver may rejoin, however this may only be done when it is safe to do so and without gaining any lasting advantage."
This makes no reference to reverse gear being outlawed, although it still is in the pit lane under the car's own power.
Race director Michael Masi was satisfied Hamilton's manoeuvre had been performed safely, especially as Mercedes had been guiding him about the proximity of other cars while the scenario was unfolding.
"Listening to Lewis' radio between him and his team, they were absolutely advising him all the way through where the edge of the circuit was," said Masi.
"It's a case-by-case basis that you need to review the complete set of circumstances that sit around it.
"In that particular circumstance, I wouldn't consider reporting that to the stewards."
Check out all the latest Lewis Hamilton merchandise on the official Formula 1 store
Hamilton explained afterwards why it had taken so long for him to get the car moving backwards.
In doing so, and with the consequent pit-stop, from running second he lost a lap to eventual winner Max Verstappen, but that was nullified as a result of the red-flag stoppage caused by the crash involving George Russell and Valtteri Bottas.
As a result, Hamilton took the restart in P9 and worked his way up through the field to finish second.
"It just wouldn't go into reverse, so I was holding the reverse button and it took forever to engage," said Hamilton.
"I didn't think it was going to work. I tried reversing and then tried to kind of do a burn-out spin to get going again and was back in the barrier. So then it took a long time again to get back in reverse.
"When I was reversing, I was like 'I've just got to keep going backwards and work my way out in reverse'. And if I hadn't done that I would probably still have been there now, so I'm grateful for it."
Follow us on Twitter @Planet_F1 and like our Facebook page