Hamilton: Mercedes 'well set' to handle intra-team issues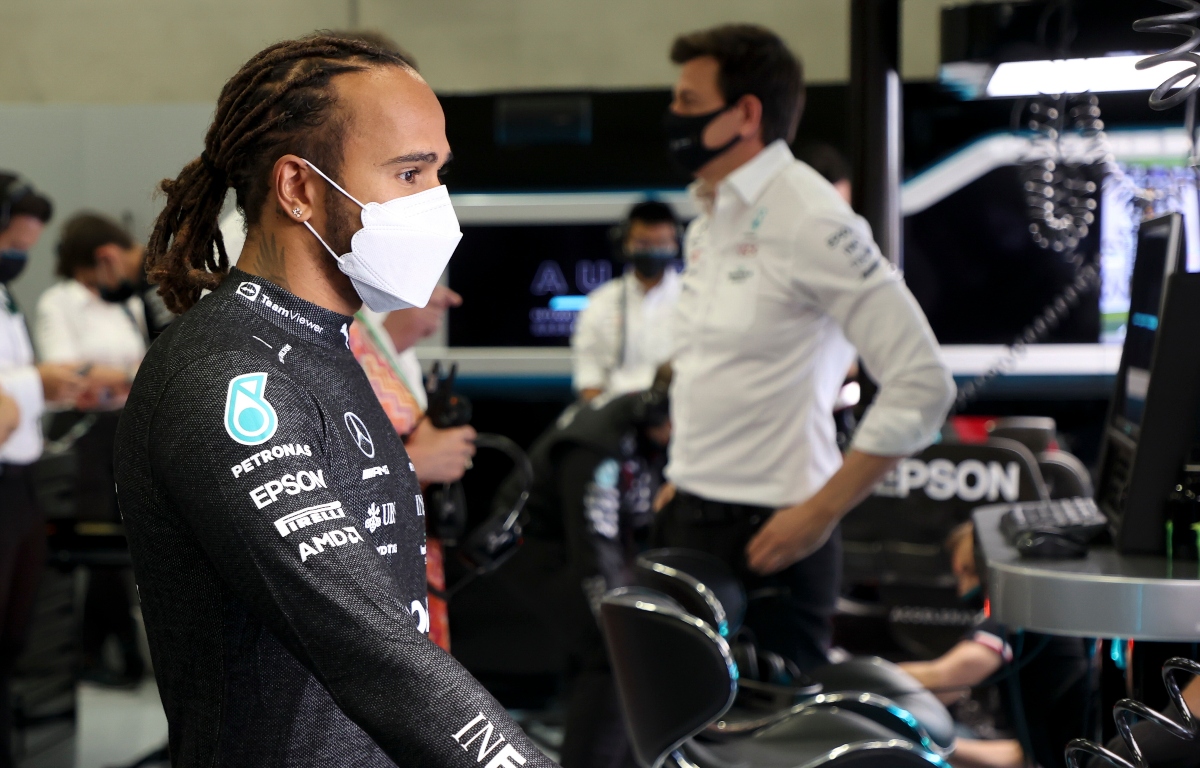 Lewis Hamilton believes Mercedes are well set to manage any potential intra-team issues that could arise with George Russell joining.
The Mercedes camp has been a harmonious one since Valtteri Bottas joined at the start of the 2017 season, with the two drivers never having a major falling out, thanks in large part due to the Finn's willingness to play second fiddle to his team-mate.
That wasn't the case before he joined though, with previous driver Nico Rosberg and Hamilton clashing on and off the track a number of times.
Many expect the team to be faced with similar problems next year with Russell joining and fully expecting to be given equal treatment to his compatriot, but Hamilton thinks that what happened with Rosberg has prepared the team to handle matters well.
"History has shown that it can and history has shown that it can't. It's different in each team and is ultimately how it's managed," he told reporters in Monza when asked whether two evenly matched team-mates could get along.
"It's quite a strange sport in that it is a team sport but also an individual sport, so you have the two championships and individually you want to finish ahead, but at the same time you've got to do the job to get the team ahead.
"It's a difficult one to navigate through, but I like to think we have experienced it and lived through it, and therefore we should be pretty well set to move forwards."
F1 TV are offering PlanetF1 readers 10% off both monthly and annual subscriptions! ! In order to claim this fantastic discount, click the following link and use the promo code PLANETF10 at checkout!*
*The offer ends at midnight on September 12 and excludes Netherlands
Given that Bottas was the ideal team-mate for him, rarely challenging him and often obeying team orders to help him, there were claims and reports that Hamilton was pushing the team to keep him rather than sign Russell.
The seven-time World Champion has denied that, saying it's not his style and that he was only ever positive about the Williams driver.
"That's not really my style," he said.
"I think ever since I joined this team, I remember joining in 2013 and I remember saying to Ross [Brawn, former Mercedes boss] that I just want equal opportunity.
"I think that's the most rewarding position to be in because if you do the work and you do succeed you know you've done the job against whoever it is at their best.
"Winning when someone's wings are clipped, that's not something that interests me, so that was never a thought."
Planet F1 verdict
Lewis' message to George Russell
Lewis Hamilton has sent a welcome message to George Russell after the announcement was made that he would be driving alongside him for 2022.