Hamilton: Verstappen 'knew what was going to happen'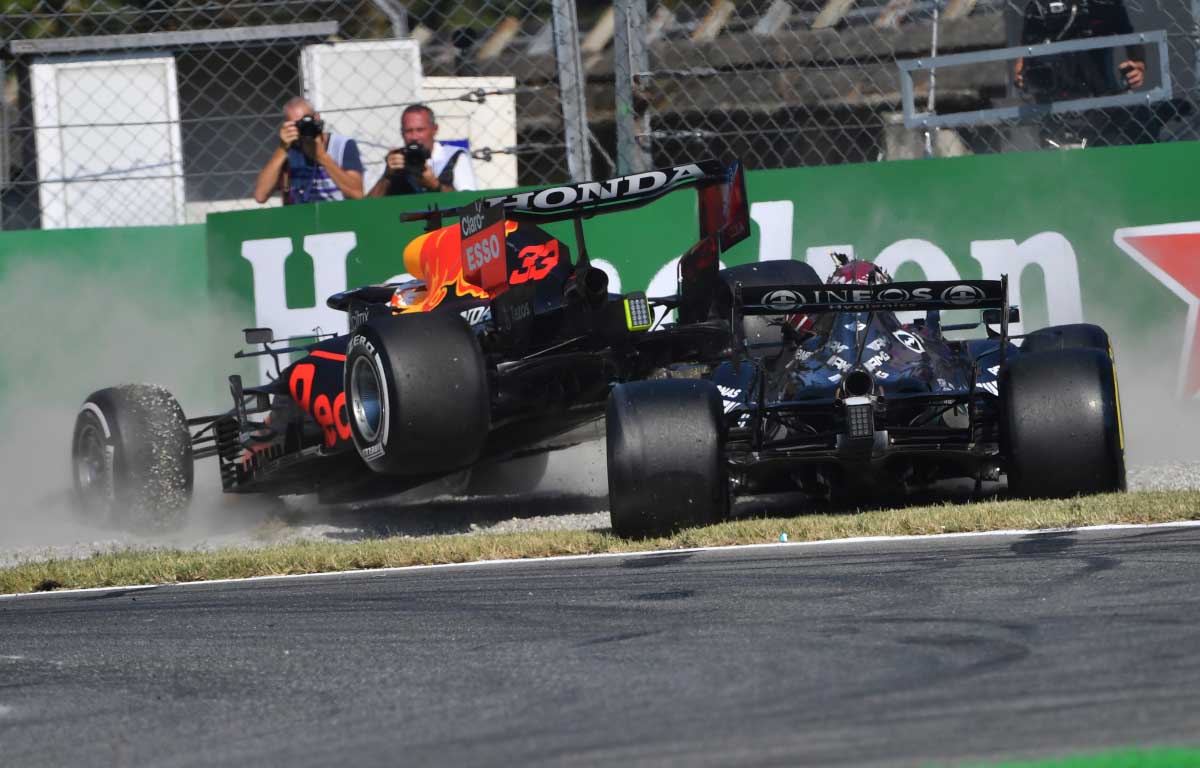 Lewis Hamilton said Max Verstappen "knew what was going to happen" as he attempted to pass at Monza, but the Red Bull driver carried on with his move anyway.
The two World Championship contenders collided again at a frantic Italian Grand Prix as Verstappen was on the back foot after an uncharacteristically slow pit-stop from his Red Bull crew.
Mercedes aimed to capitalise by bringing Hamilton in, and the Mercedes held the narrowest advantage as he came out of the pits into the first chicane.
Verstappen tried to pass his title rival around the outside of the first corner to gain the advantage for the second part of the chicane, but they clashed – catapulting the Red Bull on top of the Mercedes as a result and only the Halo preventing Verstappen's rear tyre from landing squarely on Hamilton's head.
The Mercedes driver was seen wearing medical tape on his neck after the incident, but he reported he was not significantly injured.
"I'm a little bit stiff and a bit sore in my neck, to be honest, because it landed on my head, but I'll be okay," Hamilton told Sky Sports F1 when asked about his condition.
You get the feeling this might get spoken about for a while…#ItalianGP #F1 pic.twitter.com/N3Q8dmuYio

— PlanetF1 (@Planet_F1) September 12, 2021
F1 TV are offering PlanetF1 readers 10% off both monthly and annual subscriptions! In order to claim this fantastic discount, click the following link and use the promo code PLANETF10 at checkout!*
*The offer ends at midnight on September 12 and excludes Netherlands
However, the seven-time World Champion felt he had raced the Red Bull fairly after his stop, but the Dutchman was not going to "give in".
The stewards later gave Verstappen a three-place grid penalty for the upcoming Russian Grand Prix, confirming they had adjudged Verstappen to have been at fault.
"I was racing as hard as I could and finally got past Lando [Norris]," said Hamilton. I was in the lead – or time-wise I was in the lead, then they pitted me. The pit-stop was slow and I lost some seconds.
"I came out, first saw Daniel came past. Max was coming, I made sure I left a car's width on the outside for him. I went into Turn 1 and I was ahead, going into Turn 2 and I was still ahead of him. Then suddenly he was on top of me."
The two also nearly clashed on the first lap, in a near-copy of their opening-lap clash at Imola where Hamilton was forced onto the sausage kerb at the opening chicane and backed out of Verstappen's way.
Hamilton moved level with Verstappen on the outside of the second chicane at Monza. He would have had the inside line for Turn 5, but backed out after the Red Bull shut the door – and felt the Dutchman should have done the same.
"It's exactly the same scenario that happened in Turn 4, where I went around the outside. I was in exactly the same position but I gave way," said Hamilton.
"That's racing, but he just didn't want to give in today. He knew when he was going into [Turn] 2 what was going to happen. He knew he was going over the kerb but he still did it. We'll speak to the stewards and see, but I don't really know what else to say."
PlanetF1 verdict
Did Max Verstappen deserve his penalty or racing incident?
Did Max Verstappen deserve a penalty for his crash with Lewis Hamilton?