Would Hamilton prefer Norris to Russell as his team-mate?
After their exchanges in Austria, F1 journalist Tom Clarkson wonders if there was a motive behind Lewis Hamilton's praise of Lando Norris.
In a sensational qualifying display Norris put his McLaren P2 on the grid for the Austrian Grand Prix, before keeping Hamilton behind at bay until Lap 20.
After finally making the pass, Hamilton took to team radio to call Norris a "great driver", with the 21-year-old re-passing Hamilton later in the race.
And speaking on the F1 Nation podcast, Clarkson revealed that Hamilton had approached Norris in the TV pen after the race to praise his efforts once more.
Hamilton could well form part of an all-British line-up at Mercedes next season with George Russell widely expected to earn a promotion, but would the seven-time World Champion actually prefer Norris in the second Mercedes?
Clarkson wonders if that public praise for Norris was a hint from Hamilton.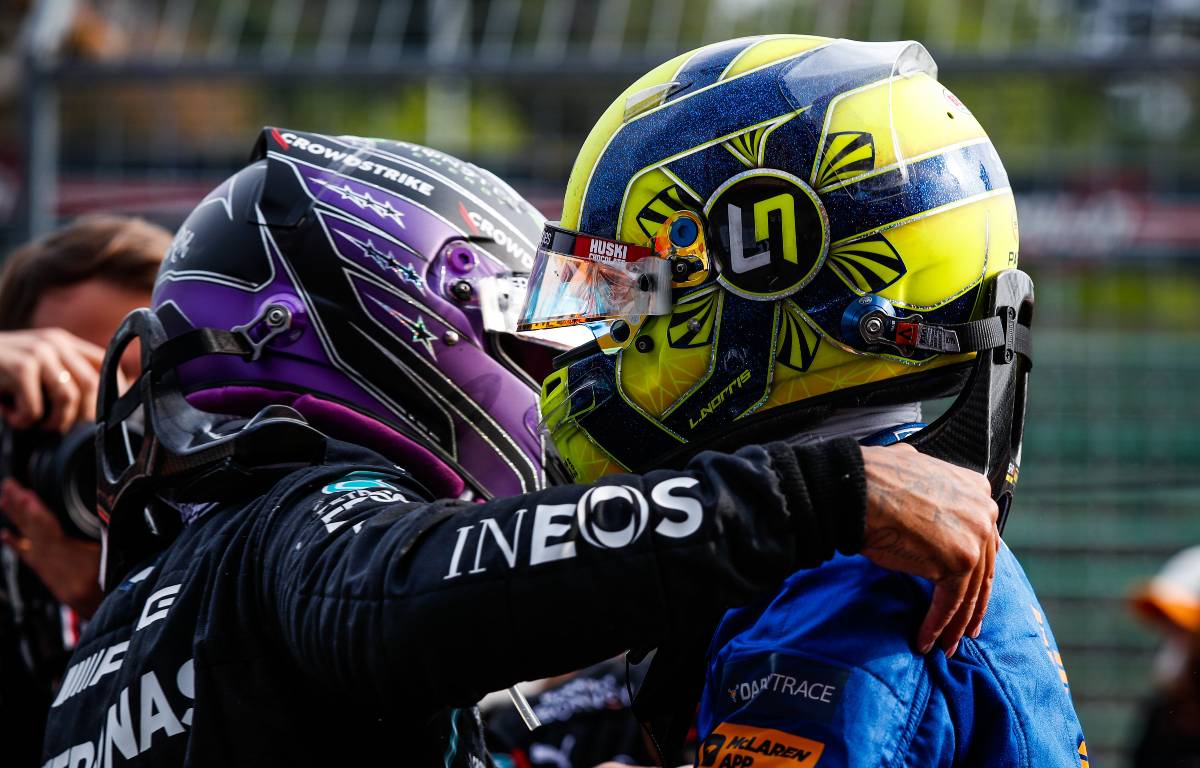 Check out all the latest Lewis Hamilton merchandise on the official Formula 1 store
"I was told that in the TV pen, Lando arrived after the podium, Lewis stopped whatever he was doing, went over to Lando, put his hand on his shoulder and said 'hello, Speedy Gonzales'," he said.
"So not only was there the radio message, there was this big show in the TV pen as well. What is that all about?
"I think it's relevant because we are now discussing who will partner him at Mercedes. Toto Wolff has said it will be either Valtteri Bottas or George Russell, but is Lewis bigging up Lando Norris just to raise a few questions in Toto's head?
"I think Lewis would love to have Valtteri Bottas next to him because he's a known quantity. I'm just wondering if Lewis is bowling a googly. It did seem strange. If you wanted to compliment a driver, why do you need to do it in front of all the TV cameras? Why not do it away from the TV cameras – it would mean more, it would feel more sincere, wouldn't it?"
When asked by Sky F1 about Hamilton's praise over the radio, Norris said: "To have that kind of respect and for him to say it, you know, it does mean a lot.
"I don't know if he could say that because he admitted he wasn't going to race us or had a problem or whatever. Maybe if we were racing fair and square maybe he wouldn't have said it, I don't know.
"But it's kind words so I appreciate it."
Follow us on Twitter @Planet_F1, like our Facebook page and join us on Instagram!