Lewis Hamilton reveals lessons from rare chance to 'watch' dominant Red Bull RB19 up close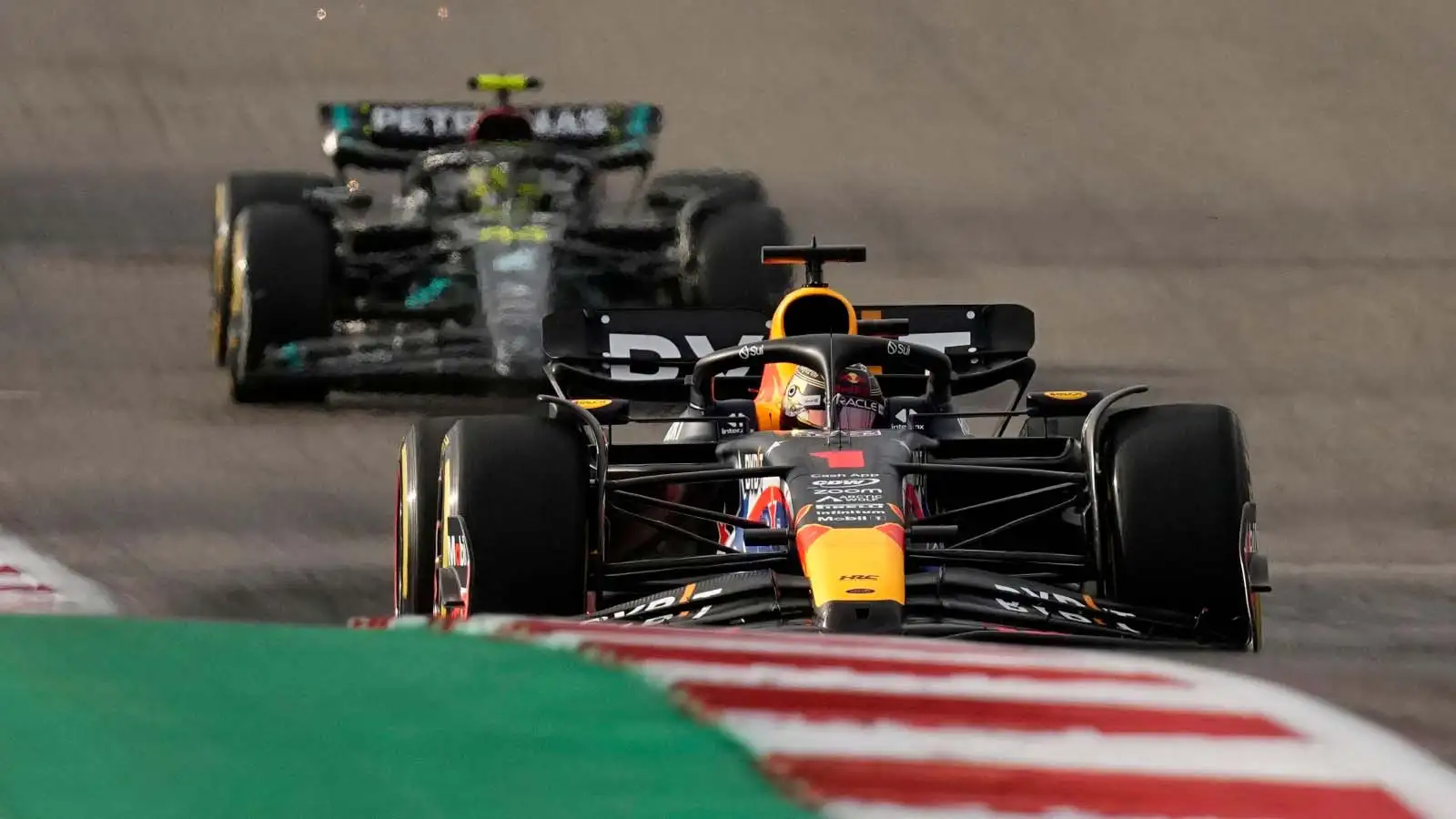 Lewis Hamilton said following Max Verstappen's Red Bull at close proximity showed that catching them is "no small feat" next year.
Hamilton and Mercedes brought a new floor upgrade with them to Austin this weekend, with the seven-time World Champion praising the impact of that particular update – though there is still a long way to go before they get on terms with the reigning champions.
Hamilton stayed tucked under Verstappen's rear wing in the opening laps of the Sprint on Saturday, which gave the Mercedes driver what has been a rare chance this year to see how the RB19 works up close.
Lewis Hamilton revelled in opportunity to 'watch' RB19 behaviour up close
In discussing how his Sprint unfolded, Hamilton overtook Charles Leclerc at the start and was able to keep within DRS range of Verstappen of several laps, before the Red Bull was able to edge clear of the Mercedes.
In that time however, Hamilton, while concentrating on his own driving, was examining how the current dominant car in Formula 1 behaved in certain parts of the track, which he will feed back to Mercedes.
"I didn't get that great a start, but obviously quite aggressive Turn 1 and had a good battle with Charles, but then after that the car was feeling pretty good, so I was just attacking from the get go trying to get as close as I could whilst the car felt like that," he explained after the 19-lap race.
"I just couldn't bridge the gap enough to Max and then, once I was out of his DRS, then he just started eking away and cruising.
"Not that I haven't seen it already this year, we have seen it obviously, but it was a good position to be able to watch what the Red Bull car, what Max's car was doing, how it was behaving.
"So I got to watch for a while and see where they are particularly strong, which we can obviously see that on GPS or something like that, but still, at least I know where we are if there is anywhere we're stronger and where we're weaker, so I can download that to my team.
"And at the end, I think everyone's tyres were struggling towards the end of that stint."
PlanetF1.com recommends
F1 Sprint explained: Format, new rules and how it differs from standard F1 weekends
F1 2023: Head-to-head qualifying and race stats between team-mates
When pressed on what he was able to 'download' and asked to reveal the information he could gather to the wider world, Hamilton stayed tight-lipped on specifics, but explained that the task ahead of Mercedes and others is still a significant one if they are going to catch Verstappen and Red Bull next year.
When Verstappen, sat next to Hamilton, joked that he needed a memory stick to bring back to Mercedes, the seven-time World Champion replied: "That's what we need is a USB, I was trying to get close enough. But next time I'll get one of those GoPro sticks!"
Moving back to a more serious point, Hamilton added: "But [we learned] that we have a lot of work to do. Everyone behind these guys has a lot of work to do, and it's no small feat for us to truly catch them for next year.
"They will be progressing at a steep rate as they've got an amazing development team, and to make it even steeper for us to be able to close that gap, but I'm going to put 100% faith in my team that we can do it."
Read next: FIA make key US Grand Prix track change following Friday issues at COTA