Hamilton's 'bit silly' moment saved his race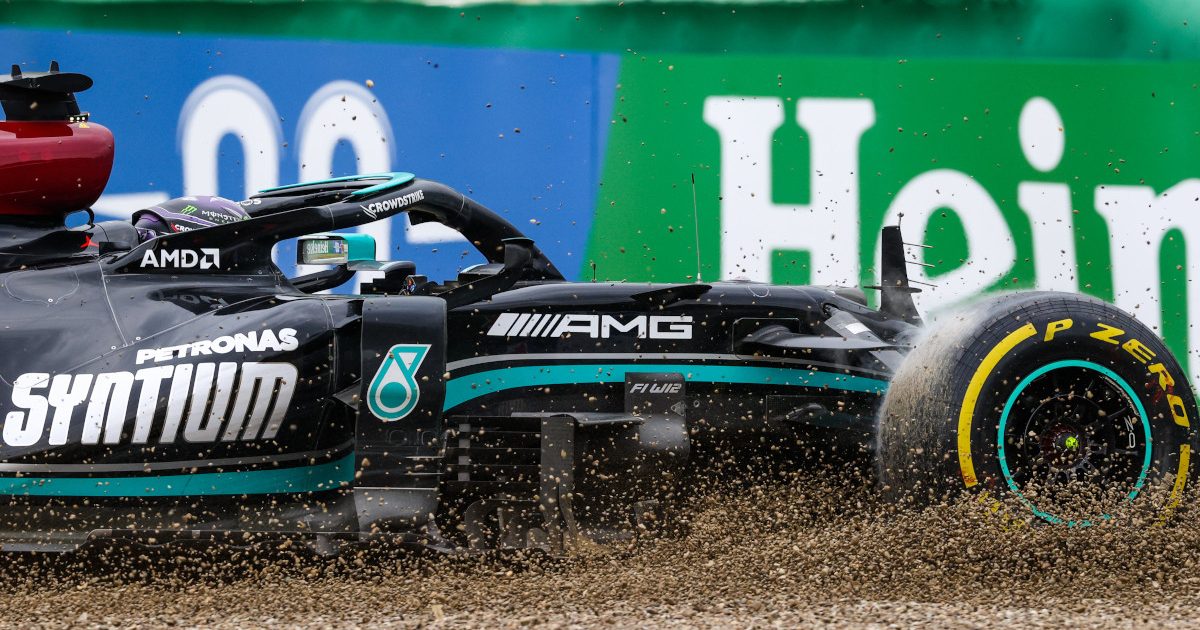 Accelerating at a time when almost everyone watching believed he should be reversing may have "looked a bit silly" but Martin Brundle says it kept Lewis Hamilton from retiring in the gravel at Imola.
Coming to lap backmarkers, Hamilton made a rare mistake at Sunday's Emilia Romagna Grand Prix, one that put him into the gravel.
Slowing down and on the verge of stopping before he nosed the barrier, Hamilton continued forward until his W12 did hit it, damaging his front wing.
He eventually reversed out of the gravel and rejoined the race, heading back to the pits for repairs as the red flags were thrown for his team-mate Valtteri Bottas' big crash.
Brundle reckons that decision to continue forward and touch the barrier, saved Hamilton from joining Bottas on the DNF list.
"Lewis was lapping George [Russell] at Tosa hairpin," he wrote in his Sky Sports column, "the Williams stayed right allowing Lewis space up the inside but on the damp side of the track.
"Should the lapped car move off-line onto the damp track? Not really. But Lewis was unlucky with some brake locking which walked him into the gravel trap and towards the barrier.
"F1 cars feel simply awesome at 200mph but clumsy as hell at 0mph. Finding reverse is not the work of a moment, clutch paddles are on the back of a rotating wheel, you can't see out properly, and the steering lock is hopeless due to the wide front wheels and suspension geometry.
"It looked a bit silly when Lewis accelerated forward into the barriers and broke his front wing, and it was to some extent, but of course he knows well you have to keep your driven wheels out of the gravel if at all possible otherwise you're beached and heading for an early shower.
"Then with radio advice from his team as to the oncoming traffic he reversed across the old and so more compressed gravel trap, momentarily turning his car into front wheel drive. Situation saved but wing broken."
The mistake? Rare from Hamilton 🤯

The recovery? Classy, determined, and skilful as ever 😎#ImolaGP 🇮🇹 #F1 pic.twitter.com/sIZcfpT528

— Formula 1 (@F1) April 18, 2021
Check out all the latest Lewis Hamilton merchandise on the official Formula 1 store
While a disaster for Bottas, the red flags were a gift for Hamilton as he was ninth and one lap down when the flags were waved.
He, along with everyone else who was a lap down, was allowed to unlap himself and line up right behind the leading pack for the rolling restart.
Hamilton raced from ninth to second, taking the fastest lap point as well.
"Lewis got lucky with a Safety Car here late last year and now once again the red flag to clear up the mess from Bottas and Russell played into his hands by allowing damage to be repaired, some fresh tyres (like everyone else) and to unlap himself (along with the other lapped runners)," said Brundle.
"The rules allow for lapped cars to unlap themselves, by one lap and return to the back of the field, under a safety car and red flags so that on the restart they are not in the mix with the leaders thereby denying us of say a great duel in the closing stages of the race.
"What goes around comes around for teams and drivers in this respect, sometimes it will help you, sometimes it will hurt you. It seems unfair in some respects, but we have seen the rule really energise races and bring drivers back into play.
"Lewis didn't waste his gift-wrapped opportunity as he sliced through to second place and fastest lap. When I interviewed him post-race it was clear that the error when passing Russell played heavily on his mind."
Follow us on Twitter @Planet_F1 and like our Facebook page.