Hamilton 'surprised' Max did not check he was okay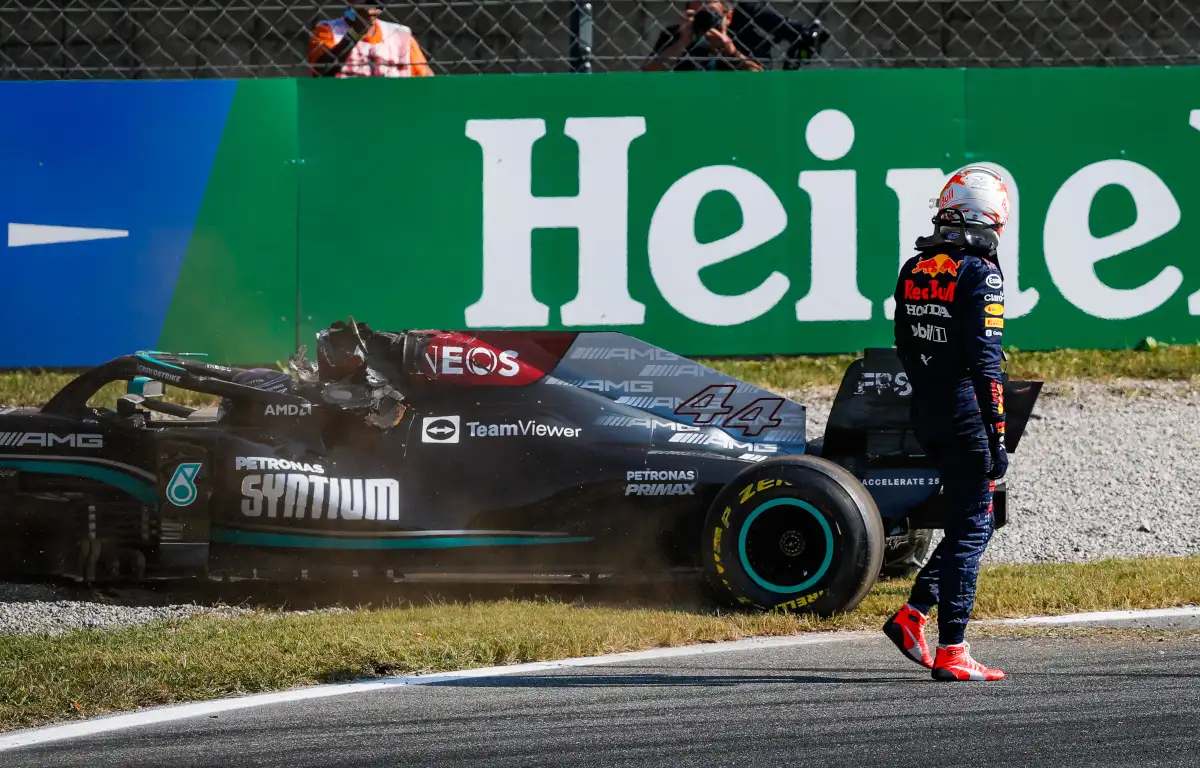 Lewis Hamilton says it was a "little bit surprising" that Max Verstappen didn't check on him, instead just walking away as his title rival sat in his stricken Mercedes after their Monza crash.
Following on from their British Grand Prix clash, the title protagonists were at it again at the Monza circuit.
With neither having the Italian Grand Prix that they wanted, both being thwarted by the McLaren drivers, Verstappen found himself going from second to fighting Hamilton for third after a slow pit stop.
Going into the Rettifilo chicane, Verstappen tried to go around the outside of Hamilton at the first part and then inside at the second. He ran out of road, whacked the kerb with his Red Bull launched over the top of Hamilton's Mercedes.
The Brit escaped what would what have been a serious injury thanks to Halo, but even then the tyre did make contact with his helmet.
With both cars in the dirt and Verstappen's partially on top of Hamilton, the Dutchman climbed out and walked away without even checking on his British rival.
"I did see Max get out and just walk by," he said.
"I found that a little bit surprising, because ultimately I think when we go out, and when we do have incidents, the first thing we want is make sure if the guy that we crashed into or we collided with is okay.
"But the good thing is I was able to get out. It was a long walk back, but we live to fight another day."
Verstappen has defended his actions, saying if Hamilton was trying to reverse out the gravel, he was okay.
Another hugely dramatic moment in the Verstappen/Hamilton title battle 💥😮#ItalianGP 🇮🇹 #F1 pic.twitter.com/P4J4bN6wX2

— Formula 1 (@F1) September 12, 2021
Check out all the latest Mercedes merchandise via the official Formula 1 store
"In the heat of the moment it's better to walk away so everyone calms down," Verstappen told Motorsport-Magazin.com.
He added: "Lewis was fine, he was still trying to reverse when I was already out of the car. When you are not fine, you are not doing that."
Hamilton had a lucky escape all thanks to Halo.
"I'm in a little bit of pain, to honest," he said. "It's actually I think an adrenaline rush at the time and it's feeling like it's going to get a bit worse as the adrenaline rushes off.
"But I'll work with [physio] Ange [Cullen] to fix it. I think honestly, I feel very, very fortunate.
"Thank God for the Halo that ultimately I think saved me and saved my neck. I think in the actual moment, it was a big hit. But all I could think of is could I get going again."
Verstappen was hit with a three-place grid penalty for the next race, the Russian GP, as the stewards declared he was to blame.
PlanetF1 verdict
Did Max Verstappen deserve his penalty or racing incident?
Did Max Verstappen deserve a penalty for his crash with Lewis Hamilton?