Hamilton: Backing down against Max is 'clever', not weak
By pulling out in risky on-track duels against Max Verstappen, Lewis Hamilton feels he is showing the smarts to maintain the title bids.
In a battle between the pair over the 2021 Drivers' Championship which has raged on throughout the season, there has as expected been several major flashpoints and collisions.
But while their scraps have at times ended in major contact, such as at Silverstone and Monza, there have also been key moments where the drivers have emerged from wheel-to-wheel action to fight on.
The most recent example was Brazil, where Hamilton left the track, along with Verstappen, as the Dutchman forced them both wide at Turn 4 to maintain his lead.
But whenever either driver has backed down on-track, this season it has consistently been Hamilton, but this is certainly no weakness in the seven-time World Champion's mind.
Ultimately, he feels that bailing out of potential crashes when he can, even if it means Verstappen retaining position, is key to ensuring that he keeps scoring points.
Asked by Auto Motor und Sport whether it can be interpreted as weakness if he keeps backing down from Verstappen, Hamilton replied: "When you're on the outside, it's almost always the more sensible option to pull back so you can finish the race.
"On the inside, there were situations where I clearly saw myself as being in the right, like at Silverstone, for example. Look at the pictures again. My front wheel was level with his front wheel. It wasn't that my front wheel was at the corner entrance level with his rear wheel.
"If I had acted like Max in Brazil in this situation, that is, had stayed on the gas, left the track and held the position, how would that have turned out?
"I don't feel too big or too successful to avoid a fight. I know that sometimes you have to take this path. You have to be the clever one.
"Sometimes you lose points, but it's not just about me. I have 2,000 employees behind me.
"A selfish act where I stick to my point and don't finish the race could cost my whole team the bonus payments at the end of the year. And then create more work on the damaged car."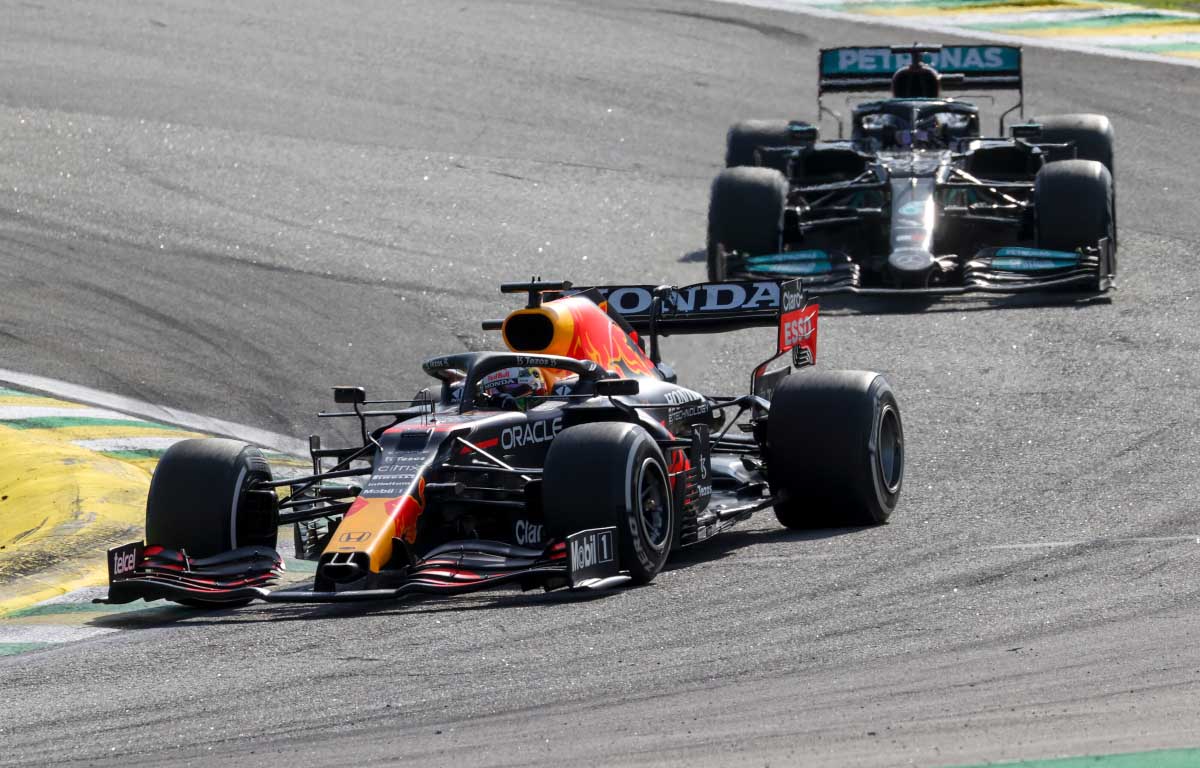 To that point, Hamilton added that he is more cautious battling against Verstappen at this stage of the season, where eight points separate them in Verstappen's favour with two races to go.
"You just have to be very careful, more cautious than ever before, you have to know what can happen," said Hamilton on the subject of how he behaves in a duel with a hard racer like Verstappen.
"You always have to be ready to do whatever you can to avoid the collision, even if that means leaving the track. After all, you want to end the race.
"If you are too stubborn and defend your position, you will crash. In Brazil, I made sure to avoid the collision.
"I was always very decent in situations like this, I would say. Of course, you don't always get it done perfectly.
"He's not my first opponent to act like this. Now that I'm a little older, I take a closer look at the characters of the other drivers and their personal backgrounds. How you grew up also has an impact on how we behave. I try to understand."
The pair also bumped wheels at the Emilia Romagna Grand Prix earlier in the season, another instance where Hamilton pulled out to limit the damage at that time.
But while Hamilton would make the same decision again, for that race and at Silverstone also where Verstappen was sent into the wall after clipping Hamilton at Copse, he does admit that by this stage of the season, he must consider the cost of losing further points to Verstappen.
"In Imola, I was on the outside, that didn't work, but he almost drove us off the track. It was similar in Spain. In these situations I would act like that again," Hamilton confirmed.
"The same goes for Silverstone, I would do the same thing all over again, that's how I see it with my experience.
"I think my record looks pretty decent when it comes to overtaking manoeuvres, where to position my car and how I assess the position, but the situations are always a little different.
"I don't think I have to change my approach, but when you're forced to catch up, you're obviously a little less willing to give in, otherwise you will gradually lose more and more points over the course of a season."
There is no doubt that this epic 2021 title battle will go down as one of the greatest Formula 1 has ever seen, and despite some real moments of tension, both drivers have made an effort to play down talk of any hostility between them.
And while Hamilton can not speak for his rival, from his side, there is no ill-feeling towards Verstappen.
"I can't speak for him, of course, I've also competed against drivers who showed the wrong face, of course I don't know if that's the case here," he said.
"I am now 36 years old and have been doing this for so long. It's not the first time I've faced a driver who is good and bad in some ways.
"But now I feel much better equipped to deal with this situation. I know he's a super-fast driver and he will certainly get faster and faster, the more mature he becomes over time, there is no doubt about that.
"When I look back at myself at the age of 24 or 25 – what mistakes I made at the time – I had the speed in the car, but I had a lot of different experiences outside when I was suddenly in the spotlight. I didn't do much right then. That's why I won't hold something like that against anyone else."
Verstappen vs Hamilton, how close the title battle really is
The World Championship battle is closer than ever as Max Verstappen and Lewis Hamilton look ahead to the final two races of the season.