Lewis Hamilton eyes Max Verstappen battle after 'totally unexpected' qualifying pace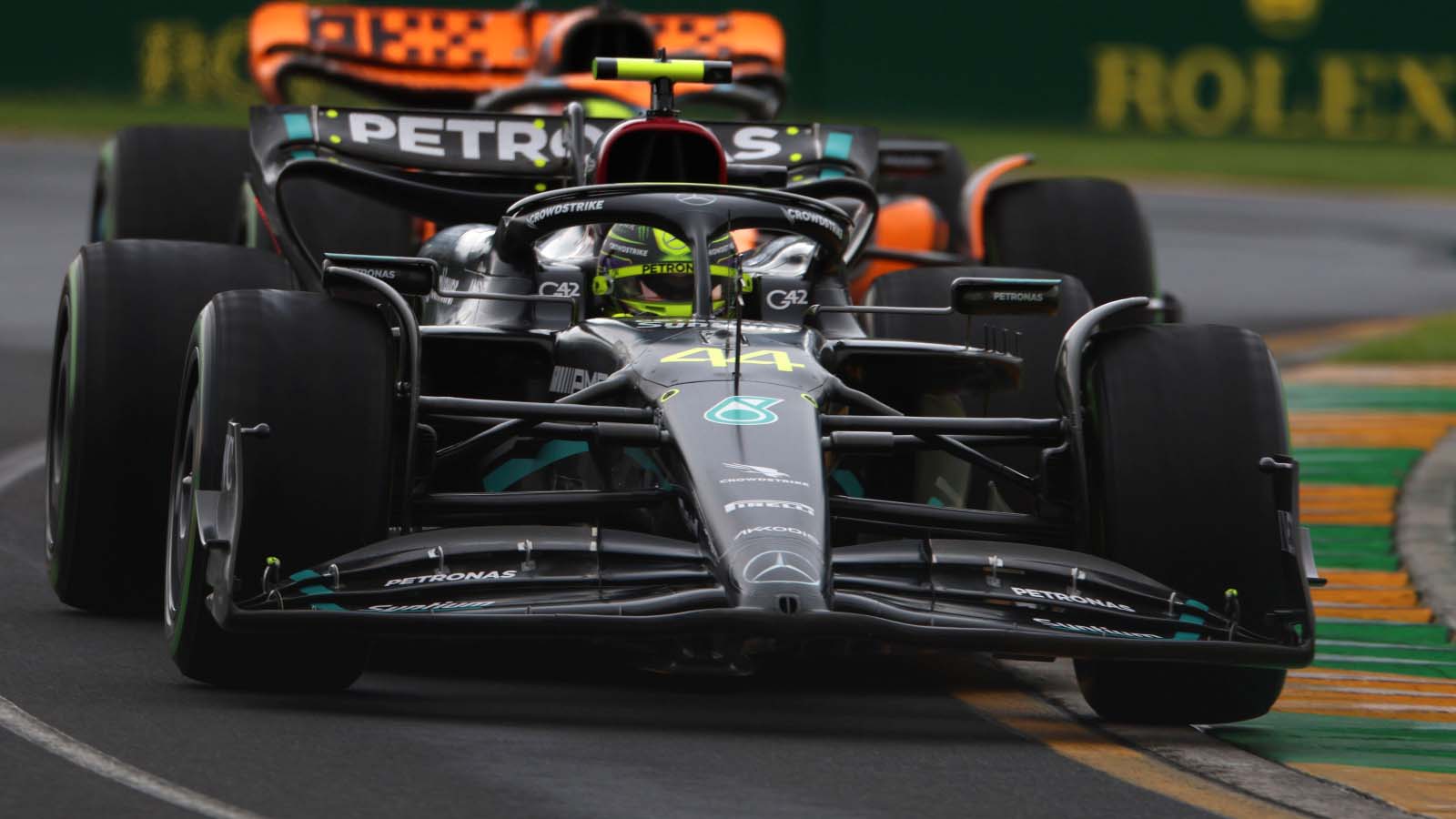 Lewis Hamilton is hoping to challenge Max Verstappen for victory at the Australian Grand Prix after admitting Mercedes' qualifying performance in Melbourne was "totally unexpected".
Having finished no higher than fourth in the first two races of the season in Bahrain and Saudi Arabia, Mercedes finally joined the 2023 party at Albert Park as Hamilton and team-mate George Russell emerged as Verstappen's biggest threat to pole position.
Russell will start Sunday's race from P2 after qualifying a couple of tenths behind Verstappen, with Hamilton a tenth further back in third.
Despite being outqualified by a team-mate in Melbourne for the first time since 2010, Hamilton has been encouraged by Mercedes' sudden turn of pace after a challenging start to 2023 saw the team commit to an alternative car concept.
He said: "I'm so happy with this. This is totally unexpected. Really, really proud of the team.
"George did a fantastic job today, so for us to be up on the two front rows is honestly a dream for us.
PlanetF1.com recommends
George Russell wanted more from qualifying: 'I was disappointed we didn't get pole!'
Aus GP Qualy: Max Verstappen back on pole as Sergio Perez's day went from bad to worse
Lewis Hamilton reacts to Michael Masi being back in F1 paddock
"We're all working as hard as we can to get right back up the front, and so to be this close to Red Bull is honestly incredible.
"I hope tomorrow we can give them a bit of a run for their money and we hope the weather is good."
Having encountered traffic on his second run of Q3, Hamilton was prevented from being closer to the front – but insisted losing out to Russell was only a minor disappointment against the wider picture of Mercedes' return to form.
"The second lap wasn't as good as the first one. I did get a little bit further ahead in the last sector, but ultimately I lost out a little bit at the beginning," he added.
"But I'm not disappointed.
"I'm super grateful for this position and I'm just going to work as hard as I can to try and move forwards tomorrow."
Hamilton will start from the second row alongside Aston Martin driver Fernando Alonso, whom he overtook around the outside of the first corner of his debut race in Melbourne back in 2007, and the Mercedes driver would settle for a repeat of that on Sunday.
Asked about his targets for the race itself, he responded: "To get to first. I'm going to try and see.
"[I'll] be hoping for a day like the first year, 2007, Turn 1 here would be awesome."