Details emerge of unusual Lewis-Max discussion
Toto Wolff and Christian Horner's fractious relationship is clearly not extending to drivers Lewis Hamilton and Max Verstappen.
That has been evidenced by details of a behind-the-scenes exchange between the two World Championship contenders after the French Grand Prix.
Minutes earlier, Verstappen had caught and passed Hamilton on the penultimate lap to win at Paul Ricard and extend his lead in the Drivers' standings to 12 points.
But unlike previous battles between title rivals, even those who were in the same team, the Mercedes and Red Bull men appear to be keeping it very friendly – at least for now.
There has been the odd jibe this season, with Hamilton opining that Verstappen may have "something to prove" with his aggressive driving at the start of races, while the Dutchman has claimed he would be "two tenths faster" in the same car as the Briton.
However, in each other's company, they are more than happy to pass the time of day – rather than trading verbal punches such as when Mercedes team principal Wolff recently called Red Bull counterpart Horner a "windbag".
Tom Clarkson, who presides over the official Formula 1 press conferences, was privy to a discussion between Hamilton and Verstappen off-camera which he described as indicating "total harmony" between the pair.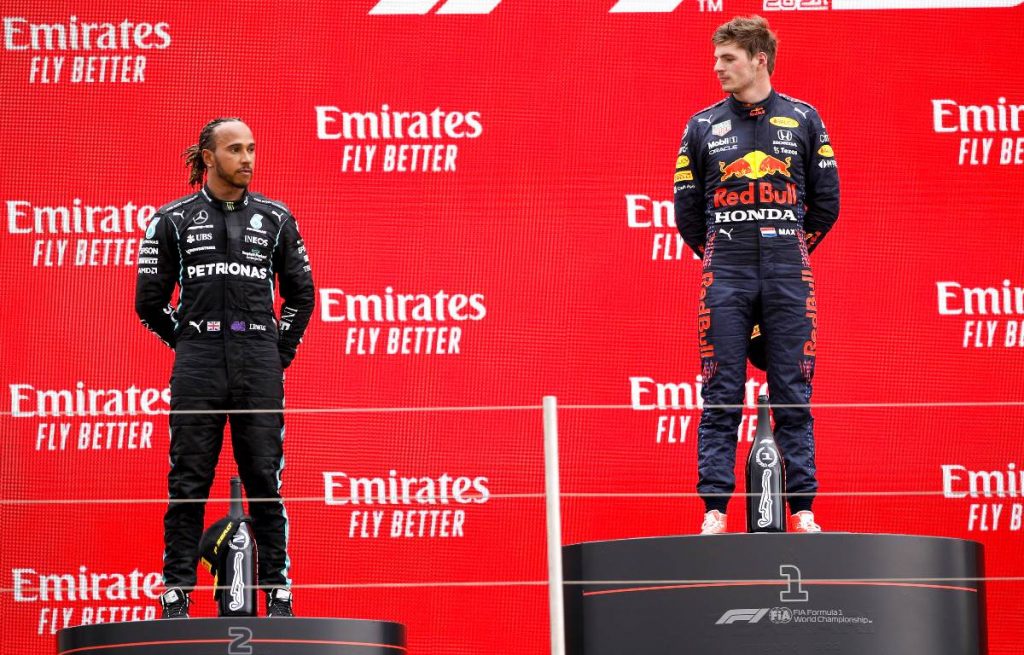 Check out all the latest Lewis Hamilton merchandise on the official Formula 1 store
Clarkson said during the F1 Nation podcast: "What was interesting after the race was that we think there is friction maybe between the team principals, Christian and Toto, and difficult times for Mercedes at the minute.
"But the relationship between Max Verstappen and Lewis Hamilton is still fantastic.
"After the race, they came into the press conference room really relaxed. Before the cameras were turned on, Max sat there chatting to Lewis.
"Lewis talked about Max's straight-line speed advantage. Max changed the subject and asked him about Lewis' hair. 'Is it the corn-rows, is that what you call it? How often do you have to get those done' [Verstappen said].
"'Oh, about once a week, I get a mate to come in', there was all this kind of stuff going on – and Lewis had just lost the race to Max Verstappen but it was all very relaxed, very harmonious.
"They had been together in the press conference on Thursday before the race – total harmony again."
Damon Hill then chimed in with "maybe they are team-mates for next year!" before the conversation moved on to whether Nico Rosberg, with his no-holds-barred approach to F1 punditry, could be the man to spice up the currently friendly fight.
Follow us on Twitter @Planet_F1, like our Facebook page and join us on Instagram!