Lewis Hamilton said he did not expect Max Verstappen to check on him after their Monza crash, but he would have done.
The title protagonists collided at Monza's opening chicane after poor pit stops for both brought them together on track.
Verstappen's Red Bull ended up going over Hamilton's Mercedes, landing on top of the seven-time World Champion as they became beached in the gravel.
Hamilton said he does not have any strong feelings about the accident, and indeed was not expecting Verstappen to come to see if he was okay.
Hamilton said that was just a case of age, as he, as the older driver, would have checked on Verstappen.
"I don't really feel a particular way about it," he told Channel 4 of the crash.
"We had that crash and of course I felt that physically.
"Have you watched Cool Runnings? At the end they crash the bobsleigh, they get out, say they have to finish the race, that's my mentality.
"The car is on top of me, how can I get back in the race? And so I wasn't expecting him to check on me.
"I would have for sure checked on whoever it was that I landed on, but I'm older."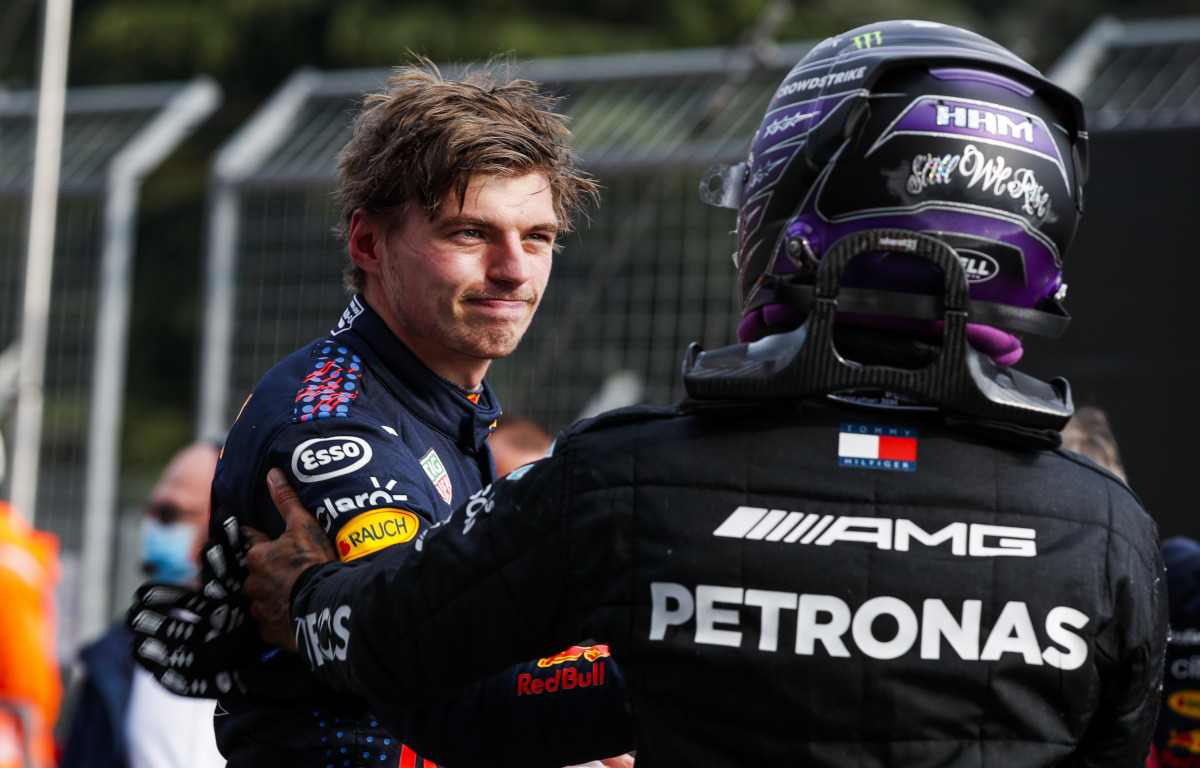 Check out all the latest Lewis Hamilton merchandise on the official Formula 1 store
Hamilton said he always tries to race Verstappen respectfully and sensibly, especially since this is his responsibility to the Mercedes team, but at no point will he back down on the track.
"I try to approach him respectfully, but also I'm a fighter, I'm not backing down in the racing scenario," said Hamilton.
"I'm trying to be always sensible because at the end of the day I've got 2000 people relying on me to be sensible, to bring the car home in one piece and it's not about me, it's about all of us winning the championship."
Hamilton is chasing the eighth World Championship which would confirm him as statistically the best that Formula 1 has ever seen.
And looking back to his first title in 2008 with McLaren, Hamilton said he is now "fuelled slightly differently" in terms of his motives behind becoming an eight-time World Champion.
No longer hunting that achievement to prove others wrong, Hamilton is now trying to use his success and platform to improve the lives of others.
"It's different and it's unmarked territory, there's a different thing that I'm fuelled slightly differently than I was when I was going for my first [title] when I was 22 years old," he said.
"When I was 22 years old it was about me and my family and it was just about us, it was about us achieving a thing that we were told that we would not be able to do.
"Now, you've seen over this past year I've got a fire, I'm pushing to help try and work with the sport to become more diverse in the following years, so that is like a side focus that I have, starting Mission 44 and starting in my new contract, putting it in the negotiations saying to Mercedes 'I want to do something far greater than winning World Championships'.
"'I want to win World Championships with you but at the same time want to help youngsters to get into the sport that are coming from different backgrounds'.
"So that is like a real big focus for me, and seeing the response has been positive and seeing the progress that we are starting to embark on, that fuels me.
"I think it's important to find inspiration from different things and helping people now is a big part of that."
So asked if his extracurricular activities are now more important than Formula 1, Hamilton replied: "I think in the long-term yeah, absolutely."