Hamilton, Verstappen 'both went too far' at Monza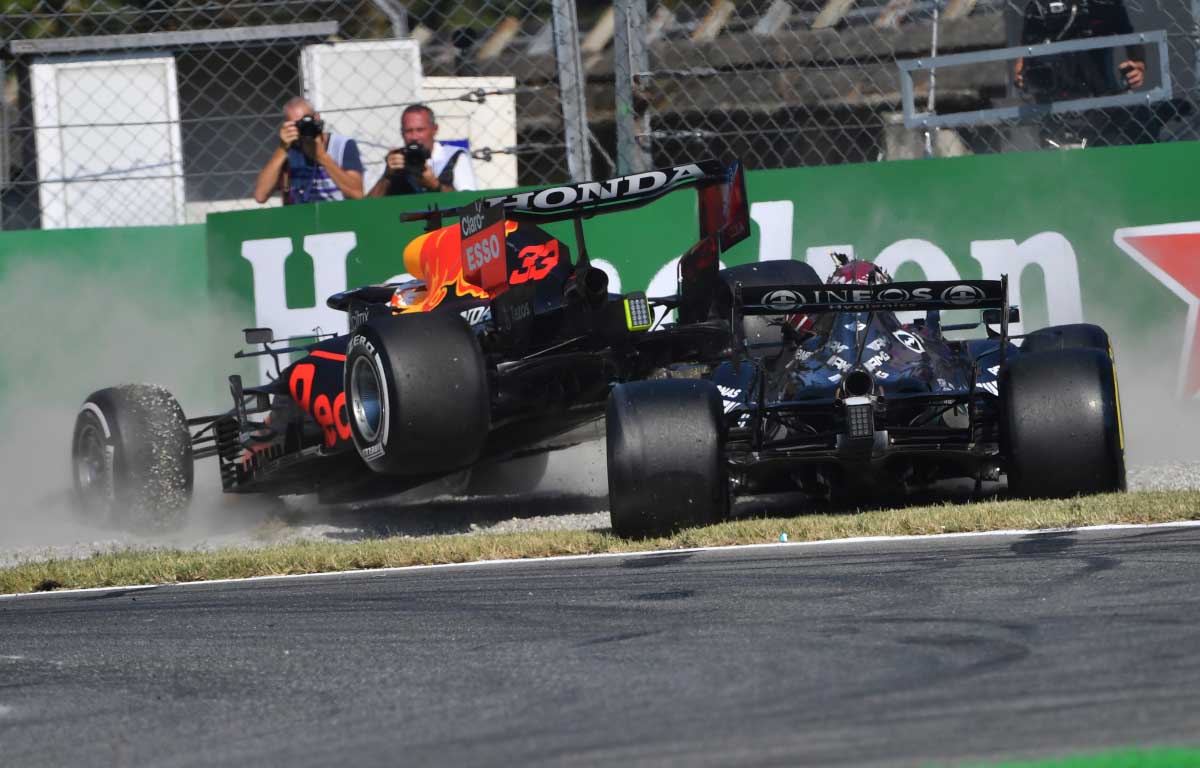 Ex-F1 racer Jean Alesi is loving the 2021 title battle, but felt Lewis Hamilton and Max Verstappen "went too far" with their Monza crash.
Poor pit stops for both title protagonists at the Italian GP meant that Hamilton emerged from the pit lane alongside Verstappen as the pair bolted for the opening chicane.
Neither driver was prepared to lose out, resulting in inevitable contact as Verstappen's Red Bull went over Hamilton in the Mercedes cockpit, with both cars ending up beached in the gravel.
It was the second major collision between the pair following their Silverstone shunt, and Alesi admits that Monza was the only occasion which has detracted from his enjoyment of this title battle.
"We needed such a good challenge: otherwise we would have ended the era of these cars only with a domination of Mercedes and Lewis," Alesi told La Gazzetta dello Sport.
"This year, however, it's great to have every race and every qualifying so uncertain. The only thing I didn't like was Monza, because it's fine to fight, but they went too far there, both of them, and I don't want to blame one or the other.
"I hope they continue to fight hard, but in a fair way, and that it lasts until the end, until the last race."
Check out all the latest Max Verstappen merchandise via the official Formula 1 store
Alesi has though noticed a change in Verstappen's attitude, a less risky approach which Alesi says naturally comes from gaining more experience.
"Even in the last GP in Turkey you could see that Verstappen has changed his attitude, he didn't take risks, but I'm not surprised, he's starting to use his experience and he knows he mustn't fall into the traps of Mercedes' strategy," Alesi explained.
Six rounds remain in the 2021 campaign and it is Verstappen with a slim advantage, leading Hamilton in the Drivers' Championship by only six points.
Alesi can not pick an ultimate victor, but hopes that it is decided on track at the final round in Abu Dhabi, not thanks to reliability issues.
"For me they both deserve this title, so my prediction is balanced, fifty-fifty," he said.
"The only thing I hope is that reliability does not decide the championship, and there is a danger of that. Both have already put in the fourth engine, which will have to do six GPs, plus a sprint race in Brazil.
"And they'll all be races to the death: Hamilton was used to being able to draw breath, now he knows that neither he nor Max will be able to do so.
"And so grip could become an unknown: it would be a shame if one were to win because of the other's retirement. I'd like to see a sprint all the way to Abu Dhabi."
Could a DNF define the Drivers' Championship?
With the Driver Championship heating up both Lewis Hamilton and Max Verstappen need to avoid DNFs.