Lewis Hamilton reckons his Turkish GP victory, never mind his seventh World title, shows that he deserves respect – "it is not a car thing".
Hamilton raced his way from sixth on the grid to P1 at the chequered flag at Sunday's Turkish Grand Prix.
Dealing with tricky conditions as the rain came down before the start of the race, turning an already slippery surface into an ice rink, Hamilton had one small off in the opening laps and from there didn't put a wheel wrong.
Opting for a one-stop strategy that meant he was lapping on worn intermediate tyres, he overtook Sergio Perez for the lead and raced his way to the chequered flag, 31s up on the Racing Point driver.
In doing so Hamilton wrapped up a record-equalling seventh World title.
"I want more of these weekends," he said. "More tricky conditions like this. The more opportunities like this, the more I'm able to show what I'm able to do.
"And I think today hopefully you can see… I think I deserve my respect.
"I think I have that with my peers. I think they can see how hard… they will know how hard today is, particularly that it is not a car thing."
Get your hands on the official Mercedes 2020 collection via the Formula 1 store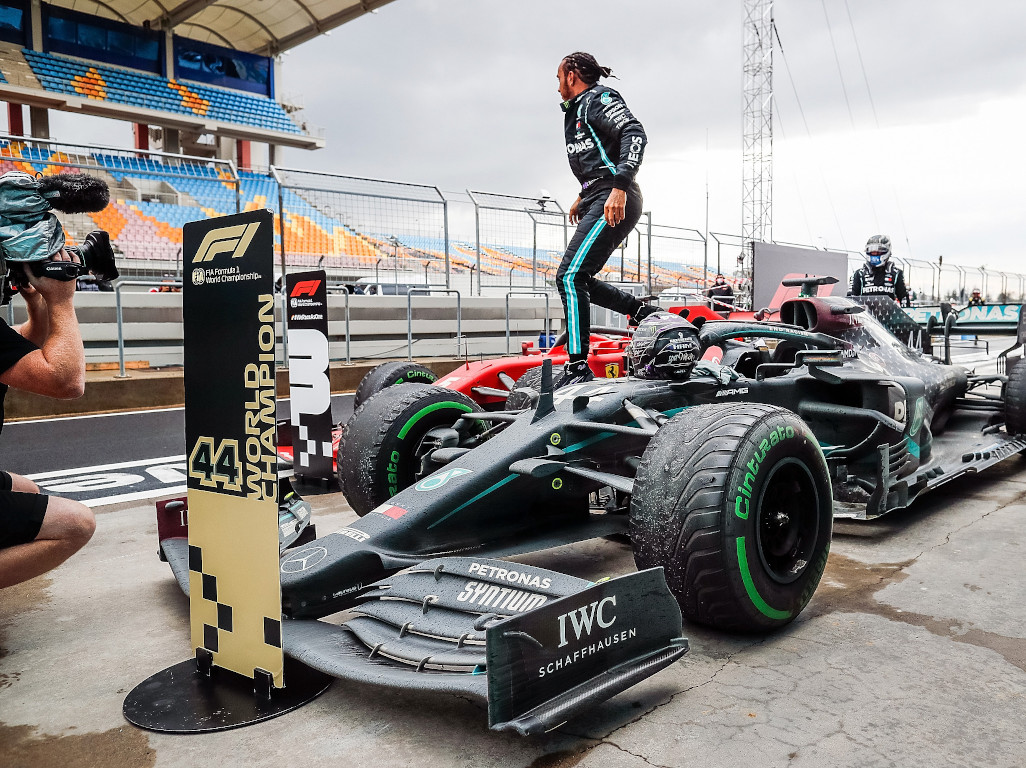 While Hamilton romped to the victory, his team-mate Valtteri Bottas spun six times and finished P14, lapped by the British driver.
While Sunday's win arguably ranks in Hamilton's top-ten best victories, the 35-year-old has demonstrated his talent on numerous occasions in the past.
He, however, doesn't always get the respect his numbers deserve with past champions such Sir Jackie Stewart saying it is largely down to the superior cars that Mercedes have designed.
"I do notice that there are these interesting comments from past drivers, particularly," said Hamilton.
"I really, really promise you, and hope that I stand by my word, when I stop in ten, 20 years from now and look back, I want to be embracing and encouraging the next youngsters that are here, whether it's Lando, whether its George, whoever it may be, whether it's Max.
"I know how hard it is to do the job and I know how this world works.
"Of course you have to have a good team and of course you have to have a great car. There is no driver that's ever won – really won – the Championship in the past without it.
"It goes back the same all the way down to karting. You've got to have the right equipment.
"I remember my first championship. I raced and the kid that won was on rocket engines, which Jenson Button's Dad had tuned. Those engines were real rockets.
"Compared to the cheap, crappy engine that I had which was, y'know, fifth hand, there was no way I could keep up with these kids, and I remember that one weekend he was moving on to… Kimbolton in 1992, 1993, and he was moving on to the next class, he was selling on these engines.
"I remember my Dad had to re-mortage the house to get this £2000 engine – but what we did that day was me and this kid, who'd been winning everything, we put his other engine that I was going to buy, that we were looking to buy, in my car and I was ahead of him all the time on track.
"So, of course, you've got to have the equipment, of course you've got to have it and that's something that will always be in this sport.
"But then it's also what you do with it that really also counts – and hopefully you can see that today."
Follow us on Twitter @Planet_F1 and like our Facebook page.