Hamilton knows fans don't like Mercedes at the front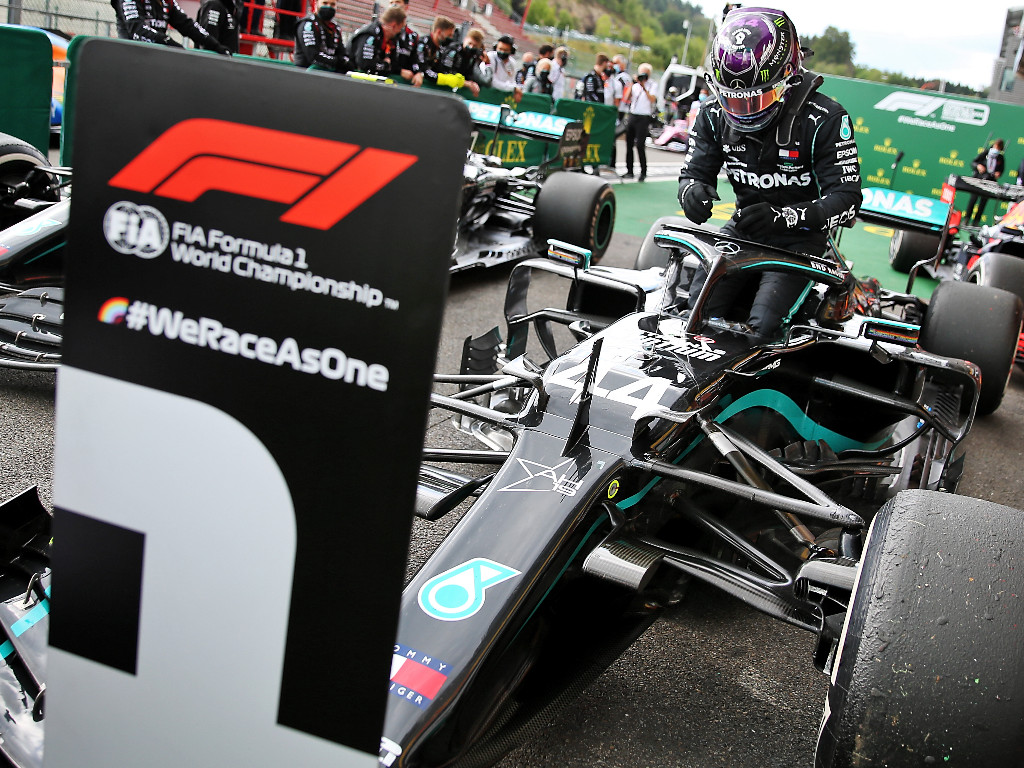 Lewis Hamilton took another comfortable victory at the Belgian Grand Prix, and said he is aware that it isn't what all fans want to see.
The Spanish Grand Prix was a walk in the park for Hamilton and again he received little to no challenge at Spa-Francorchamps on his way to securing victory number five for the season.
The six-time World Champion is now 47 points clear of Max Verstappen at the top of the Drivers' Championship after the Red Bull man finished P3 in Spa, whilst Hamilton's team-mate Valtteri Bottas, who is now 50 points adrift of P1 in the Drivers' standings, crossed the line P2 to make it a one-two finish for the Silver Arrows.
Hamilton is well on his way to a seventh Drivers' Championship after victory number 89 of his career, and Mercedes look set to stretch their record-breaking streak to seven Drivers' and Constructors' titles in a row.
And Hamilton acknowledged that this dominance is wearing thin with some fans, but talked up Mercedes' mentality throughout this period.
"I know it's not necessarily what everyone always wants to see, Mercedes at the front," he told Sky F1.
"But no matter how much success we have we just keep our heads down.
"When I go back into the office there will be no guys celebrating, they will be thinking 'okay, how can we win the next race?'
"It's an incredible mentality and environment to work in, we continue to learn about ourselves and how we improve weekend in weekend out.
"It's crazy to think I'm 35 turning towards 36 and I feel better than ever."
Shout it with us… 🍾🍾🍾🍾🍾

THE CHAMPAGNEEEEEEEEEEEEEEEEEEEEEEEEEEEEEEEEEEEEEEEEEEEEEEEEEEEEEEEEEEEEEEEEEEEEEEEEEEE' pic.twitter.com/Q9LK6RDFeC

— Mercedes-AMG F1 (@MercedesAMGF1) August 30, 2020
Head on over to the Formula 1 store for all your official Lewis Hamilton merchandise
Hamilton did admit that he feared for his race win late on due to the degradation of his tyres and had flashbacks to the events at Silverstone.
"It wasn't the easiest of races, I had a lockup into Turn 5 which started to give a bit of a vibration then one into the last corner," he explained.
"The tyre temperatures were slowly dropping no matter how much you were pushing, you lose rubber and then you start to lose temperature in the tyres, so it was a bit of a struggle.
"I was a little bit nervous that we might have a scenario like Silverstone with that right front towards the end, so I was nursing it.
"It looks like the tyre has plenty of rubber on it so maybe it was fine and I was all worried for nothing."
Bottas had said after qualifying that he was happy with P2 due to the run it would give him through Eau Rouge and Raidillon onto the Kemel Straight.
But Hamilton survived that opening sequence and pulled away from there.
"That start is a nightmare because it's one of the shortest runs to Turn 1 and out of Turn 1 I had a big snap trying to get on the gas to get the gap," he said.
"And even if I didn't have that snap I would have had a cars' length, but he [Bottas] would have eaten that up down the straight.
"So it worked to my benefit to be honest that snap because it meant he was right on my tail and had to lift, so when they got to the top of the hill he didn't have enough time to slingshot, no shake and bake today."
Follow us on Twitter @Planet_F1 and like our Facebook page.