'Key' and 'pivotal' factor revealed in Lewis Hamilton's Mercedes future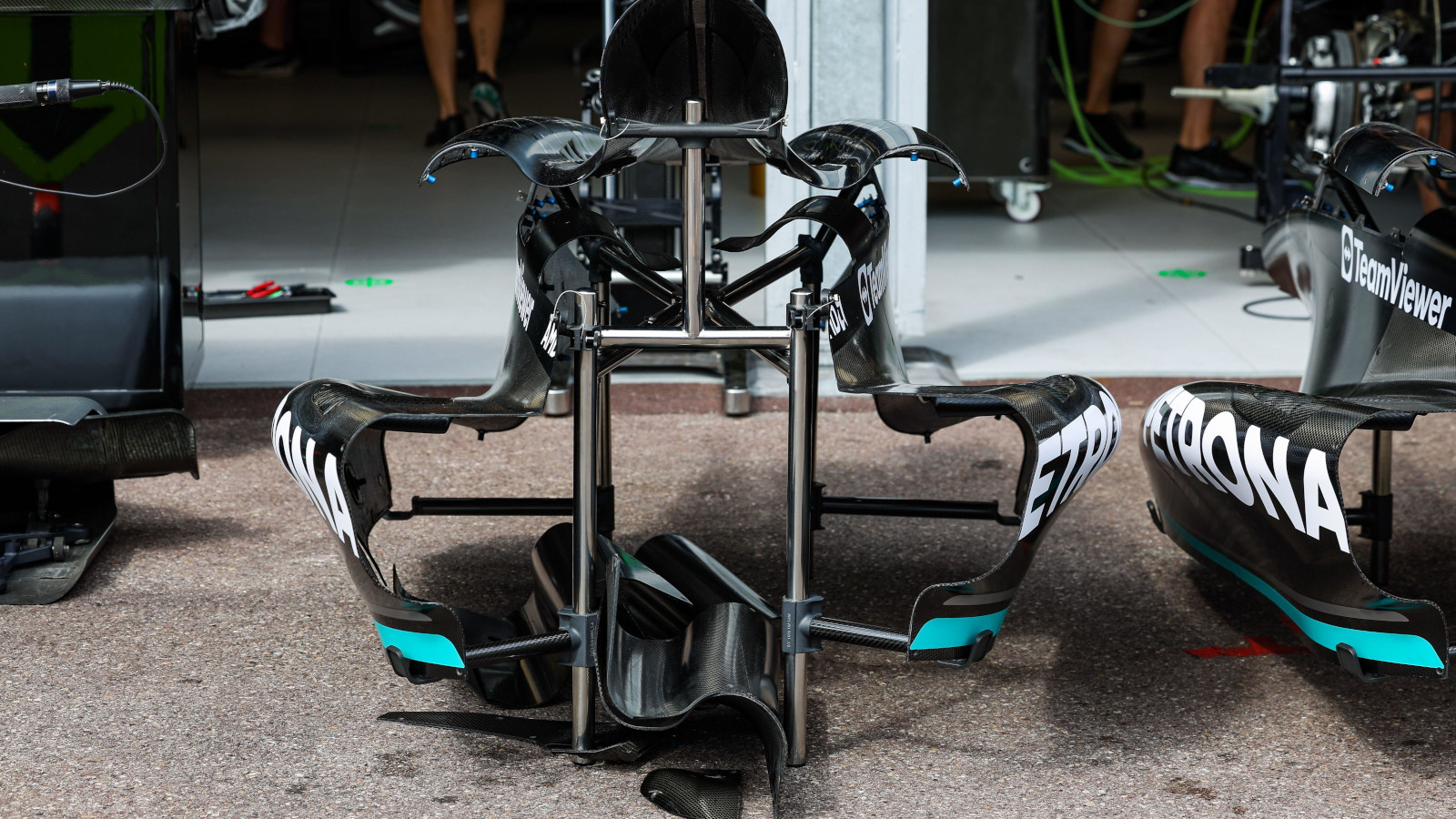 Introducing a visibly different W14 at the Monaco Grand Prix, Mercedes' upgrade – and the "key aspect" of the sidepods – will be "pivotal" in deciding Lewis Hamilton's future says Sky F1's Craig Slater.
Just days after headlines claiming Ferrari are putting together a 40 million-per-season pay packet to sway Hamilton over to Maranello, Mercedes have debuted the upgraded W14 that many believe Hamilton's future is hinging on, even if he has claimed that a new Mercedes contract is "almost" ready.
The Briton was expected to sign a new contract for 2024 back in the winter but as Mercedes faltered in the early rounds of the championship, no signed contract was forthcoming. That, the likes of Damon Hill and Jenson Button have suggested, is because Hamilton first wants to see if Mercedes can recover.
Monaco, and the W14's new sidepods, will the first test of that.
This weekend the W14 has ditched its zero-pods for sidepods that lean towards to the Red Bull's bulkier downwash design but without the severe undercut. More Aston Martin and Alpine-esque.
There's also a new front suspension, cooling and floor to go with it, a big upgrade although not quite a B-spec car.
"If you are a Lewis Hamilton fan and are interested in him staying at Mercedes, interested in his prospects of winning an eighth World Championship, then this fundamental change is going to be pivotal in deciding whether that happens," Slater declared to Sky Sports on the eve of the race.
"The key aspect relates to the sidepods. This was the car that famously had no sidepods, now it has sidepods that looks more or less like the rest of the field. They are not as finely refined as the Red Bull sidepods and look a bit to me like the Williams or the Alpine.
"It is also going to revise front suspension and the floor of the car has changed, too. I noticed the tunnel under the side floor which will aid the aerodynamic performance.
"Mercedes cannot simply copy the Red Bull mid-season because that would involve significant reengineering that would probably break the cost cap, it might not be feasible to do. Lewis, for example, wants his seating position changed but that won't happen this year, it will have to happen next year.
"These modifications are coming in at an odd track so Mercedes are saying not to expect too much, but they now believe they are on the right track – maybe 18 months too late – that will convince Hamilton that this is the best team to stick with."
PlanetF1.com recommends
Mercedes' new-look sidepods; inspiration, even convergence, but NO copying
Lewis Hamilton's 'dirty' driving against Max Verstappen claims dismissed
The car will have its first test up against its rivals in Friday's practice although fans will have to wait until Saturday's qualifying for a clearer picture given the different engine modes and fuel loads used in practice.
His fellow pundit Simon Lazenby added: "I think a lot of Lewis' decision about his future depends on this upgrade set.
"When you look back to what happened last year, the hopes for the W13 coming out of the simulator was that it was going to blow the rest of them away, it was going to blow Red Bull away and it was going to blow Ferrari away.
"The correlation between what happened there and reality, well we all know the story – Red Bull went with the undercut sidepod philosophy which everyone has moved towards whereas Mercedes had this exposed floor and then the porpoising happened, they had to stiffen the floor and couldn't raise the rear ride height enough and it turned into bouncing.
"All of this year's problems have come from the fact that I think they were just tantalised by those figures which said 'we are going to completely and utterly destroy the field, let's stick with it'.
"We get into this year and all of the limitations that were created by having to try to solve those problems, including keeping Lewis further up front in terms of his seating position so he doesn't feel the rear of his car, they just had to have a reset and a complete rethink of their philosophy.
"If they've got it wrong this time, what happens with the no-blame culture then?"
Last month Mercedes made one major change to their design team as they swapped out Mike Elliott for James Allison. Elliott took Allison's chief technical officer role while Allison returned to technical director role.