Lewis Hamilton relieved Mercedes 'didn't look slow' in Suzuka practice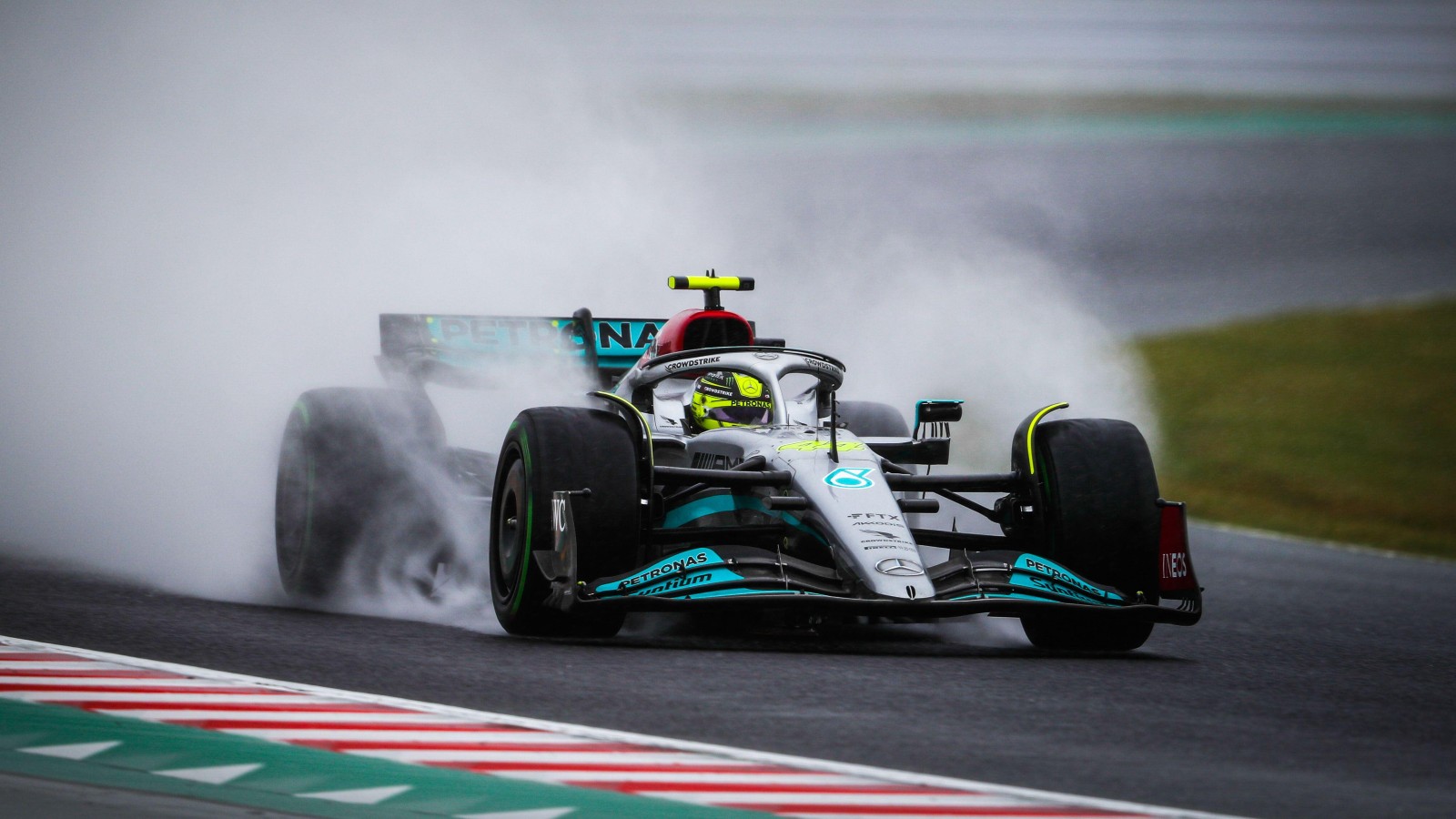 Mercedes have struggled in the past to switch on the wet-weather tyres, so Lewis Hamilton was happy to see the team looking strong at the Japanese Grand Prix.
Previous rounds have flagged up wet conditions as a particular weakness of the Mercedes W13, the team having struggled to get the intermediate and full wet tyres into the ideal operating window.
But at Suzuka, Mercedes were flying in a wet FP2 session, George Russell setting the pace with Hamilton two tenths of a second behind, while Max Verstappen in third was over eight tenths off Russell's benchmark.
On a slight downside, Red Bull boss Christian Horner claimed Mercedes had used three sets of intermediate tyres compared to one for Red Bull, which he reckoned therefore skewed the timings slightly.
Nonetheless, Hamilton was happy to finish a wet and dull day in Suzuka with Mercedes in a promising position. Dry conditions are expected for qualifying and the race, but with a threat of rain perhaps for the latter stages of the grand prix.
A bit of a turnaround since the first session, rounding out Friday on a high by a good margin! 💪

The wet conditions treated @MercedesAMGF1 well in FP2 👌#OutRaceYourself #PETRONASMotorsports #JapaneseGP pic.twitter.com/933oXSkU2h

— PETRONAS Motorsports (@PET_Motorsports) October 7, 2022
"We got through a bit of running but I think it will be dry for the rest of the weekend. It's been okay, very chilled," Hamilton told reporters.
"There are always things to be taken with set-ups, tyre wear, tyre temperatures and the balance moving around between sessions.
"So there are definitely things to take from it, and there's data on downforce loads and what wing level everyone else is on.
"On the positive side, we were able to switch our tyres on so we didn't look slow, which is good."
Once the track dries out on Saturday for qualifying, Red Bull and Ferrari, the two leading teams this season, will likely come back into the mix.
Hamilton expects that to be the case but will maintain hope, as he does at each race, that Mercedes will be in the hunt also.
"If we get into the dry I imagine the Ferraris and Red Bulls will be quite quick," Hamilton suggested.
"I hope we'll be fast, but that's a hope that continues to be the case each week."
Russell does not believe the FP2 times were particularly representative, but explained it had been a good learning exercise for Mercedes in those conditions, which potentially could still be encountered on Sunday.
"It probably won't be that representative for this weekend, but definitely good learning for the future," said Russell. "There's a chance on Sunday it could be wet, but it looks pretty dry tomorrow.
"But nevertheless, it's always nice to end the day top of the timesheet, and definitely some improvements from FP1 as we were at the bottom of the timesheet, so not a bad afternoon."
Russell is not sure where Mercedes will find themselves come qualifying on a dry track, although he expects them to be competing somewhere within the top six positions ahead of the midfield.
"To be honest, no idea," he said when asked what is possible on Saturday. "We think it will be dry tomorrow.
"I think we'll be fighting, as always, for a top-six position. I hope we can have a shot at something better. But I truly don't know, we'll have to wait and see until FP3 – that will be a crucial session for everybody. And try to fight for a good position."
Read more: Guenther Steiner labels Mick Schumacher's FP1 crash 'disappointing and frustrating'