Lewis Hamilton says Mercedes still a second behind Red Bull and Ferrari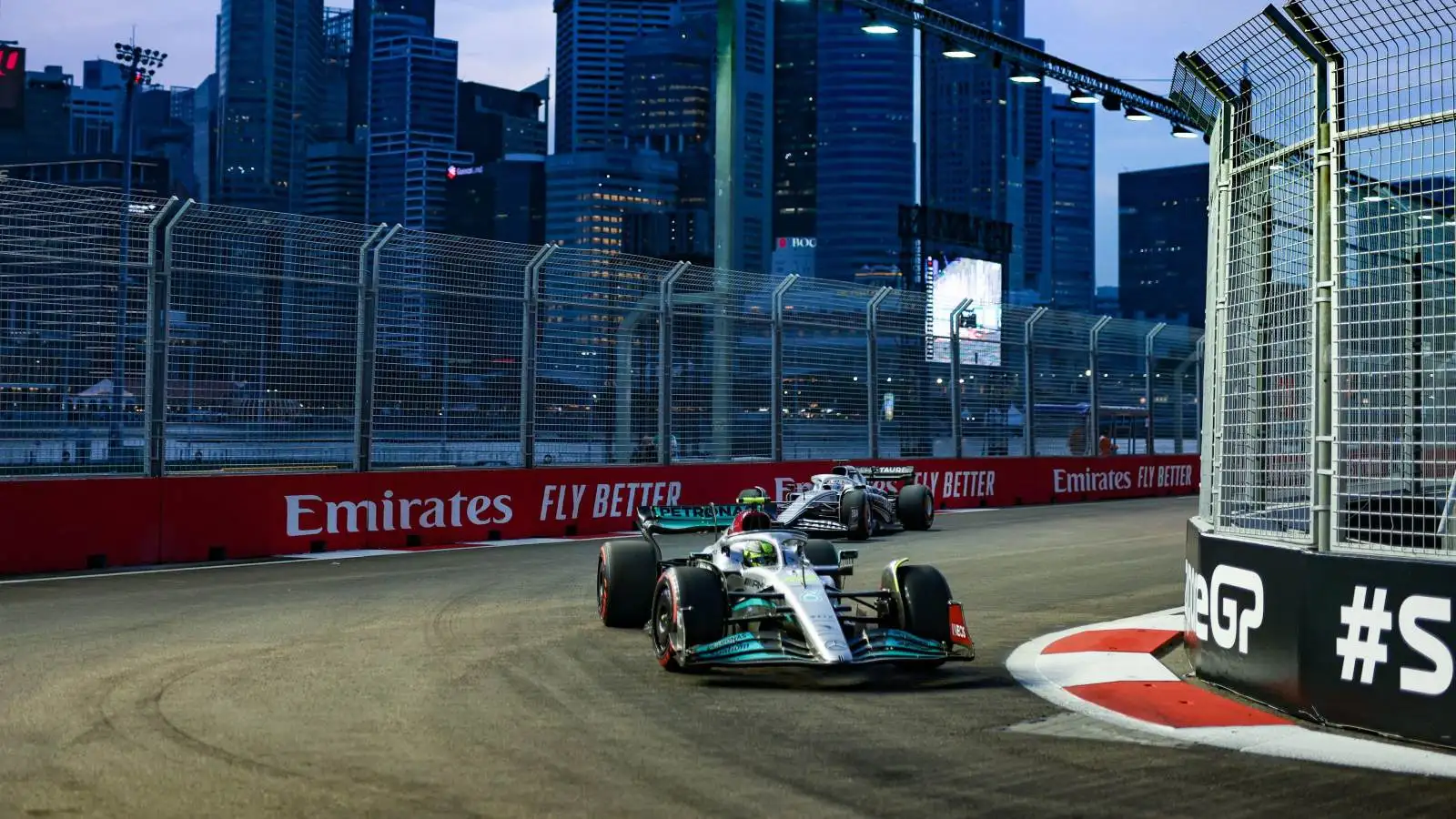 Lewis Hamilton may have topped his first practice session of the season, but believes the team are still some way off challenging the frontrunners.
Hamilton started the Singapore Grand Prix weekend in the best possible fashion when he secured P1 in FP1, the first time he has done so this season, and while FP2 did not produce the same result, there was hope that Mercedes may challenge for pole this weekend.
George Russell started P2 at the last race at Monza, although with the caveat that a lot of the grid took penalties for exceeding their engine limit, while Hamilton's best qualifying has been fourth place this campaign. They would finish FP2 in P3 and P5 respectively.
Speaking to the media afterwards, Hamilton said the bouncing, which has plagued Mercedes since the start of 2022, was back and that he believed they were still a second off the frontrunners.
"[It] started off well, wasn't as great in the second session so pretty much like every other weekend I would say," he told Sky Sports F1. "The car is as it is and it's bouncing around like crazy, but it doesn't feel like we're massively up here this weekend. We're still probably a second down I would say."
Russell was similarly cautious in his assessment and said that while the results look good on paper, "paper doesn't mean a lot."
"It was okay but there's definitely a lot of work to do," he claimed. "Very, very bumpy out there, I think everybody's struggling to a degree.
"We've always known there's been a bit of a weak point with our car, tyres are quite sensitive. I think it's going to be one of those if we can actually nail it there'll be a huge amount of lap time we can find in qualifying."
Both drivers mentioned the extreme conditions they had been subjected to but while Russell was concerned about the heat, Hamilton was more focused on the bouncing.
"Probably a little bit dehydrated after that session so feeling a little bit heavy and very hot," said Hamilton. "The biggest problems is the physicality side of it, you're bouncing so much that you just have a headache all the time and this is a very, very bumpy track.
"Look at my onboard and see my helmet [bouncing]. I don't have any feeling anymore."
Russell, meanwhile, mentioned he felt lightheaded when getting out of the W13.
"It's just so hot," he said. "It doesn't feel as some circuits do, [such as] really high-speed circuits like Silverstone and Zandvoort where you [are] struggling to hold on by the end of it with just so much G-force.
"Here, it's like you're just going through your paces, like you're in a sauna, and fully overheating. You always get a bit lightheaded when you jump out the car being sat in there. So let's see how it is on Sunday, it won't be straightforward."
Russell finished P3 in FP2 while Hamilton ended the day P5. Carlos Sainz was the quickest around the track during Friday's second practice session.
Read more: Toto Wolff says 'Maybe Christian Horner needs to talk to his CFO more…'