Hamilton calls on Mercedes to 'sharpen up' after British GP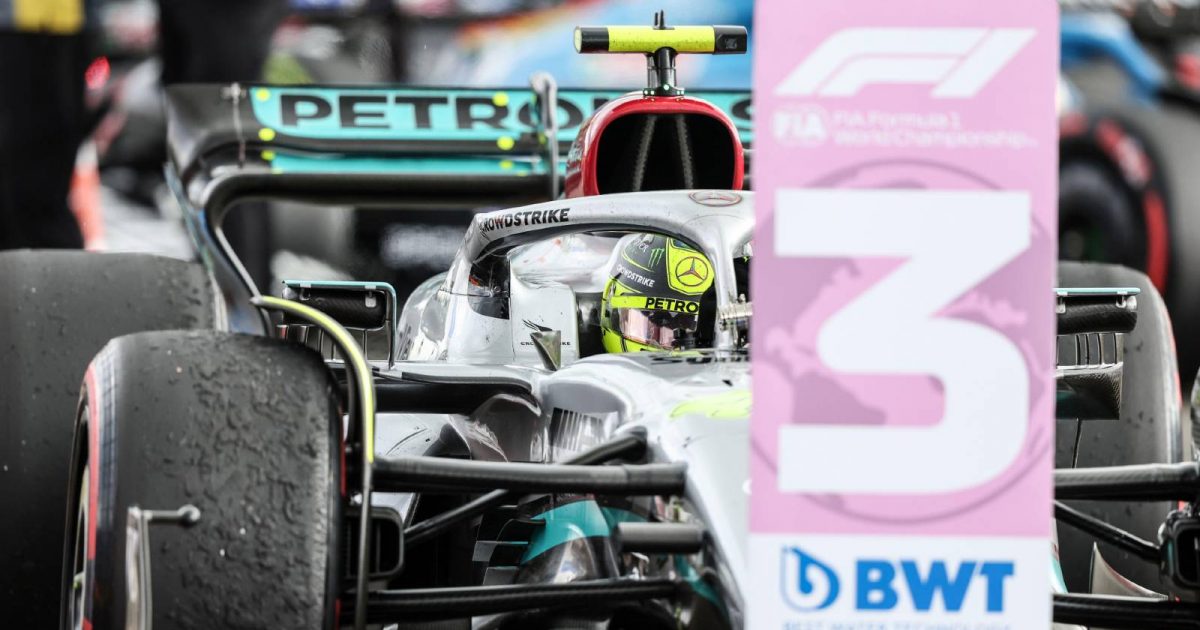 Lewis Hamilton urged Mercedes to "sharpen up" after a third-place finish at the British Grand Prix he described as "a huge bonus" – even though victory looked possible for much of the race.
Chasing a record-breaking ninth triumph in his home grand prix, the seven-time former World Champion was in a triangular tussle with the Ferraris of Charles Leclerc and Carlos Sainz for a large portion of the 52-lap contest.
But a Safety Car period, triggered when Esteban Ocon's Alpine stopped on track on lap 39, cast a different complexion after most of the leading contenders stopped to switch to soft tyres.
Although leader Leclerc stayed out on hard tyres, second-placed Sainz and Hamilton both came in for the softs – as did Sergio Perez in fourth, who was suddenly right back in the mix having had to make an early stop for a new front wing after contact with Leclerc that dropped him down the field.
Hamilton lost a place to Perez when racing resumed and although he got past Leclerc, who was struggling on the hard tyres, amid some thrilling action, he ended up in P3 as Sainz took his maiden Formula 1 victory.
But Hamilton, in a team radio message on his in-lap, said the Mercedes team needed to "sharpen up" after a 4.3-second first pit-stop meant he had emerged behind the Ferraris rather than being right in the fight with them.
The #BritishGP never fails to deliver! P3 and fastest lap for @LewisHamilton and some of the most breathtaking racing of the season.

An unlucky home race for @GeorgeRussell63 with his first DNF of the season, but we're just thrilled that @ZhouGuanyu24 is okay👍#OutRaceYourself pic.twitter.com/2h0LJND4IN

— PETRONAS Motorsports (@PET_Motorsports) July 3, 2022
"I gave it everything today," said Hamilton in his initial post-race interview. "I was trying to chase down the Ferraris but congratulations to Carlos. They were just too quick today for us.
"At the end I was in amongst that battle with Checo (Perez). Those guys were just too quick on the straights for me today.
"But this is a huge bonus for us to be on the podium. I was chasing and chasing and chasing, but the pace was great on both sets of tyres and then at the end it was just a bit difficult when you know you've a Red Bull behind you that's so fast on the straight."
Although this was Hamilton's third P3 finish of the season, it was much the most competitive he and Mercedes have been as they try to improve the W13 car that has struggled throughout the campaign.
"I'm so grateful for the hard work all the team did to get an upgrade here – we've made a step closer to them, so we have to keep pushing," added the Briton. "We've got some improvements to make."
Hamilton also said he was "glad everyone was safe from the big crash at the beginning of the day", with the original start red-flagged following a horrific incident which resulted in Zhou Guanyu and Alex Albon requiring medical checks – while George Russell in the other Mercedes also bowed out.